Meet Temple Greenleaf
Temple Greenleaf is the wife of former NHL player and current coach, Dale Purinton. Reports say her husband has been locked up in connection with a central New York burglary!
Reports say the 38-year-old was arrested Wednesday following an investigation into an Aug. 11 assault. He's being held in the Oneida County Jail, according to CBS sports.
Purinton –who played for the Rangers from 1999 to 2004 –is a suspect of burglary in the first degree in an incident in Sylvan Beach, NY.; he allegedly broke into a residence and attacked the homeowner before fleeing, police say.
Dale was drafted in the 5th round, 117th overall, by the New York Rangers in the 1995 NHL Entry Draft, known as Enforcer Dale Purinton, he played his last season with the Lake Erie Monsters in 2008, he later retired after failing to sing with a new team. The following year, in 2009 he was hired as the head coach of the Cowichan Valley Capitals of the BCHL.
In 2012 he became the coach of the Kerry Park Islanders –a junior B team in his hometown of British Columbia. His contract runs through the 2015-16 season.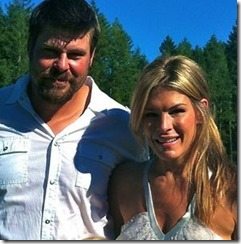 Gorgeous model/actress Temple Greenleaf, is also the mother of Purinton's three small sons: 11-year-old Vaughn Wyat, 10-year-old Brando and 6-year-old Hagan Purinton. Records online show she is 44-years-old which makes her 6-years older than Dale.
The Purintons moved to Cowichan Bay BC in 2009, that was the same year Temple gave birth to son Hagan. Temple uses both her last name and also her married name, she can be found on Facebook as Temple Greenleaf Purinton.
Not much more is known about Temple or her career as an actress, according to IMDb, she had a role in a 2004 movie called "Slow."
Do you think the wife and mom of three will stand by her man? Comment below.