Meet Jacquie Richardson
Jacquie Richardson is the mother of Syracuse basketball player, Malachi Richardson.
Malachi was born in January 1996, to Jacquie Richardson and her husband, Lewis Richardson. According to Draftexpress, their son, is probably the most immediate prospect of the group, a well-built and athletic wing who loves to operate in one on one situations, but has seen mixed results when doing so in his debut campaign. Much older than your average freshman at 20 years old, Richardson can do quite a few things well, but has struggled with his decision making and efficiency this season, as does not possess a great feel for the game.
Richardson has not indicated, will enter his name in the 2016 NBA Draft, but Syracuse's run to the Final Four has his name rising on NBA Draft boards.
Richardson, who wears No. 23 simply because he likes the number, enrolled in the College of Visual and Performing Arts and majoring in communication and rhetorical studies.
But lets, take a step back. Richardson spent his freshman year with Trenton Catholic; he posted a season-high 24 points when Trenton Catholic defeated Bishop Eustace, 63-53 and produced double-digit scoring in each of his last four games.
Richardson spent the 2012-13 school year at Roselle Catholic. He averaged 15.3 points and 4.6 rebounds per game for a squad that finished 25-5 and won the NJSIAA Non-Public B State Championship and the NJSIAA Tournament of Champions Richardson was nj.com Third Team All-Non Public School. He helped the Lions beat Wildwood Catholic in the NJSIAA Non-Public South B semifinals, 75-50, by scoring 21 points. The Lions won against St. Joseph in the final, 65-49, and Richardson posted 22 points.He served as a team captain as a junior and senior. As a a senior at Trenton Catholic Academy, he was rated as the 19th-best player in the 2015 class.
But all of his success wouldn't have happened if it wasn't for the help of his parents.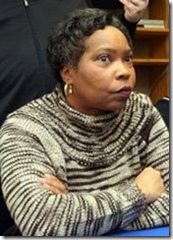 Lewis and his son, Malachi, would play on the blacktop court in the family's backyard. The one that Lewis had put in shortly after the family moved into the two-story house.
While Jacquie Richardson was also instrumental and always supportive of her son. Mother and son, would enter the gym at Trenton Catholic Academy around 9 p.m. Then, for the next hour to two hours, Malachi shoots. He shoots and she rebounds.
Unlike her husband, Jacquie Richardson doesn't play one-on-one with Malachi, but she will go up against him in shooting contests.
Jacquie Richardson, formerly Jacqueline Jones, and her twin sister, Gwendolyn, were standout basketball players at Trenton Central High School back in the early 1980s. They went to Massachusetts together, but after one year transferred to Virginia State University in Petersburg, Va.
Jacquie and Lewis Richardson had met in high school but she was ahead two years and he never asker her out despite having a crush on her, according to Syracuse.com Years later, they reconnected during a friendly basketball game on the courts at Shady Brook. The rest is history.