Meet Yvette Gbinije
Yvette Gbinije is the proud mother of Nigerian-American college basketball player for the Syracuse Orange, Michael Gbinije. Michael has also represented Nigeria at the international level.
Michael Patrick Gbinije, was born June 5, 1992 in Chester, Va. to parents, Yvette and Frank Gbinije. His father, a Nigeria native, is an engineer, who played collegiate soccer for Temple where he was an All-American for the Owls.
Yvette Gbinije and her husband are also the parents of Michael's younger brother, Brandon.
Michael attended Benedictine High, where he was a two-year letterwinner. He led Benedictine to a 26-5 record and the Division I VISAA state championship. He also veraged 25.0 points, 10.0 rebounds and 5.0 assists as a senior and earned Slamfest MVP honors.
Michael Gbinije's first three years in college probably didn't turn out the way the former #28 RSCI recruit envisioned coming out of high school. He saw very little playing time right off the bat as a freshman at Duke (111 minutes total), which prompted him to transfer to Syracuse after his first year. His father explains that period in his son's life, saying that Michael was losing interest in basketball.
As a redshirt sophomore, after sitting out the entire 2012-2013 campaign, Gbinije again played a fairly marginal role, seeing just 14 minutes per game for a team that lost in the NCAA Tournament Round of 32 to Dayton.
Gbinije has shown major strides in his game since his underwhelming freshman days at Duke in 2011-2012. He transferred in the spring of 2012 and sat out the 2012-2013 season due to NCAA transfer rules. As a redshirt sophomore in 2013-2014, he continued having difficulty adapting to the college game, resulting in a minimal bench role while averaging just fifteen minutes per game. He took a huge leap forward last season as a redshirt junior, averaging 12.7 points, 5.0 rebounds, and 3.6 assists
Michael displayed his potential as an NBA player in the process.
He's currently averaging 19.7 points, 3.0 rebounds, and 4.2 assists at the Orange's leading man at point guard.
Yvette's son combination of size, athleticism and versatile skill set on both ends of the court makes him an intriguing NBA prospect. Her son, is enrolled in the College of Visual and Performing Arts and majoring in communication and rhetorical studies.
After all the doubts, now her son is the star player on a team that will play in the Final Four.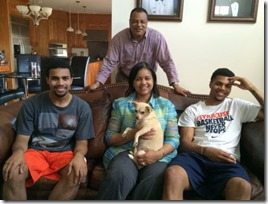 Pin
Yvette Gbinije gave birth to second son, Brandon, while living in Boise; the family lived in Denver for a brief period before moving to Chester, Va., when Mike was 6 or 7. Brandon attended Richard Bland College in Petersburg, Va.
Yvette met hubby Frank, as Temple University students in the early 1980s. Frank, a native of Nigeria, came to the United States with his mother's church friend in 1982 without a single contact in America.
Accoridng to Syracuse.com, Yvette Gbinije, works in the jewelry department at J.C. Penney.