Jasmine Blair
Jasmine Blair is the supportive and lovely girlfriend of football player, Cam Robinson. Her boyfriend is known as a top prospect who played college football for Alabama University.
Jasmine's football stud was born October 9, 1995. The Louisiana native was a two-time first team 5A Louisiana All-State selection by the Louisiana Sports Writers Association while attending West Monroe High School.
During his senior year in high school, 247Sports Composite rankings had him listed as one of the nation's best players.
Robinson who had numerous offers from programs across the nation, chose Alabama. He not only started from day one at Alabama, but he also made every game count.
In 2015, he played through a sprained knee and shoulder injury.He was also named first-team all-conference in 2016.
Robinson who won the Outland Trophy as a junior –decided to forgo his senior year and enter the 2017 NFL Draft, after playing three years with Alabama.
The Alabama lineman has already had trouble with the law. Last year, while visiting their hometown of Monroe, La., Robinson and a teammate were arrested after police found and a stolen handgun in the vehicle. Prosecutors eventually decided not to pursue the case and neither player missed any playing time.
Coaches or anybody seems to have paid attention to his arrest, another person who didn't mind is his girlfriend, Jasmine Blair. Meet her below.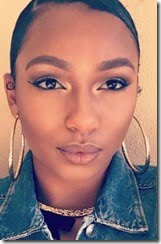 Jasmine Blair and Cam Robinson have been dating for a while. They definitely have a serious type of relationship. Jasmine was one of the guests along with Cam's mother Priscilla, and sister, Charity –to the Outland Trophy Presentation Banquet –in which Cam was named the 2016 winner earlier this year.
Jasmine Blair and Robinson are the real deal. The young lady is practically consider family by the Robinson's. Cam's mother even leaves comments such as "My Baby Is Beautiful
❤Love You!!" on her
Facebook photos
.
Miss Blair is also a student at the University of Alabama. She served as treasurer for The Black Faculty and Staff Ambassadors –a parent organization of the University of Alabama. She is also listed as a secretary at The Foundation Project.
Though her boyfriend was not picked in the first round of the 2017 NFL draft, we are sure Jasmine Blair will be near to offer her support to Robinson.