Jasmine Williams has been the long time girlfriend of current shooting guard for the Indiana Pacers 22 year old Lance Stephenson. Lance who is having an awesome year since he became a regular starter for the Pacers due to the injury of Danny Granger; well you know what they say "One man's loss is another man's game" plus he must have been praying hard to all NBA gods since William's man and father of her child recently reached a new high in his career scoring 25 points, grabbed 10 rebounds and dished out 3 assists to lead the Pacers to a win over the New York Knicks!
Well let's be real, truth is the young player does not need to pray to anyone he's been consistently on his game and skills; he was named New York Mr. Basketball after his senior year and appeared in a 2009 All Star game! But when it comes to personal life he made headlines when in 2010 he allegedly attacked his long time girlfriend Jasmine! Apparently his immaturity issues lead him to push the mother of his little girl.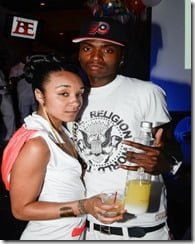 Jasmine rolled down 10 concrete stairs in her apartment building in Gravesend in Brooklyn, New York. When she landed at the bottom he allegedly grabbed her head and hit her at the bottom of the stairs! The whole incident apparently took place because Jasmine wouldn't answer the phone while she was out with friends.
Jasmine was born June 18, 1989. She has a sister named Jade Williams. According to her Facebook page she is into modeling. The incident happened back in 2010 when their little daughter Liara Stephenson was only two years old. He was charged with third-degree assault.
There aren't many pictures of them together but for the sake of their daughter we hope this power couple has been working on their issues! And it seem like it since Lance couldn't be doing better!
You can see her on Facebook here.