Meet Jeressa Mathis
Jeressa Mathis could be dating NFL player, Tray Walker. The football cornerback and Mathis often post pictures together and it all seems they have known each other for a while and get along really well.
Tray attended Miami Northwestern High School, where he played football, basketball and track and field. Walker earned honorable mention All-Dade County as a senior.
Both Jeressa Mathis and Tray attended TSU, so we assumed that's where the couple met. Tray Walker finished his college career with 159 tackles (112 solo), 3.5 TFL (-15 yards), 9 INTs (181 return yards), 26 PD and 1 FR.
While at Souther Texas he received a Second-team Preseason All-SWAC (2014) and a Second-team All-Southwestern Athletic Conference (2014).
Tray selected in the fourth round of the 2015 draft by the Baltimore Ravens. He was the third of three Ravens' picks in the fourth round
Tray Walker had to tackles in eight games in his rookie season. He dedicated the season to his late father, who died in 2014 of a heart attack.
In 2014 he appeared in 11 games, registered four interceptions. 2013: Played in nine games and made one interception. 2012: Played in nine games with two interceptions.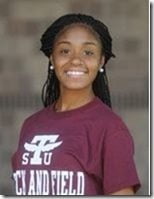 Jeressa Mathis and Tray were both college athletes. She is a former hurdler in the Track and Field team at TSU.
She graduated from Texas Southern University in 2015. The former hurdler gal is originally from Dallas, Texas. She attended Dallas Samuell High School –where she participated in 4×100 Relay, triple jump, long jump and 100m Hurdles events during her senior year. According to her Track and Field profile.
Friends or in a relationship, Jeressa Mathis must be devastated after hearing Tray's motorcycle crash. The 23-year-old is currently in critical condition after he was involved in a motorcycle crash on Thursday evening. It is said he was driving with the lights off and without a helmet when he crash with another vehicle.
He was rushed to Jackson Memorial in critical condition, after suffering severe head trauma.
Ironically enough, only three months ago, Walker said he wasn't a superstitious person, after players began realizing a bizarre and painful trend last November.
According to an ESPN article, there is a block of lockers at the Baltimore Ravens facility that apparently stands for player's significant injuries. Every player that has gotten the unfavorable spot, has been placed on season-ending injured reserve.
Tray Walker got that spot only a few months ago. Could it be a real curse?
You can find Jeressa Mathis on Instagram here.