Angelisa Proserpi Farmer
Angelisa Proserpi Farmer is the lovely wife of former NBA player now artist, Jim Farmer.
Born James Hubert Farmer on September 23, 1964; the Alabama native played college ball at the University of Alabama.
The Dallas Mavericks drafted him in the first round (20th pick overall).
Farmer joined the Utah Jazz in 1989; the Seattle Supersonics; later the  Philadelphia 76ers in 1990, and subsequently the Denver Nuggets in 1991. In his final season in the NBA, Farmer had his most successful run, playing 25 games and averaging 10 points per game.
Following his retirement, Farmer embarked on a country music career.
Farmer has been happily married to wife Angelisa for over a decade. Together they are the proud parents of two children.
Angelisa Proserpi and Jim Farmer became husband and wife in 2006. The couple celebrated their nuptials with a reception at the Hermitage Hotel in Nashville.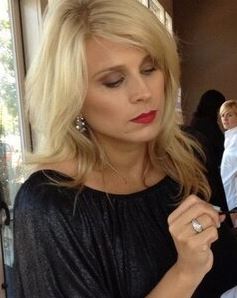 Angelisa Proserpi who hails from Switzerland, runs her own business. Angelisa Proserpi Farmer graduated from the Chesapeake School of Make Artistry in 2000.
The spouse and mother is the owner of a beauty salon in Franklin, Tennessee; where she and her family resides.
In her younger years, Mrs. Farmer participated in beauty pageants, becoming Miss Teen Maryland in 1993. As a result, she is listed on the missmarylandusa website; as a hall of fame member. Moreover, a profile on Prosperi at the time, describes her as an honor student who participated in theater.
Furthermore, according to a Pinterest profile, she describes herself saying "Of course, I Am a Swiss/Italian-American! Born in Geneva, I love gardens, chocolates, fine wine & cheese, music, travel, and art of all kinds"