Meet gorgeous blonde, Meet Nikki Stecich, she is the wife of MLB player Jon Jay. Her husband is a center fielder for the Chicago Cubs. Jon also played with the St. Louis Cardinals and the San Diego Padres, prior to signing a deal with the Cubs on November 29, 2016.
Pretty Mrs. Nikki Steich Jay was born April 11, 1987; Nicole Marle Stecich, but she goes by Nikki. The tall legged blonde and her MLB stud, tied the knot in 2013,  after being engaged for two years.
Beautiful Nicole attended the University of Miami, it was precisely there where the couple met and sparks flew! The lovebirds got engaged in 2011; after Jon popped the question.
Sunshine Wedding
The couple walked down the aisle in November 2013, in Saint Jude Melkite Catholic Church in Miami, with the reception at the Fairchild Tropical Botanic Gardens.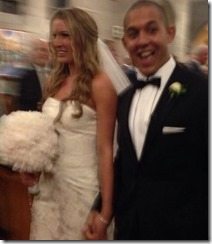 We are sure she and her hubby lots of things in common and here we share with you a couple; while attending University of Miami she played on the women's soccer team, appearing on defense in 2005, meaning they have the sports card down.
Nikki is also into charity and we know Jon has been doing his thing, getting involved in charity since his younger years. In 2011 her hubby hosted a charity bowling event accumulating an estimated $25,000.
Nikki who is a teacher appears on the Young Professional Board for the Children's Miracle Network Hospital, which is comprised of local professionals that work to raise funds and awareness for specific programs. So what other things does she do as part of her job? She and her man take time to visit children at hospitals.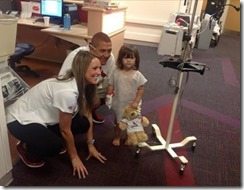 Nikki graduated from the University of Miami in 2009 with a Bachelor of Secondary Education degree in Elementary Education, according to the university's athletic bulletin. Before joining the Young Professional Board she worked on a project with Amor En Accion (Love in Action) which provides education and nutrition for children in the Dominican Republic.
So, after getting to know her better, what do you think of the couple?
Find Mrs. Jay on Twitter here.