Meet Jordan Duffy
Jordan Duffy is the cute TV reporter who landed a date with none other than NFL Rob Gronkowski! Jordan sure is a girl who goes after what she wants.
Back in 2015 she made headlines after she totally flirted with the NFL player during an interview! Duffy literally went from interviewing the guy to landing a date with him. It's good to be a reporter these days.
Accoridng to TMZ Rob took Jordan Duffy not just to any party, they were spotted together attending the post-Oscars Vanity Fair party! And this time, Jordan Duffy was not on assignment.
Jordan Duffy, a hot New Yorker, is described as an entertainment host, beauty and style expert. She is a Fordham University graduate and according to her LinkedIn she is an On Air Personality at DuJour Media.
At the time of the interview where they met, they both had attended Dujour Magazine's celebration of Patriots Star Rob Gronkowski's Summer Issue Cover Shot By Bruce Weber at LAVO on July 16, 2015 in New York City.
When the reporter had Rob right in front of her, she decided to do a little quick fire Q&A with questions like "Boxers or Briefs?" and "Blondes of Brunettes?" Of course Gronk chose both then laughed when that one was asked. Then Jordan Duffy asked if Gronk was single and he very coyly answered, "Yes…are you?" Her response? "Tonight I am."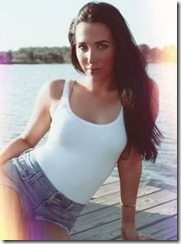 Jordan Duffy has always been interested in showbiz, in fact, she is a former singer and songwriter. At the of 13, she was chosen to be part of a girl group. According to her resume, she worked as a solo artist with many top producers and top executives. She collaborated with now deceased Latin rapper, Mexicano 777.
She moved on to a career as a freelance stylist working with actresses, models, reality TV stars and others. She also has on-air experience working as a Dujour media correspondent since 2013 and as a FLATT magazine, red carpet host.
Jordan Duffy has worked with the likes of actress Abigail Breslin, TV star Ramona Singer and model Callie Reiff. In 2014 she attended the Golden Globes kickoff party at the Mondrian, L.A.
She has interviewed a wide range of celebrities and athletes including, Paris and Nicky Hilton, Kim Kardashian, Chrissy Teigen, Kendall and Kylie Jenner, Lenny Kravitz, Kevin Costner and more.
Do you think the brunette and the Tight End will take things further? Let us know in the comments below!
You can find the hot Jordan Duffy on Instagram here.