Meet Chelsy McDaniel
Chelsy McDaniel famous former boyfriend is NBA player, LaMarcus Aldridge. He was born LaMarcus Nurae Aldridge on July 19, 1985 in Dallas, Texas.
LaMarcus Aldridge attended the Universtiy of Texas where he played college basketball for two seasons. While at college, he was named Big 12 Defensive Player of The Year and First Team All-Big 12 as a sophomore in 2005-06. He also earned Third Team NABC All-America honors and Associated Press Honorable Mention All-America honors as a sophomore and led the country in field goal percentage (66.3%) as a freshman in 2004-05.
He was originally selected by the Bulls in the first round (second pick overall) of the 2006 NBA Draft; but was later acquired by the Portland Blazers. After spending nine seasons with the Blazers, he signed a contract with the Spurs in 2015.
He's been selected to three All-NBA teams and is a five-time NBA All-Star.
Accoridng to ESPN, Aldridge recorded 26 points, 16 rebounds and a blocked shot in 33 minutes during Saturday's win against the Rockets.
Chelsy McDaniel has known LaMarcus for a number of years. In 2009 the stunning gal became pregnant with their son. She gave birth to a baby boy in April, but by then they were already separated. However, it is clear their lives are bound for life.
Chelsy McDaniel is the mother of son, Jaylen Lea Aldridge–who was born two weeks early. The early arrival caused Lamarcus to leave a playoff match to fly to San Antonio to see him born. LaMarcus is also the father of another boy, LaMarcus Jr. born in 2011.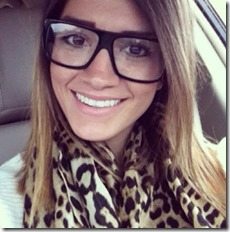 Since she became a baby mama, a lot has happened, in fact she is already married to another fella. She and her new husband Philip reside in Texas. When Chelsy McDaniel is not busy taking care of her son, she is busy attending school.
Accoridng to her Facebook profile, she now goes as Chelsy Pawelek. Her husband proposed to her last year. Philip works for an oil field services company.
She and her family reside in Pleasanton, Texas.
You can find Chelsy McDaniel on Twitter here.