Meet Juanita Phillips
Juanita Phillips is the mother of former NFL player Lawrence Lamond Phillips better known as Lawrence Phillips. Reports say her son –who was serving time in prison has been found dead.
Juanita Phillips's son makes for one of the most regrettable stories in the NFL. The two-time college football national champion was unable to make a successful career in the field due to his inability to stay out of trouble.
Lawrence Phillips was arrested a number of times during his life. Most recently he was sentenced to serve 7-years in jail for felony assault with a deadly weapon and was set to serve an additional twenty-five years for domestic assault on his girlfriend.
Last year he was charged with the murder of his cell mate, Damion Soward. According to reports, a month before he allegedly killed him, he wrote a letter to his mother. In the letter, he told Juanita Phillips, he thought his anger might lead to his death or someone else's death.
In the letter dated March 5, 2015, her son wrote:
"I feel myself very close to snapping," "My anger grows daily as I have become fed up with prison. I feel my anger is near bursting and that will result in my death or the death of someone else."
Juanita Phillips's son starred on Nebraska's national championship teams in 1994 and 1995, was a first-round NFL draft pick in 1996 and played three seasons in the league.
Her son revealed in letters, he'd had conflicts with gang members and accepted solitary confinement as an alternative to sharing a cell with a gang member.
Her 40-year-old son is suspected of committing suicide. Phillips was found in his cell at Kern Valley State Prison. He was found unresponsive early Wednesday and was rushed to a hospital where he was pronounced dead.
He was undergoing the early stages of the trial in Kern County for the murder of Soward.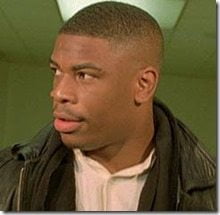 While being at Nebraska, Phillips pled guilty to assault and vandalism charges. After a brief NFL career with the St. Louis Rams, Miami Dolphins and San Francisco 49ers, Juanita's son was arrested in August 2005 for assault, when he drove a car into three teenagers after a pick-up football game. He was serving a combined 31 years for the assault on his former girlfriend.
According to a 2015 report, the source of Lawrence Phillips was rage was due to the abandon of his mother and that his father wasn't really around. According to a writer from Sun Sentinel, In 1987, Phillips' mother, Juanita, invited her boyfriend to stay in their home in Inglewood, California. Lawrence and the boyfriend bickered constantly—the boyfriend allegedly abused Lawrence and he began to run away from home and skip school.
In 2006 Juanita Phillips wrote an angry letter to attorney, Debbie Schlussel. You can read it here.