Meet Brittani Hopkins
Brittani Hopkins is the lovely wife of 28-year-old MLB player Drew Storen.
Brittani Hopkins might have to have a serious conversation with her man, after he revealed he was doing "Netflix and chill" when he found out he was traded. Yes her hubby is the newly acquired Toronto Blue Jays reliever.
Washington Nationals traded Storen and cash to Toronto in exchange for outfielder Ben Revere and a player to be named later, according to Bleacher Report.
Storen was drafted by the Yankees in the 34th round of the 2007 MLB Draft. Instead of signing, he opted to attend Stanford University where he was 12-4 with a 3.64 earned run average and 15 saves in over two seasons.
He is well remembered for his collapse in Game 5 of the 2012 National League Division Series against the St. Louis Cardinals. He ended up breaking  his thumb after he slammed his locker shut in frustration.
The famous phrase that indicates he could have been having an intimate moment with Brittani Hopkins when he got the call about the trade, has everyone talking about it and guessing what he really meant!
Should Brittani Hopkins tell her man to keep their stuff private? What would you do? Would you be embarrassed?
Storen revealed Tuesday on CBS radio in Washington "Just doing a little Netflix and chill with my wife and Mike Rizzo gave me a call."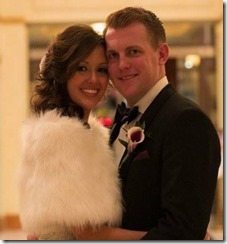 According to Megan Robinson of Global Sports, it's unclear if he actually knows what the phrase means because he really was just watching Netflix and chilling. Let's find out more about Brittani Hopkins.
Brittani Hopkins, is originally from Terre Haute. According to playerwags, she is a graduate from Purdue University in West Lafayette, Indiana and is a lover of the Boilermakers by association. She keeps active on social media, in fact, she has tweeted some photos of her attending Purdue contests.
When Storen popped the question in 2014, Brittani tweeted a photo of the romantic moment she said yes to a kneeling Drew, captioning the image: "I'm a happy girl."
According to the Knot, Britani Hopkins became Mrs. Storen on November 22, 2014 in Indianapolis, IN. According to her Facebook page, Brittani Hopkins worked as a Pharmacist at Walgreens.