Kendra Shaw
Kendra Shaw is the gorgeous girlfriend of NBA player, Julius Randle. Miss Shaw might go from girlfriend title to missus very soon. One title she will get for sure is the 'mommy' one. Keep reading to know about Kendra Shaw's biography.
Kendra Shaw's boyfriend was born Julius Deion Randle on November 29, 1994. The Dallas, Texas native was raised by mother Carolyn Kyles.
Julius was a McDonald's All-American his senior year at Prestonwood Christian Academy. Randle was named ESPN's #3 overall player for the high school graduating class of 2013.
He played one season of college basketball for the University of Kentucky –where he lead the Wildcats to the NCAA Championship game as a freshman in 2014. Julius declared for the 2014 NBA Draft and was selected 7th overall by the Los Angeles Lakers.
Randle who has been in the NBA for two seasons; played just 14 minutes in the Lakers' regular season opener in 2014-15 before being lost for the season due to a broken right leg. This past season Randle played in 81 of the Lakers' 82 games, averaging 11.3 points and 10.2 rebounds per contest.
Probably the best part about being Randle is he gest to call Kendra Shaw his woman.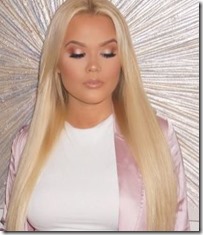 Pin
The couple who is currently engaged, is expecting their first child together. Julius popped the question earlier this year and gave the official announcement back in June.
Kendra Shaw hails from Lexington, Kentucky. This NBA wag falls in the typical model-girlfriend category, not that there's aything wrong with that, in fact, is our favorite category.
Shaw's obvious looks, made her a semifinalist in the 2013 Miss Kentucky Teen USA pageant. The blonde studied fashion merchandising at the University of Kentucky. She also attended the prestigious, Fashion Institute of Design & Merchandising in Los Angeles. You can check out her LinkedIn here.
Kendra Shaw and Julius met during his lone season at Kentucky (2013-14) and have been inseparable ever since. Kendra has already enjoyed the perks of dating an NBA player. She and Randle were on a luxury vacay through Greece when he proposed on June 20th.
The mom-to-be, Kendra Shaw is expecting a baby boy, they couple will name him, Kyden.
Kendra has gained major social media attention. She has over 19K followers on Instagram.
You can check out the lovely blonde on Twitter here.