Harper Hempel
Have you met Harper Hempel? She is the stunning girlfriend of NBA player Jamal Murray, the talented Canadian point guard for the Denver Nuggets who played college basketball at the University of Kentucky prior to being drafted by the Nuggets in the first round (7th overall) in the 2016 NBA Draft.
Before we can get to tell everything we know about Jamal Murray's GF, allow us to tell you all the interesting things about his career, starting from his childhood, Jamal Murray parents, mom Sylvia and father Roger Murray, his siblings, high school and college career and finally his path into the greatness he has shown in the NBA as a Denver Nugget.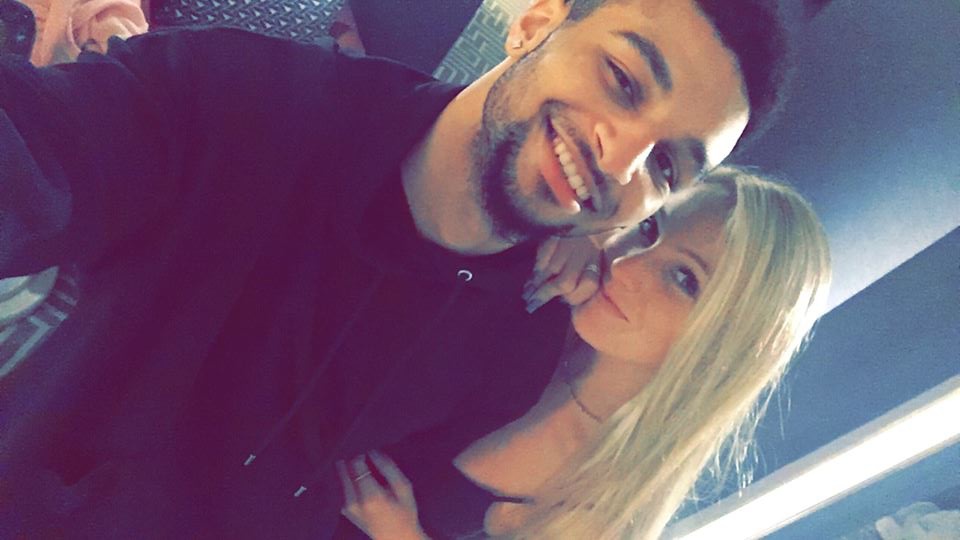 Jamal Murray Parents
Many people wonder about Jamal Murray's ethnicity, this talented and handsome basketball player got his genes from his amazing parents, his momma Sylvia is Canadian, his dad Roger Murray is Jamaican/Canadian.
Roger Murray
Jamal's dad Roger, 48, was born in Jamaica, he was nine, when his family decided to move to Kitchener, Ontario.
He loved sports overall, he practiced track and field as well as martial arts but had a special thing for basketball, therefore for Roger NBA Star, Michael Jordan was his sports hero.
Once Jamal was born Roger introduced him to basketball; together they would watch as many games as they possibly could.
Soon Roger saw, that his son not only was his sports buddy but that he had the skills to become a basketball player.
"In the early days, we used to always work on his form with free throws and jump shots," said Roger Murray, who describes his relationship with Jamal as father, coach, trainer, and friend. "So he'd be at the free-throw line and would sometimes get frustrated because he wouldn't make a shot. I told him he had to make 30 in a row. So he's 7 years old and he has to make 30 in a row. There's some frustration and some pressure."
Father and son, train endlessly.
My dad put a basketball in my hand and I've loved it ever since;" said Jamal. "I had a little tykes net from Walmart and I used to play on it every day and then I got a net in the backyard and I kept continuing.

From early on as a kid I knew if he put in the work the sky's the limit. Early on I knew he could do it.

Using his martial arts skills, Roger train Jamal.

I made a promise to coach him and use this as a vehicle to get to college," Roger Murray said. "We took everything apart: mentally, physically, psychologically.

We called (the process)'mental Kung Fu'. It's basically just a way of controlling your body and focusing on your goal. Knowing what you can do and what you want to do and what it takes to get here. 'You have to concentrate;' " Roger said. " 'If you really want to do something special, you got to make the sacrifice of all these things. We can't lose track of ourselves.
But training didn't just come physically but also mentally.
"Refocus," Roger would tell his son. "Relax."
The same potential Roger saw in Jamal, was visible for basketball scouts. At age 7, Jamal hit 10 and then 15 in a row, then 30 in a row.
"For me," Roger said, "it was proving to him that he could do it, that it was mind over matter."

"I saw him as almost superhuman," Roger said. "I watched how he approaches things mentally, how committed he was to things he wanted to do. He would never give up and never put any blocks in the way to stop him from whatever he was trying to do.

Whatever my boy wants to do, Roger promised, I'm going to help him be the very best at it.

"It happened to be basketball that he loved," Roger said.
Sylvia Murray
Born in Syria and raised in Canada, Sylvia met Roger in their teenage years, dated for some time, and eventually got married.
Eventually, Sylvia would welcome two sons, Jamal born on February 23, 1997, and Lamar, born in 2007.
While her husband took care of Jamal's training, Sylvia Murray ensured he did his homework and got good grades.
And when Jamal grew up and had to travel with Roger, Sylvia stayed with her younger son Lamar Murray, 13.
"She's always been helping me," Murray said of his mother. "She helps me with my schoolwork sometimes. She would talk to me and send me messages when she's at work telling me she loves me and bless my heart, stuff like that. She's always had a positive attitude toward me. Very supportive of what I do."

"I'm not there all the time. My dad spends most of the time with me for traveling reasons." Murray continues. "She's very supportive and takes care of my brother, holds it down at home."
Jamal Murray High School Career
Jamal averaged 17 points and 2.4 assists per game; he started his studies and basketball path first, Grand River Collegiate Institute, and subsequently at Orangeville Prep in Ontario.
Named MVP at the 2013 Jordan Brand Classic International Game.
Later on, in 2015 he was the most valuable player at the BioSteel All-Canadian Basketball Game and the same at the Nike Hoop Summit.
In addition to the University of Kentucky, Jamal received scholarship offers from Maryland, Michigan State, Oregon, North Carolina State, University of Michigan, and Indiana.
Jamal Murray College Career
Jamal Murray played one year with the Wildcats at the University of Kentucky before he decided to forgo his three years of college eligibility and entered the draft.
He finished his college career averaging 5.2 rebounds, 20.0 points, 2.2 assists while shooting 40.8% from the three-point range in 36 games.
Jamal Murray NBA Career
In April 2016: Jamal declared for the draft.
June 23, 2016: The Denver Nuggets selected Jamal Murray in the first round, 7th overall selection in the 2016 NBA draft; Ben Simmons was the first selection, followed by Brandon Ingram and Jaylen Brown.
Jamal signed his first contract with the Nuggets on August 9, 2016.
He was named Western Conference Rookie of the Month (October and November) on December 1st, 2016.
On June 27, 2017, Murray was named NBA All-Rookie Second Team
On September 27, 2017, the Denver Nuggets exercised a $3.5 million option on his contract for the 2018-2019 season.
On October 30, 2018, the Nuggets exercised his contract's $4.44 million option for the 2019-2020 season.
On July 24, 2019, Murray signed a contract extension with Denver.
On January 15, 2020, Jamal suffered an ankle sprain against the Charlotte Hornets.
He sustained a torn ACL on his left knee against the Golden State Warriors on April 12, 2021.
On April 21, 2021, Denver announced Jamal underwent ACL Surgery.
Jamal Murray was activated on the roster following his surgery on  October 19, 2022.
Jamal Murray Contract and Salary
On July 24, 2019, Jamal Murray signed a five-year,  $195.65 million contract extension with the Denver Nuggets. The deal included  a $158,253,000 guaranteed, and an annual salary of $31,650,600. In 2023-24, Murray will earn a base salary of $33,833,400, while carrying a cap hit of $33,833,400 and a dead cap value of $33,833,400.
Jamal Murray Endorsements
Jamal Murray has endorsement deals with KFC, New Balance, Western Union, Express, JB Audio, and Lyft.
Jamal Murray Career Stats (2023)
Jamal Murray Jersey
Jamal Murray's jersey from the University of Kentucky had the Number 23, in honor of his birthday, if you are interested in buying it you can do it here.
However, if you are interested in buying Jamal Murray's NBA jersey, the Denver Nuggets #27 jersey is here and also here.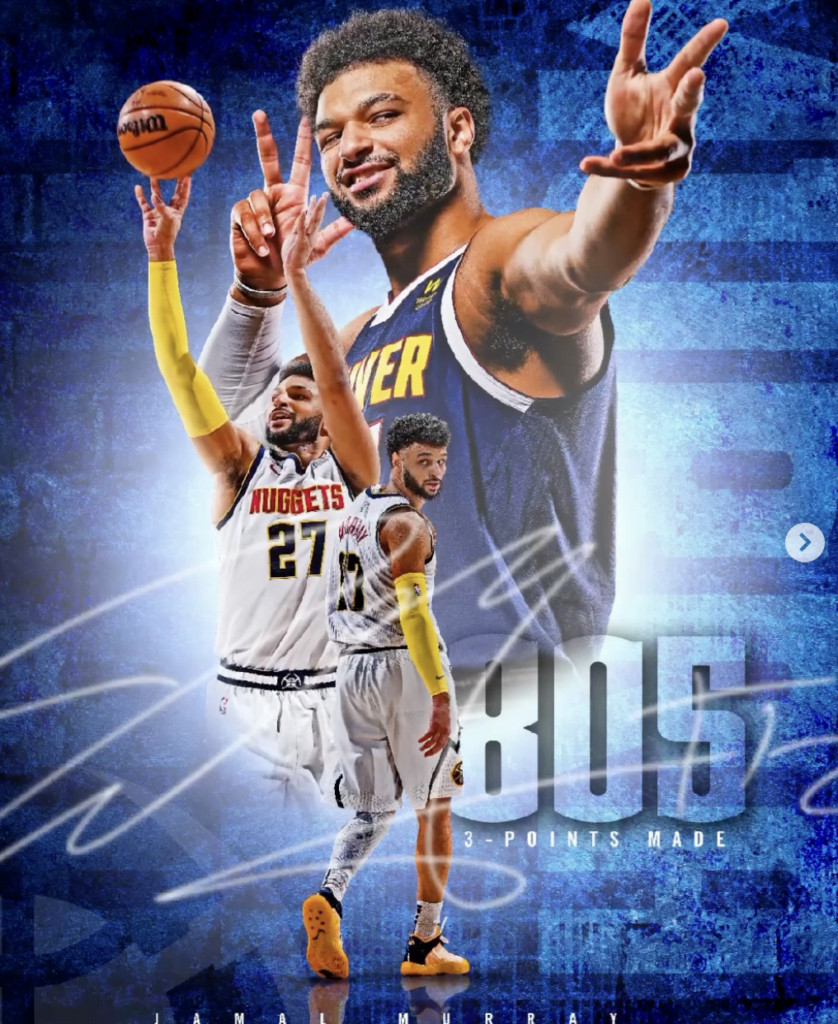 Who is Jamal Murray's Girlfriend Harper Hempel?
We pretty certain you already know plenty about Murray, therefore allow us to tell what we found about his HOT girlfriend.
Firstly, you need to know that Harper and Jamal met while they both attended the University of Kentucky, where she played volleyball and from where she graduated with an Associate's Degree in Marketing in 2018.
Harper finished her first year at the University of Kentucky playing in 13 games, 27 sets, 20 digs, and three assists.
Played in 17 games, 30 sets, 46 assists her junior year; played in 13 games, 16 sets, one ace her senior year.
Before committing to the University of Kentucky, 5'8″ Harper attended Ryle High School. She is currently a photographer at Harper Hempel Photography in Kentucky.
In October 2019, joined Fact & Fiction as their social media community manager.
Before that, she was an instructional coach in college and an intern at Kentucky Innovation Network.
She also did an auditing and financial planning internship at Central Bank; back in 2014, Ms. Hempel was an instructional coach at Northern Kentucky Volleyball Club in Erlanger.
22-year-old Harper Alexandra Hempel was born on August 30, 1996, in Union, Kentucky; she is one of two children born to Colleen Hempel (nee. Conner) and Richard Hempel, University of Transylvania University graduate and co-founder of eCoach.
Harper has one brother, Conner a former football quarterback at Harvard. In addition to football, Conner also excelled in baseball.
Jamal Murray auditioning for the Meme Team 😅 (via @harperhempel) pic.twitter.com/vRFyIoeEML

— Bleacher Report (@BleacherReport) July 21, 2018
According to Heavy, Harper Hempel is responsible for recording a video featuring her stud-shooting the ball, turning around, before realizing he missed the shot; he tried to look for the camera but the video eventually went viral.
Jamal Murray's Girlfriend's Instagram is here.
Related Story: Nikola Jokic's Wife Natalija Maćešić