Gina Tobey
Have you met Mrs. Gina Tobey? She is the loving and beautiful mother of college football player Justin Fields, the talented 6'3″ quarterback for the Ohio State Buckeyes at Ohio State.
Prior to joining the Buckeyes, Justin played with the Bulldogs at the University of Georgia.
Gina's 6'3 (228 lb)boy Justin was born on March 5, 1999, in Atlanta, Georgia. He attended Harrison High School in Kennesaw, Georgia where he was the started quarterback for two years.
He finished his high school career with 4,187 passing yards, 2.096 rushing yards, 28 rushing touchdowns, and 41 passing touchdowns.
Fields was named MVP at the Elite 11 QB competition in 2017, first-team all-state, and  Mr. Georgia Football by the Touchdown Club.
He initially committed to Penn State but had a change of heart and opted to play with the Bulldogs at the University of Georgia instead, serving as back up for Bulldogs' QB Jake Fromm.
Related Story: Jake Fromm's Girlfriend Caroline Ostman.
During his debut night with the Bulldogs, Justin completed 7 passes, one of those was a 12-yard touchdown pass, 63 yards, and three carries
The Bulldogs lost to Alabama in the SEC Championship game in 2018, following that loss, Justin announced he was transferring to Ohio State.
"I've decided to transfer to Ohio State University where I will continue to pursue my undergraduate degree and play football for the Buckeyes," Fields wrote in a statement. "I'll miss my teammates more than they'll ever know, and I wish them all the best as they get ready for another season. I hope the bonds we've developed this past year will never be broken by where we choose to play football or where we end up after college."
Fields started in 14 games, completed 3.273 passing yards, 484 rushing yards, 41 passing touchdowns, and 10 rushing touchdowns his first year with the Ohio State Buckeyes.
He was among the finalist for a Heisman Trophy; this year he finished 908 passing yards, 57 rushing yards, 11 passing touchdowns, and 2 rushing TD's.
Fields is pursuing a degree in consumer and family financial services.
Justin Fields Parents
Justin Fields Mother Gina Tobey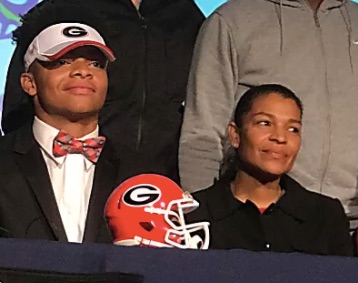 Pin
Justin's momma Gina Tobey born Gina Lynn Tobey on February 12, 1969, in Georgia. She has three brothers; George, Gary, and Greg.
She is a project manager at Fleetcor; she first joined Fleetcor in January 2009, as a sales manager.
Prior to that, Mrs. Tobey was a sales manager for DHL and had the same working position when she worked for MCI between September 1999 to October 2005.
Justin's mom graduated with a Bachelor's Degree in Vocal Performance with an Opera emphasis from the Boston Conservatory at Berklee in 1992.
Gina lives in Norcross, Georgia. She shared her opinion when Justin first committed to the University of Georgia a few years back.
"I think that they were the best," Gina Tobey said on his commitment day. "To be honest with you, but I haven't been on all the visits. But I had been on enough. … I went to Alabama last weekend."

"Keep in mind that we had done a lot of unofficial visits, tons of them," she said. "We went to so many different schools. We went to Duke and Tennessee. And we went to Auburn, FSU and Florida. The only difference if we would have kept going on more official visits is that they would have been paying for it.

"Georgia just seemed to have the overall best plan and best programs in place to help Justin succeed."
Justin Fields' father Ivant Pablo Fields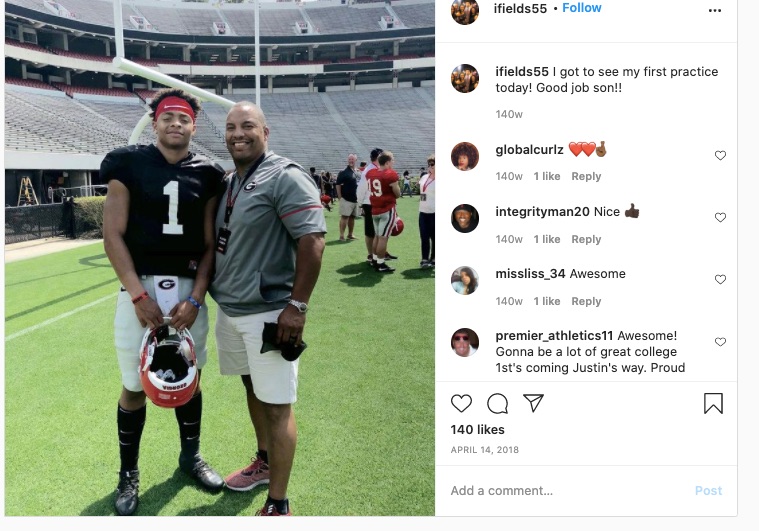 Pin
Justin's dad, Ivant a former linebacker at Eastern Kentucky University, then a student at Luther Rice University is nowadays a Resource Officer at the Atlanta Public Schools.
Mr. Fields graduated in 2007, from Luther Rice University.
Justin's dad takes care of everything related to his children's athletic careers, Justin in football, Jaiden in softball, and Jessica the youngest in basketball.
He knew moving to Ohio, would be tough on Justin, but showed his support for his son's decision.
"It was rough at first, just coming here," his father, Ivant "Pablo" Fields said before adding

"He is where he's supposed to be, I really believe that,"

"And, I think he was where he was supposed to be last year."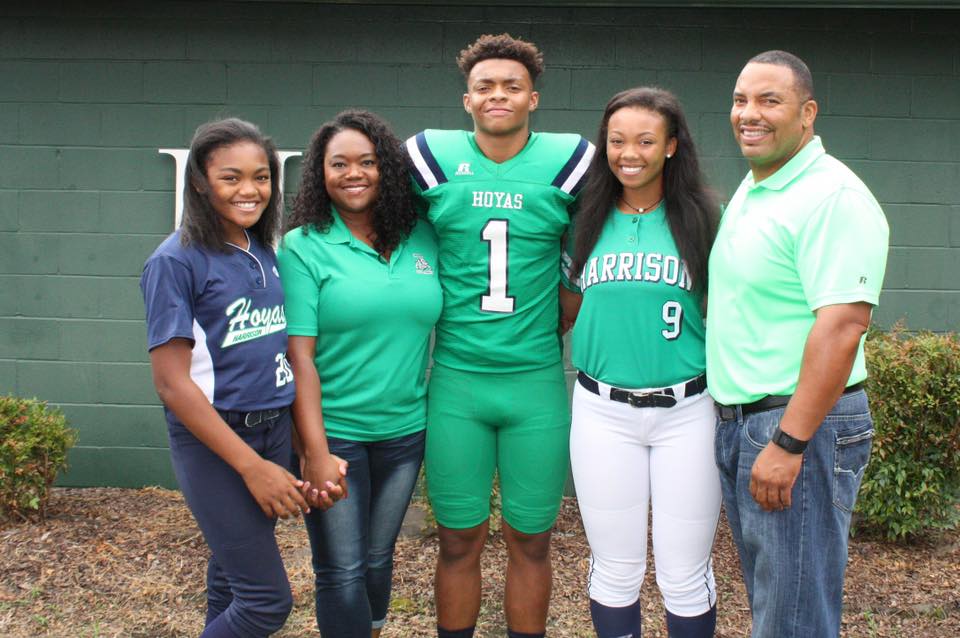 Pin
Justin Fields Siblings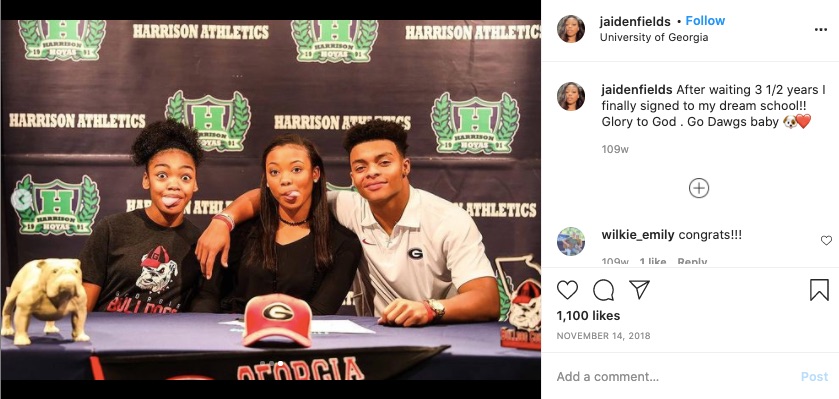 Pin
While Justin didn't have older or younger siblings from his mom Gina's relationship with his dad Ivant; he got to enjoy the whole big brother's experience when his dad Ivant Fields and step-mother stepmother Jo-Ann tied the knot.
Furthermore, Ivant Fields' wife is personal injury attorney Jo Ann Claudrick Fields, mother of his youngest daughters, 5'9 Jaiden (b. September 22, 2000) a softball player at the University of Georgia who is pursuing a major in journalism.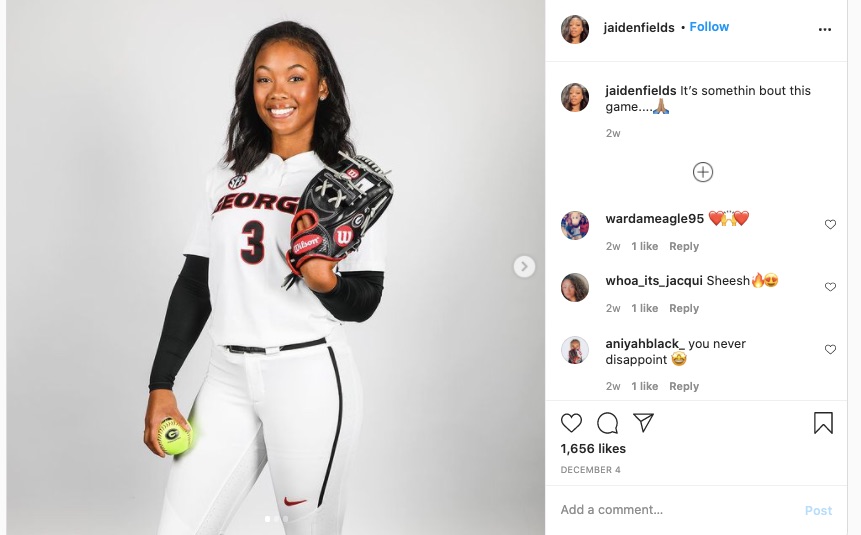 Pin
Justin's youngest sister is 6'1 Jessica Rae Fields a sixth-grader and forward basketball player at Harrison High School.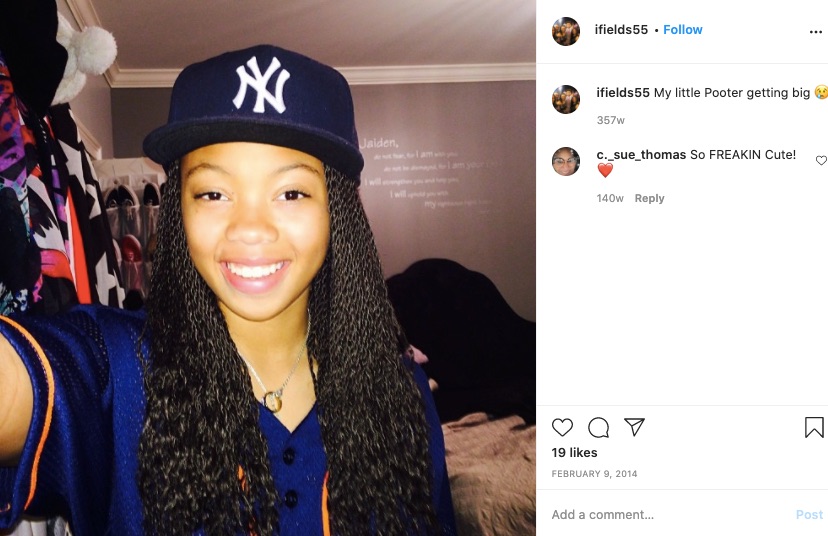 Pin