Gina Tobey
Have you met Mrs. Gina Tobey? She is the loving and beautiful mother of college football player Justin Fields, the talented 6'3″ quarterback for the Chicago Bears. He previously played college football for the Ohio State Buckeyes at Ohio State.
Before joining the Buckeyes, Justin played with the Bulldogs at the University of Georgia.
Justin Fields High School
Gina's 6'3 (228 lb)boy Justin was born in Atlanta, Georgia on March 5, 1999. He attended Harrison High School in Kennesaw, Georgia where he was the starting quarterback for two years.
He finished his high school career with 4,187 passing yards, 2.096 rushing yards, 28 rushing touchdowns, and 41 passing touchdowns.
Fields was named MVP at the Elite 11 QB competition in 2017, first-team all-state, and  Mr. Georgia Football by the Touchdown Club.
He initially committed to Penn State but had a change of heart and opted to play with the Bulldogs at the University of Georgia instead, serving as back up for Bulldogs' QB Jake Fromm.
Justin Fields College
Related Story: Jake Fromm's Girlfriend Caroline Ostman.
During his debut night with the Bulldogs, Justin completed 7 passes, one of those was a 12-yard touchdown pass, 63 yards, and three carries on 12 games.
The Bulldogs lost to Alabama in the SEC Championship game in 2018, following that loss, Justin announced he was transferring to Ohio State. He completed 27 of 30 passes for 328 yards and four touchdowns.
"I've decided to transfer to Ohio State University where I will continue to pursue my undergraduate degree and play football for the Buckeyes," Fields wrote in a statement. "I'll miss my teammates more than they'll ever know, and I wish them all the best as they get ready for another season. I hope the bonds we've developed this past year will never be broken by where we choose to play football or where we end up after college."
Fields started in 14 games, completed 3.273 passing yards, 484 rushing yards, 41 passing touchdowns, and 10 rushing touchdowns his first year with the Ohio State Buckeyes.
He was among the finalist for a Heisman Trophy; this year he finished 908 passing yards, 57 rushing yards, 11 passing touchdowns, and 2 rushing TD's.
Fields was pursuing a degree in consumer and family financial services when he announced he would skip his senior year and enter the draft. He finished his college career completing 423 of 618 passes for 5,701 passing yards and 67 touchdowns, he also recorded 1,133 rushing yards, 19 touchdowns in 34 games.
Justin Fields Draft
On January 18, 2021, Justin Fields announced he was entering the NFL draft and forgoing his last year of eligibility.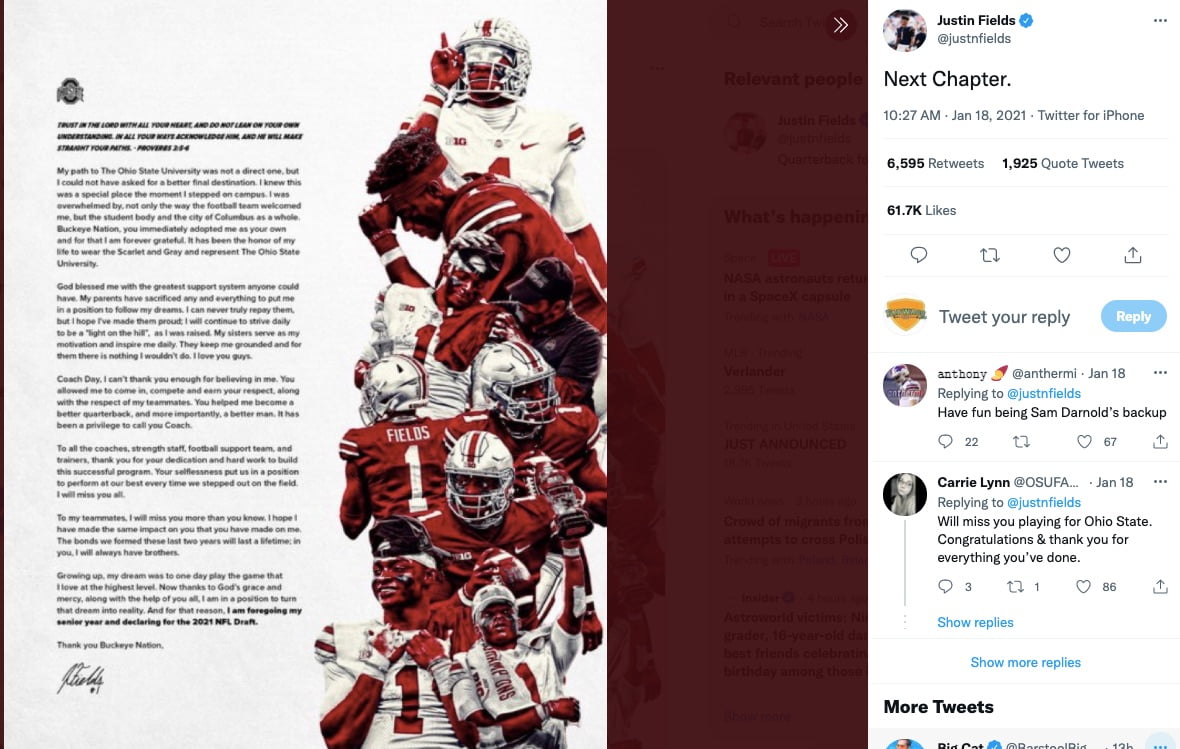 The Chicago Bears traded their r the 20th overall pick, their fifth-round pick in 2021, and their first and fourth-round picks in 2022 in order to select Justin Fields with the 11th overall selection in the first round during the 2021 NFL draft.
Justin Fields NFL Combine
6'2 Fields ran a 4.45-second, 40-yard dash, which was really fast for the position. He weighs 227 pounds, with 32 1/2 inch arms, 91/8 inch hands, and a 74 3/5 inch wingspan.
Justin Fields NFL Career Timeline
On June 10, 2021, Justin Fields signed his first NFL contract with the Chicago Bears (contract details below).
He was named second-string quarterback, for Andy Dalton.
Fields made his NFL debut on September 12, 2021, against the Los Angeles Rams, who defeated the Bears 34-14.
On September 19, 2021, when Dalton suffered a knee injury in the third quarter against the Bengals, Justin went to the field, he completed 6 of 13 passes for 60 yards.
He was named starting QB on September 22, 2021.
He made his starting debut against the Cleveland Browns; Fields completed six of 20 passes for 68 yards, rushing for 12, in a 6-26 loss.
Justin git his first career win against the Detroit Lions, 24-14; Fields completed 11 of 17 passes for 209 yards.
Justin Fields NFL Stats
Click to Enlarge

Justin Fields Net Worth
As of August 2021, Justin Fields' net worth has been estimated at $20 million. In addition to his NFL contract, Fields earns from his endorsement with Nutrabolt's C4 Energy, Bose among others.
⚡️ WE LOCKED IN OUR QB⚡️ @justnfields X C4

We are STOKED to welcome Justin to the #TeamC4 roster! He makes big plays happen for a living and we can't wait to see him thrive in the league. https://t.co/5xI1alraPe pic.twitter.com/GkWyGqVEdH

— C4 Energy (@c4energy) April 16, 2021
Justin Fields Endorsements
In addition to his endorsement deal with C4 Energy, Fields has deals with the PlantX The website, Chipotle, Bose, Oakley, and Wonderful Pistachios.
Justin Fields Contract & Salary
On June 10, 2021, Justin Fields signed a four-year, $18.8 contract that included an $11,085,060 signing bonus, an annual salary of $4,717,989, and a base salary of $660,000.
Justin Fields Jersey
Justin Fields' jersey is available for $119.99 at the Chicago Bears shop; you can also find it at 's Sporting Goods, Fanatics, the NFL Shop, and certainly at Amazon.
Justin Fields Parents
Justin Fields' parents are Ivant Pablo Fields and Gina Tobey.
Justin Fields Mother Gina Tobey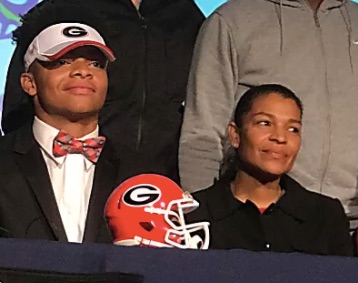 Justin's momma Gina Tobey was born Gina Lynn Tobey on February 12, 1969, in Georgia. She has three brothers; George, Gary, and Greg.
She is a project manager at Fleetcor; she first joined Fleetcor in January 2009, as a sales manager.
Prior to that, Mrs. Tobey was a sales manager for DHL and had the same working position when she worked for MCI between September 1999 to October 2005.
Justin's mom graduated with a Bachelor's Degree in Vocal Performance with an Opera emphasis from the Boston Conservatory at Berklee in 1992.
Gina lives in Norcross, Georgia. She shared her opinion when Justin first committed to the University of Georgia a few years back.
"I think that they were the best," Gina Tobey said on his commitment day. "To be honest with you, but I haven't been on all the visits. But I had been on enough. … I went to Alabama last weekend."

"Keep in mind that we had done a lot of unofficial visits, tons of them," she said. "We went to so many different schools. We went to Duke and Tennessee. And we went to Auburn, FSU and Florida. The only difference if we would have kept going on more official visits is that they would have been paying for it.

"Georgia just seemed to have the overall best plan and best programs in place to help Justin succeed."
Justin Fields father Ivant Pablo Fields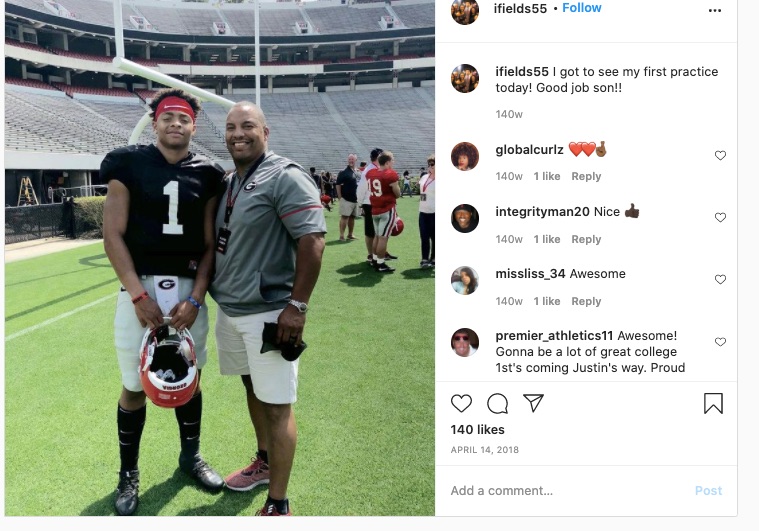 Justin's dad, Ivant a former linebacker at Eastern Kentucky University, then a student at Luther Rice University is nowadays a Resource Officer at the Atlanta Public Schools, he previously was a policeman for the City of Atlanta Police Department. Mr. Fields originally from Louisville, graduated in 2007, from Luther Rice University
Justin's dad takes care of everything related to his children's athletic careers, Justin in football, Jaiden in softball, and Jessica the youngest in basketball.
He knew moving to Ohio, would be tough on Justin, but showed his support for his son's decision.
"It was rough at first, just coming here," his father, Ivant "Pablo" Fields said before adding

"He is where he's supposed to be, I really believe that,"

"And, I think he was where he was supposed to be last year."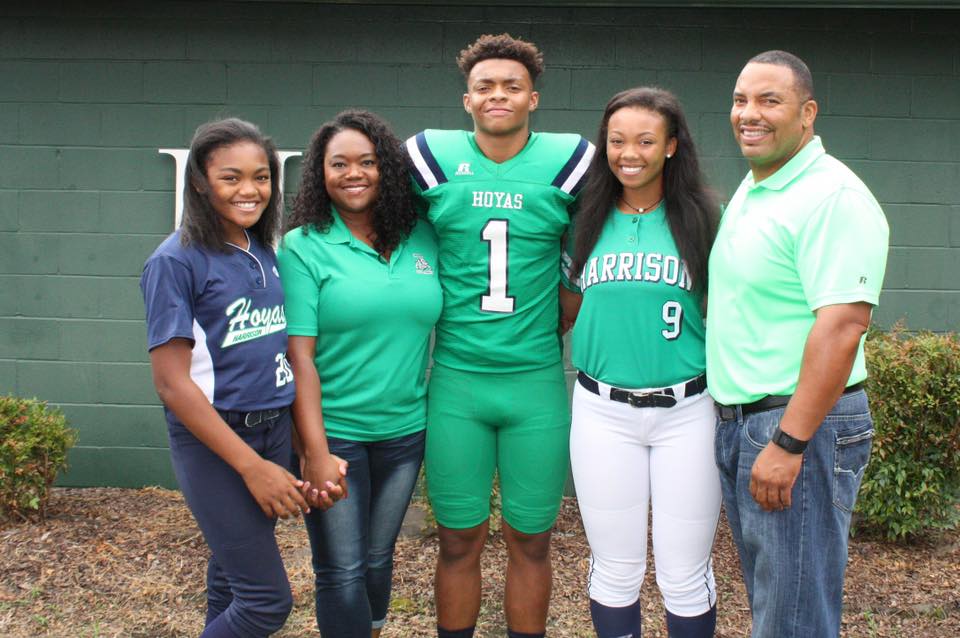 Justin Fields Siblings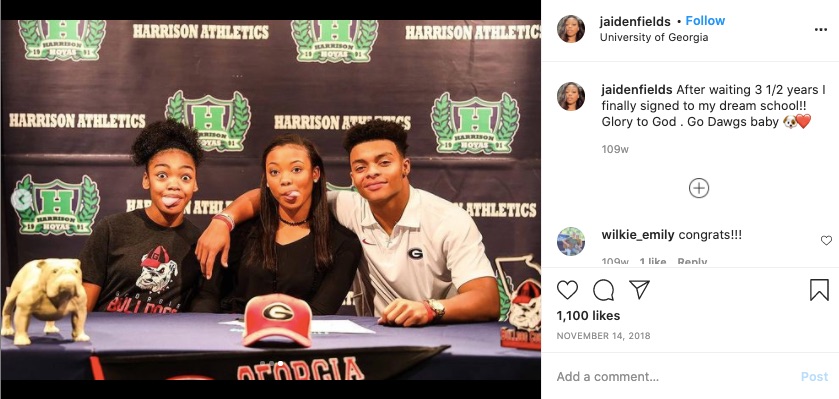 While Justin didn't have older or younger siblings from his mom Gina's relationship with his dad Ivant; he got to enjoy the whole big brother's experience when his dad Ivant Fields and step-mother stepmother Jo-Ann tied the knot.
Jaiden Fields
Furthermore, Ivant Fields' wife is personal injury attorney Jo Ann Claudrick Fields, mother of his youngest daughters, 5'9 Jaiden (b. September 22, 2000) a softball player at the University of Georgia who is pursuing a major in journalism.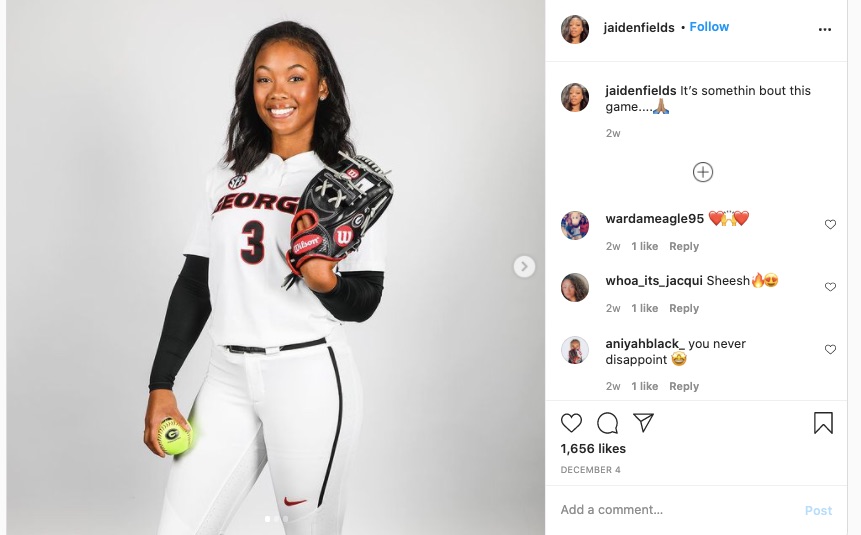 Jessica Fields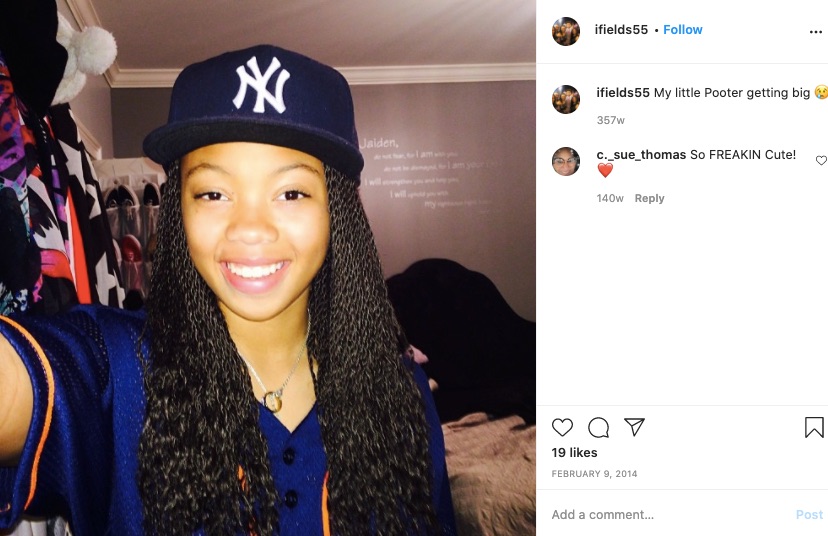 Justin's youngest sister is 6'1 Jessica Rae Fields a forward basketball player who attended Harrison High School and Mt. Paran High School Kennesaw Ga. Jessica has received scholarship offers from the University of Illinois, the Georgia Institute, Marquette, Mercer University, George Mason University, Florida State University, Ole Miss, The University of Alabama, and the University of Georgia.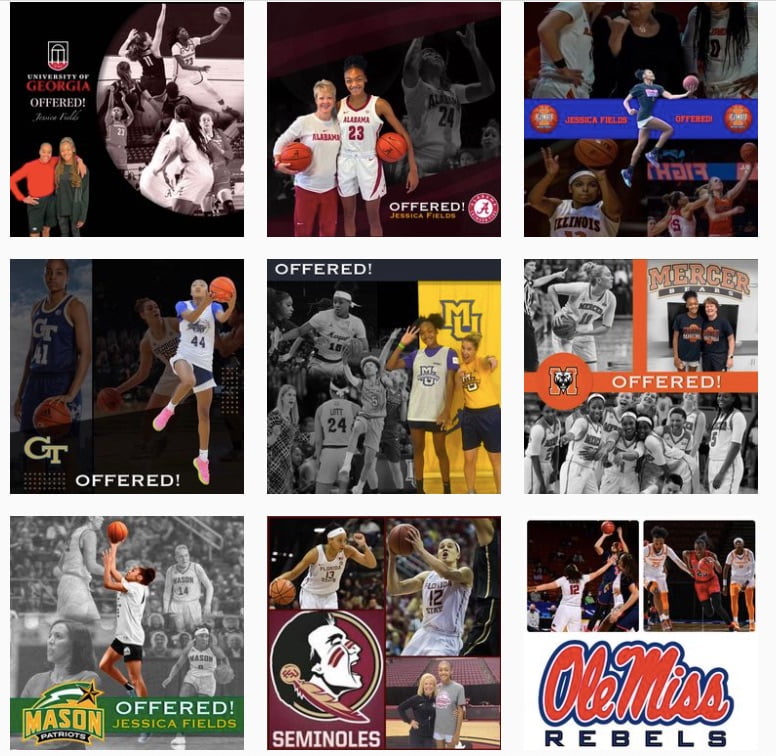 Justin Fields Girlfriend
The Chicago Bears quarterback, Justin Fields doesn't have a girlfriend at this moment, and if he does, he is way too good at keeping his personal life out of the public eye.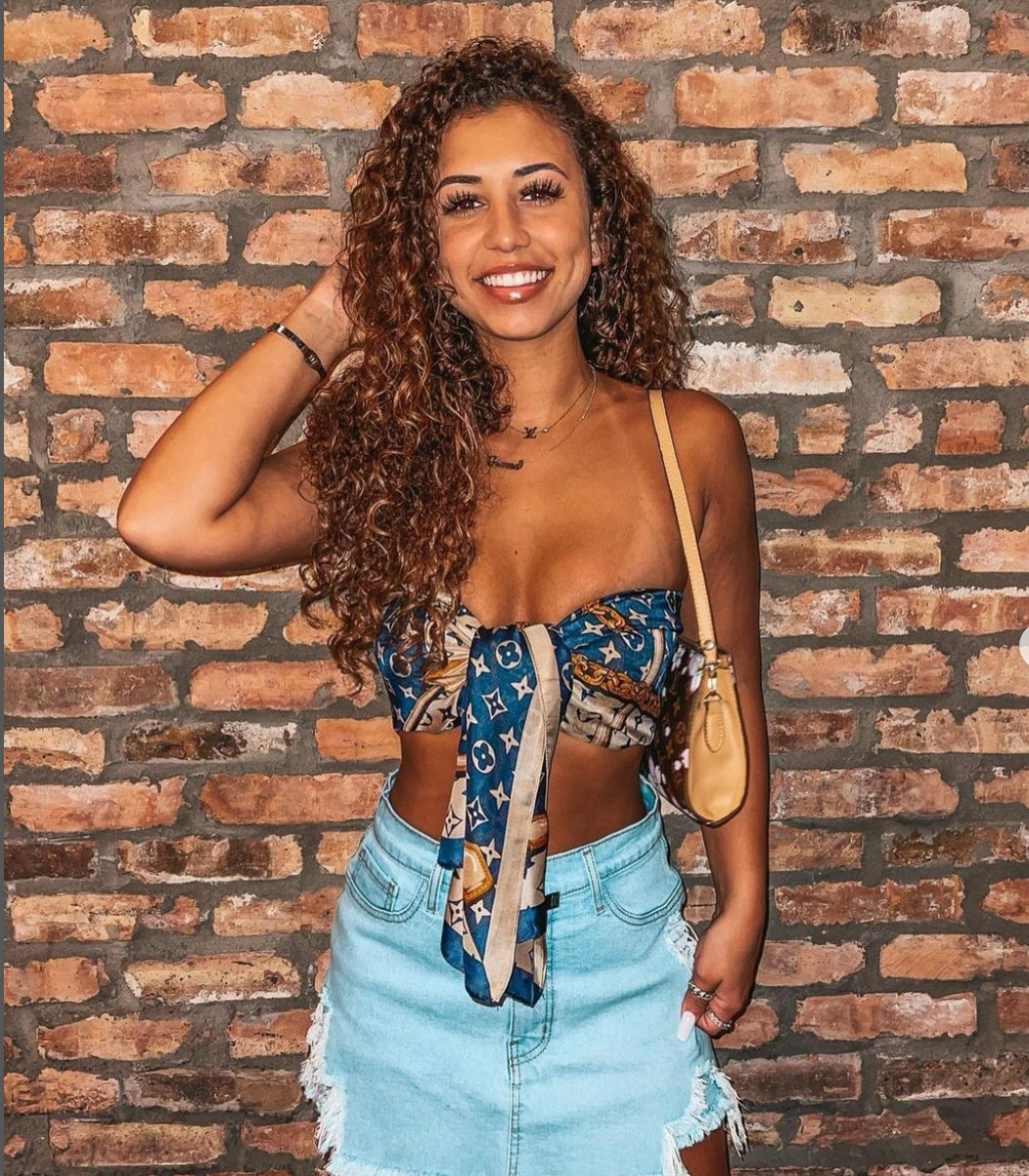 Although on March 14, 2022, it was reported by Sports Gossip that Justin Fields and model Gianna Carmona are dating; the rumor started after Gianna posted a story on Instagram during their trip to Turks and Caicos.
Justin Fields Dog
What kind of dog does Justin Fields have?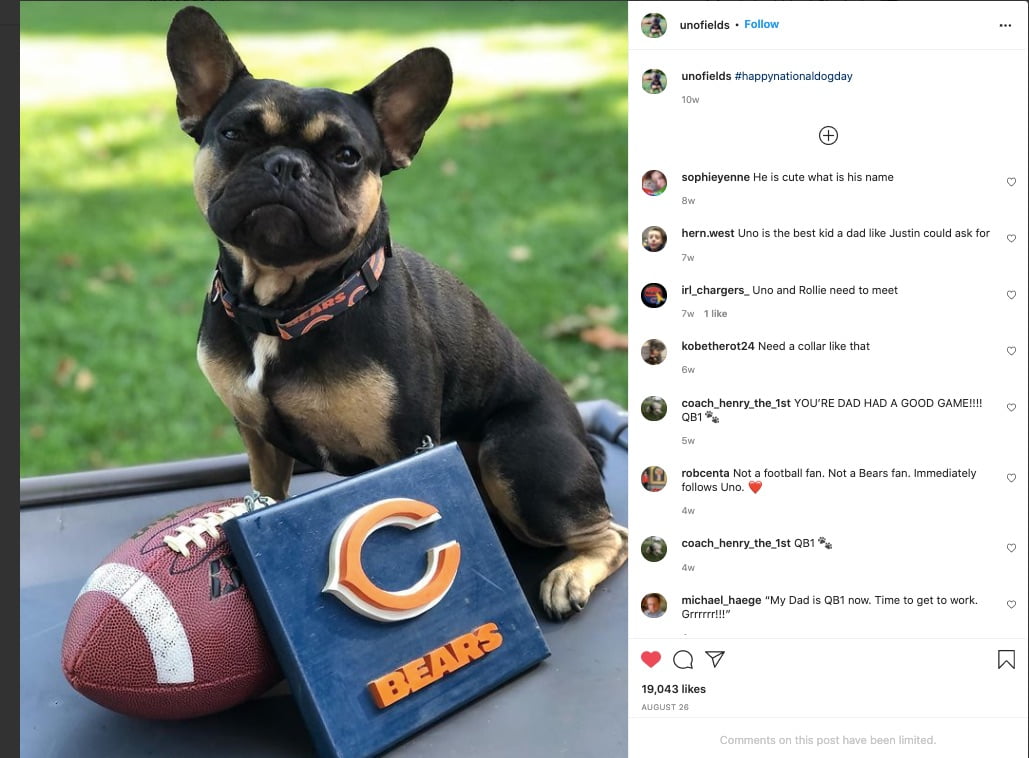 Uno, a beautiful two-year French bulldog is Justin Fields's dog, who already has 52.7K followers on Instagram.
Is Justin Fields Vegan?
In May 2020, Justin Fields spoke about trying a plant-based 28-day detox. Fields added that a plant-based lifestyle helps his body become stronger and speed the healing process.
Being plant-based speeds up the healing process," said Fields.
"Before I moved to plant-based, I would kind of be a little bit constipated. I didn't take a number two as often as I do now. After the 28-day period, I liked the results that it gave me physically but also internally and how it felt inside,"
 "Science proves that being plant-based and eating those things heals your body faster and helps your body recover. My job is to invest in my body. Keeping your body healthy is the number one thing. If your body isn't healthy, then you're not getting the full potential out of yourself."