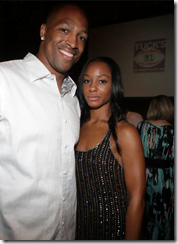 American football linebacker for the New York Giants of the National Football League, Michael Boley is no more! He started on the right foot after playing college at Southern Miss, he was drafted by the Atlanta Falcons in the fifth round of the 2005 NFL Draft.
But things are not looking at its best for the NFL player with his recent arrest for child abuse! Wonder what his newest wife Kanesha Jones thoughts on her man's new faith.
On February 27, 2009, Boley signed a five-year, $25 million deal with the New York Giants. He won his first championship ring with the Giants in Super Bowl XLVI against the New England Patriots. But plans of his career have crashed and burn since on February 5, 2013, Kanesha's husband was released by the New York Giants.
Jones's hubby was quietly arrested back in February after he had been under investigation in Alabama for a 2011 incident involving his son, who was 5 years old at the time. The person who made the charge of abuse is the mother of the 5-year-old and now Boley's ex-wife, Chantelle; the allegations were of a physical nature and NOT sexual abuse.. Anger management issues??
The native of Gadsden pled guilty to child abuse and in exchange, he was ordered to enroll in a pre-trial diversion program and upon completion the charge would be dropped. And just 3 days later he was cut by his team.
The picture above was taken 3 June 2010-New York, NY we can see Michael Boley and Kanesha Jones at The 2nd Annual Tuck's Celebrity Billiards Tournament, benefiting Tuck's R.U.S.H for Literacy held at Slate NYC. You can even see his little boy somewhat uncomfortable huh!
Kanesha Jones Boley is from Chicago Illinois, she attended Desert Vista High School and graduated in 2001. She works for Group Twenty Six Real State and Coaching Company in Edgewater, New Jersey.
Her husband being a lost case for games specially ¨Call of Duty¨ they have created a plan: Whenever he's playing "Call of Duty," she's usually out of the house shopping! Smart lady.
Well we sure hope the now ¨free agent¨ has learned the lesson and works on his issues at least he has beautiful wife Kanesha by his side.The couple live at their home in Edgewater, N.J
According to the Giants, he has six children: sons Michael Jr., McKale, Josh, Tyler and Donovan, and a daughter, Tianna.
You can see Kanesha Jones Boley´s Facebook page here.