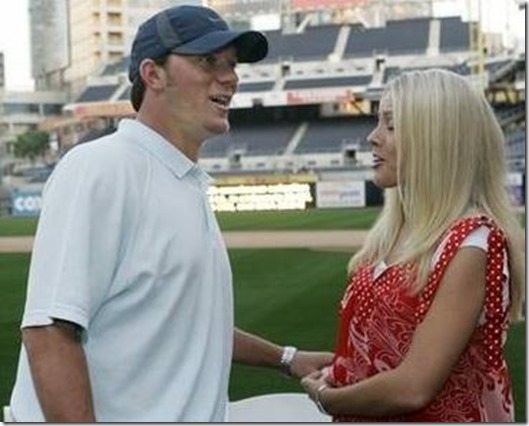 Pretty Katie Alford is the wife of 33-year-old SF giants' pitcher Jake Peavy. Mrs. Peavy is Jake's unconditional fan, she has been married to him for over a decade having been friends through out high school. Reports say her husband is ready for postseason and he will debut against friend Stephen Strasburg. As we await for that, let's get to know the veteran's lovely wife better.
She was born Katie Leanne Alford in 1981, like her hubby is also an Alabama native, the couple are the true expression of taking over the big city, coming proudly from country!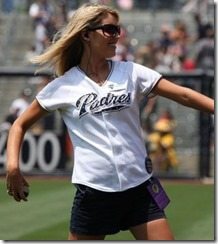 After dating throughout high school Katie and Jake made the big decision to walk down the isle at the early age of 19! We know how important it is for athletes to have someone that they can fully rely on, on that note, Jake shows to be a mature dude when he acknowledges what Katie means to him by saying "Being married helps you be focused on what you're here to do, and that's play good baseball. I don't want to be average." And we can say, he has that last part covered.
She is certainly the queen at home, being the only girl around! She is the proud mom of three boys! And we can only imagine how much work that is, so we really cant ask of her to have one of those fancy corporate jobs, she really doesn't need to.
Katie gave birth to their first son Jacob in 2001, with two more boys following, Wyatt and Hudson born in 2004 and 2008 respectively.
The mom of three has it tough, as she is majorly in charge of the boys, she spends the school year living in a cabin on 200 acres of land in Semmes. During the offseason they do travel to be with Jake, but head back home for the start of the school year. Katie makes for a lovely MLB veteran wag, even though she is only in her early 30's, 33 to be exact, she knows the ins and outs of being a major sports star wife. Her man bounced around from team to team and grew from a lightning-armed ace to a savvy, trusted veteran. He's played in MLB for the San Diego Padres, Chicago White Sox, and Boston Red Sox.
You can find her man on Twitter here.