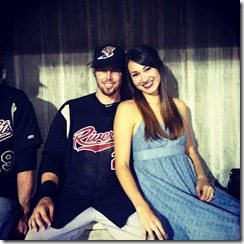 Wait a moment! Rangers starter Matt Garza took Twitter to slam Eric Sogard and his wife, Kaycee Sogard, tonight. Garza uses a locked account, @Gdeuceswild, that has been confirmed as his in the past…
Kaycee Sogard, parenthetically, just tweeted after Garza screamed at her husband that Sogard would be the last person to respond to getting called names, and she found the whole thing funny.
Currently Kaycee is pregnant but didn't despair at this silly comment and just responded:
Eric is probably the last person to respond to getting called names.

Childish is having your wife speak for you! certain people can't shut there woman up!.
Kaycee has sisters and they also love sports:
My little sisters love baseball and enjoy the wave. Baseball is all about having fun and enjoying yourself is it not?

Us baseball people don't have lots of room to take big things like that home with us ya know
She is very lovely to her man and doesn't hesitate to show it off
Laying in bed contemplating doing an @EricSogard-something giveaway…

Your intern way of thinking totally turns me on.
More on her:
Kaycee was born on April 26, 1988. She is a photographer. According to her;
I'm a little weird, I love to have fun, and believe that life is what you make of it. I have found my passion and love for capturing funny, sweet, loving, and beautiful moments from behind the lens of my camera. I love learning new things, and experiencing new people and places. I am working on building my portfolio and am continually growing as a person and a photographer each time I pick up my camera.
You can follow her here.