Keisha Williams
Keisha Williams is the lovely wife of Cleveland Cavaliers point guard Mo Williams.
Her man was born Maurice "Mo" Williams on December 19, 1982 in Jackson, Mississippi. The son of Griceldia and Isaiah. His mom was a special-education teacher; his dad worked in management at an electric power plant and now does some work in real estate. Both of his parents are now retired. Mo is one of four children, he has an older brother Michael,-who is an executive with Michelin Tires in South Carolina, and older sister Marcia, is a social worker in Jackson; and a younger brother Montrell.
He played two seasons at the University of Alabama before entering the NBA Draft in 2003. Keisha's hubby has played for a number of teams including, the Milwaukee Bucks, Utah Jazz, Cleveland Cavaliers, Portland Trail Blazers and Minnesota Timberwolves.
He was selected to his first All-Star game in 2009 while playing on the Cleveland Cavaliers.
The 13-year veteran is averaging 8.2 points and 2.4 assists. He hasn't been able to have the impact most anticipated in his second tour of duty with the Cavaliers due to health issues. He's been having problems with his left knee. The same knee that caused him to miss nearly a month of time from late February to late March. Hampered by the injury all season, he has only appeared in six games since returning.
He signed for his second tour of duty with the Cavaliers last year. He played two seasons with the club from 2008-10. Along with LeBron James, Williams helped the team compile a league-best 66-16 record in his first year with the franchise and was voted an Eastern Conference All-Star.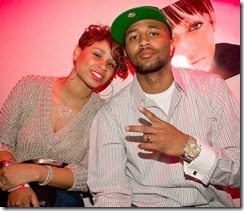 Keisha Williams and her famous husband tied the knot in 2008. The marriage of eight-years has produced three children, all boys. Keisha Williams is the mother of Mason, Maurince Jr., and Michael. Her husband is also the father of another boy named, Kydarius from a previous relationship.
Keisha's man has a number of tattoos, one of them is the name of his wife and kids. Thought the couple has been together for a long time and has known each other for longer, not much is known about the lovely mom of three.
It appears Keisha Williams likes to keep things out of the public eye even when her hubby is a major NBA star. However, whenever there is trouble in paradise for a celebrity, its hard not to appear in the news. Back in 2011, her husband revealed his move to Los Angeles Clippers, helped in keeping his marriage to Keisha Williams afloat.
Aside of the court, her hubby also owns his own academy –where he promises members to work directly with a trainer on the fundamentals of the sport that has made him famous.