Lauren Lisoski
Lauren Lisoski is the wife of NBA player, Channing Frye; her husband who currently plays for the Cavaliers could be in for a bigger role in the NBA finals. The 33-year-old could be called to the court following Kevin Love's concussion diagnose.
The number nine center/forward passed the chance to play with current team back in 2009, when he chose to play in Phoenix, where he had dreamed of playing with Steve Nash since he was in college at Arizona, and he signed there instead.
Playing in his 10th NBA season, Frye has appeared in 44 games (29 starts) for Orlando, averaging 5.2 points and 3.2 rebounds in 17.1 minutes per game. He is also shooting .397 from the three-point line and .905 from the foul line. Over his career, the 6-11 forward has played in 701 games (420 starts) with New York, Portland, Phoenix and Orlando, averaging 9.3 points and 4.9 rebounds in 24.1 minutes per game. He is a career .387 shooter from beyond the arc, which includes .404 shooting on catch-and-shoot threes over the last two seasons (446 attempts).
Earlier this year, through two separate trades, the Cavaliers acquired Channing Frye from the Orlando Magic. The Cavs traded F/C Anderson Varejao and a protected future first round draft pick to the Portland Trail Blazers in exchange for a second round pick. The Cavaliers then traded the second round pick and guard Jared Cunningham to the Orlando Magic in exchange for Frye.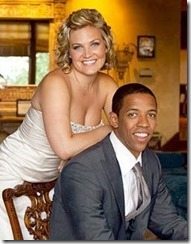 Lauren Lisoski and her man tied the knot in August 2009 two years after meeting. They tied the knot at the Garden Vineyards in Portland, OR, which is her home state.
She is the mother of the couple's two children; she gave birth to son Hendrix on October 4th, 2010. The couple welcomed daughter Margaux in 2012. With their daughter the couple had to face a new challenge since baby girl was born without vision due to cataracts. Little Margaux underwent five surgeries, and regained her vision before her second birthday.
Lauren Lisoski was introduced to her then future husband, by a mutual on his first day after arriving in Portland in 2007.
The trio went for dinner, and Lauren Lisoski was a breath of fresh air to the player. She revealed she knew nothing about basketball and felt relaxed.
Giving back is quite important for the Frye marriage. The couple established The Frye Family Foundation at The Giving Back Fund to focus on providing life-changing opportunities to underprivileged children and children with disabilities in the communities important to the Fryes, particularly Portland, Oregon and Phoenix, Arizona.
According to her Facebook page, is originally from Tualatin, Oregon, where she attended high school. She graduated from the University of Oregon in 2006.