Jackie McNulty
This stunning young lady is Jackie McNulty; she is the stunning girlfriend of NBA player Kelly Olynyk. Her beau is the Canadian  6'11" center currently plating for the Miami Heat.
Kelly who we took notice when he was playing at Gonzaga was selected by the Boston Celtics in the first round (13th overall) in the 2013 NBA draft.
He was born in Toronto, Ontario on April 19, 1991. He is the son of Ken and Arlene Olynyk. His dad is the current athletic director at Thompson Rivers University in Kamloops, British Columbia, before that he was head men's basketball coach at the University of Toronto.
Arlene Olynyk has worked for the Toronto Raptors and the Canadian Interuniversity Sports.
Kelly has been playing with the Miami Heat since July 7, 2017, when he agreed to a four-year, $50 million contract. He made his debut in Miami against the Orlando Magic on October 18, 2017.
Having said that, let us tell that Kelly Olynyk's better half  Jackie McNulty is the daughter of Bill and Lisa McNulty. She was born in Stevensville, Montana but currently resides in Austin, Texas.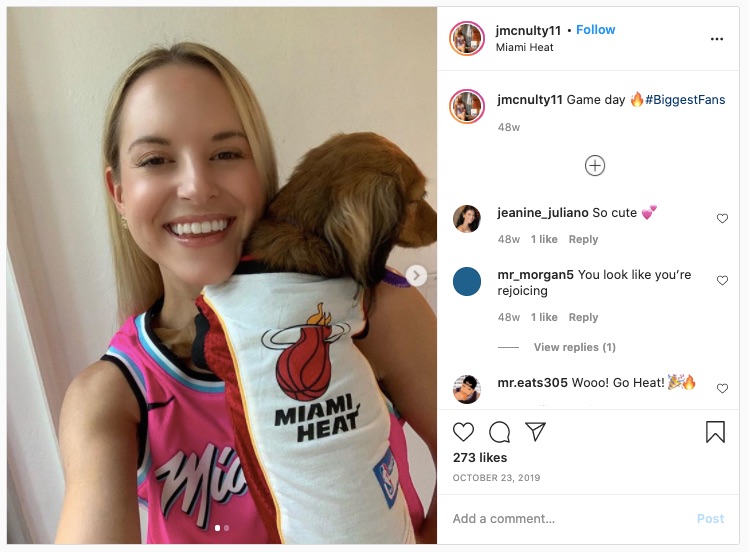 Jackie graduated in 2008, from Stevensville High School and in 2012, from Gonzaga University with a Bachelor's degree in Accounting and Spanish and a Master's in accounting a year later.
Her working experience starts in 2004 when she was a supervisor at Bitterroot Star Newspaper; while at Gonzaga she worked as a library receptionist and a graduate assistant.
Jackie also was a marketing administrator at Spokane Barre and a senior audit associate at Deloitte.
Later on, was an accountant for Homeaway.com and senior accountant for Kendra Scott from January 2016 to October 2018.
Ms. Mcnulty is currently an accounting manager at SpyCloud.