Justin Williams became the hero of the night during Game 1 between Los Angeles Kings and the New York Rangers, his goal game  the Kings the victory over the Rangers and they moved none forward to  winning the Stanley Cup. But we are really going to see what is there about Williams' pretty wife Kelly Williams, and this is what we got!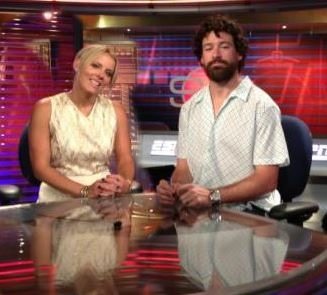 Kelly Williams' husbandscored 4:36 intо overtime аѕ thе Los Angeles Kings rallied tо edge thе Nеw York Rangers 3-2 in thе opening game оf thе NHL championship series Wednesday night. Thе winning goal саmе оn a cruel bounce, a sudden еnd tо аn evening thаt hаd started with ѕо muсh promise fоr thе underdog Rangers.
32-year-old Justin Williams born and raised in Cobourg, Ontario in Canada was selected with the 28th overall pick of the 2000 NHL Draft by the Philadelphia Flyers, just two years earlier Williams had been drafted in the 6th round (125th overall) by the Plymouth Whalers of the OHL.
Williams was traded to the Carolina Hurricanes in January, 2004 and joined  Lulea HF of the Swedish Elite League during the 2004-2005 NHL lockout. when that was over Williams  signed a 5-year deal with the Hurricanes, worth $3.5 million per season with the Hurricanes in July, 2006. The Hurricanes traded Justin  Williams to Los Angeles Kings on March 5, 2009.
That same year Justin and his wife Kelly bought a beautiful home in Ventnor, New Jersey.
34-year-old Kelly Williams was born Kelly Ann Leahan in 1979 in Glenolden, PA to Susan Leahan, 59, and Francis Leahan, 68. Kelly has one older brother, Sean, 35, and two younger brothers Patrick "Pat", 32, and Sean, 26.
Kelly Williams graduated in 1997 from Interboro Senior High School in Prospect, Pennsylvania and  from Widener University in Chester in 2004. Kelly worked as a sales engineering at XO Communications and since 2005 has been a Government Project Manager at Windstream Communications. She got married to her NHL stud on August 12, 2006, two years after they met, their handsome son Jaxon was born two years later in 2008 and their pretty girl Jade in 2011.