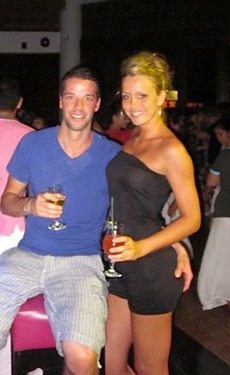 Meet the lovely Isabel Deschamps also known as Isabel Pouliot, and she is the stunning girlfriend and  baby mama of Benoit Pouliot, the Canadian ice hockey player currently playing with the New York Rangers, some said Isabel is his wife, others said that they are no longer dating, but yet just a couple of months ago she have birth to Pouliot's first child, daughter Alexia.
Benoit Pouliot, the left wing player from Ontario, Canada became interested in ice hockey ever since he was a little boy, he was coached by his father Sylvain when he played with his local team the St. Isidore Eagles, Benoit also played with the Sudbury Wolves of the OHL and the Eastern Ontario Cobras and with his dad's former team  the Hawkesbury Hawks Jr.
Pouliot was selected by the Minnesota Wilds with the 4th overall pick of the 2005 NHL Draft, and made his debut against the Calgary Flames in 2008. In November, 2009 he was traded to the Montreal Canadians who then traded him to the Boston Bruins in 2011. He was traded to the Tampa Bay Lightings in 2012 and became a Ranger after he signed a one-year, $1.3 million contract with New York on July 5, 2013.
Now, let's move on to  his personal life, a site dedicated to the wives and girlfriend to every NHL player named Isabel Pouliot as Benoit's significant other, and the New York Daily News named an Isabel as his girlfriend who gave birth to Benoit Pouliot's daughter Alexia in March. the birth of Pouliot's daughter was also reported by NHL.com.
We found an Isabel Deschamps who at one point in 2011 was romantically linked to the 6'3" player, but aside from the photos that we have posted below, there is no lead to this beautiful lady, maybe you can give us a hand?? Do you know who is this other gorgeous with him there.