Kembrya Smith
Kembrya Smith is the lovely NFL mom of Aldon Smith. According to reports her 26-year-old son has been admitted to rehab.
His decision to check into rehab comes days after a controversial video emerged –in which he allegedly was doing a "fire up session."
In the video a man holding a blunt can be seen put he never shows his face. Kembryas' son has denied to be him. However,
at one point in the video, you hear the man's voice say, "They don't know it's me. It's not like I put 'Aldon Smith.'"
Accoridng to ESPN, the NFL is looking into the incident.
This wouldn't be the first time Aldon pays a visit to the rehab center. During his career he's been in a number of incidents involving substance abuse which have directly affected his playing time.
In 2013 he completed a stint following two DUI arrests. On top of everything, Smith is already serving a one-year suspension handed down by the league last November. Kembrya's defender son violated the Policy and Program for Substances of Abuse.
In 2014 he was also suspended for nine games, four games for substances of abuse and five for violating the personal conduct policy. That same year he was arrested in 2014 for allegedly making a bomb threat after becoming "belligerent and uncooperative" at Los Angeles International Airport.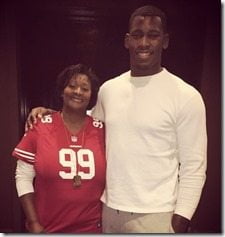 Kembrya Smith gave birth to her son on August 25, 1989. She is also the mother of Aldon's younger sister. His father, Thurston Smith is a former army reservist. When Aldon was two years old, his family moved to Cedar Rapids, Iowa, and soon afterward his parents split up. Smith remained with his mother, Kembrya, while his father, Thurston, relocated to Raytown, Missouri. When his mother accepted a job in Atlanta, Smith chose to move to Missouri to live with his father instead.
Thurston Smith, a computer specialist and former Army Reserve member, provided structure and discipline that helped Aldon find his way. Aldon went on to play college football at the University of Missouri.
Despite his multiple off-field issues, Smith has been confident on the field. The linebacker has registered 180 combined tackles, 47.5 sacks and five forced fumbles in 59 career games with the Raiders and San Francisco 49ers since being selected in the first round of the 2011 draft.
NFL linebacker who was selected 7th overall by the San Francisco 49ers in the 2011 NFL Draft. He helped the 49ers reach the Super Bowl in 2013 where they were defeated by the Baltimore Ravens.
He set the 49ers single season sack record with 19.5, became the fastest player in NFL history to reach 30 sacks (27 games into his career) and was selected to his first Pro Bowl in 2012.
Kembrya Smith works as a revenue recovery and credit collections rep. She is also the grandmother to Aldon's two-year-old son, Aulis.