Maddy Thomas
Maddy Thomas is the chick who used to date NFL player, Michael Floyd and who is today the girlfriend of Kenny Stills, the wide receiver for the Houston Texans. Surely, first and foremost you want to know about Ms. Thomas, but just before we get to her story, allow us to tell you a couple of things about her former flame Michael Floyd and current beau Kenny Stills.
Floyd
Michael Floyd Jr. on November 27, 1989; to Mike Floyd Sr. and Theresa Romero. He attended Cretin-Derham Hall High School in Saint Paul, Minnesota. He later committed to Notre Dame; the  Arizona Cardinals selected him in the first round of the 2012 NFL Draft.
He played with the Cardinals from 2012 until his December 2016 release from the team, following his DUI arrest. The wide receiver then signed with the New England Patriots and went on to become a Super Bowl champ.
Floyd and Maddy Thomas reportedly had known other since high school and began dating a few years later. Photos from August 2013 show everything was just fine with the college sweethearts. However, it is not clear why or when exactly they decided to split.
Maddy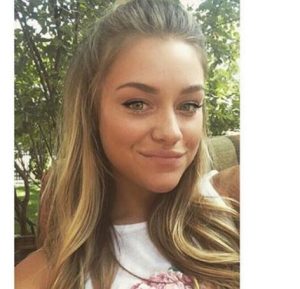 Maddy Thomas grew up in Saint Paul, Minnesota and attended Cretin-Derham Hall High School. According to her LinkedIn, Maddy Thomas went to Michigan University. Thomas holds a Bachelor's Degree, Communication and Media Studies which she obtained in 2014.
Currently works at Insight Global, where she began as a technical recruiter in March 2016. She was named account manager last September.
Now, Don't be too sad for Maddy Thomas who is currently in a new relationship. She has found love again with a guy named Kenny Stills.
Kenny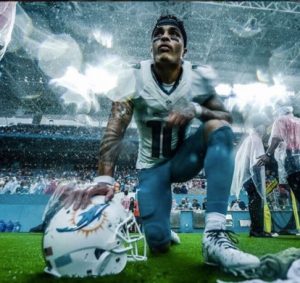 The blonde appears to have traded guys, however, she's still into NFL athletes. Her new romantic acquisition happens to be a player for the Miami Dolphins.
Kenny Stills was born on April 22, 1992. He is the son of Annett and former NFL player Kenny Stills who played with Green Bay and the Vikings.
Kenny graduated in 2010 from  La Costa Canyon High School in Carlsbad, California. He then attended the University Of Oklahoma.
He didn't graduate thought, instead, he entered the Draft. The New Orleans Saints selected him with the 144th overall pick in the fifth round of the 2013 NFL Draft.
The Saints traded him to the Miami Dolphins on March 13, 2015, in exchanged for a third round pick in the 2015 NFL Draft and linebacker Darnell Ellerbe.