Amelia Bonnici

  
Amelia Bonnici is the stunning girlfriend and baby mama of former NFL player Jarryd Hayne who has since become a rugby player in Australia.  The Aussie 6'3 athlete played for the San Francisco 49ers prior to the NRL. Nowadays, he is a fullback rugby player for the Gold Coast Titans of the National Rugby League.
Hayne is one of four children born to former Fijian rugby player Manoa Thompson and Australian mother Jodie; also the proud parents of his three siblings; sister Evie Thompson and brothers Julius and Jonah.
He started his rugby career in 2006 with Parramatta Eels, followed by his stint with the Prime Minister's XIII. A year later he joined NSW City and New South Wales.
Played for Fiji in 2008 and NRL All Stars in 2010. He signed a three-year contract with the San Francisco 49ers on March 3, 2015.
Jarryd made his NFL debut against the Houston Texans on August 15. He retired from the NFL  on May 15, 2016. That same year the Gold Coast Titans announced they agreed to a  two-year contract with Hayne.
Amelia
So as we previously told you Jarryd is dating the lovely Amelia Bonnici.
25-year-old Amelia from Tuncurry, NSW, Australia; met her beau on Instagram in February 2016. Things between them moved quickly, especially after the birth of their daughter in December.
Ms. Bonnici attended at  Great Lakes High School, before moving to Sydney. She was living in the beachside suburb of Coogee around the time she met Hayne.
The meeting took place in Australia while he was playing with the 49ers and visited his family; allegedly Amelia freak out when she found out she was pregnant because she wasn't exactly dating Hayne.
When she told him, he moved her to an apartment in the Gold Coast and vowed to support her. When he quit the NFL, it was reported it was so he could play rugby in the Olympics in Rio; but sources close to him, are pretty sure Amelia and their baby played an important role in his decision.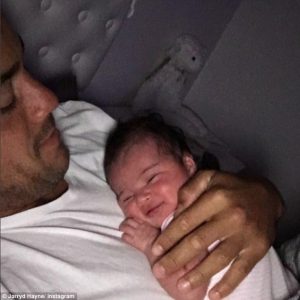 Amelia gave birth to their daughter Beliviah Ivy, in December 2016.