Keyosha Sanders
Keyosha Sanders is the lovely wife of NBA point guard Darren Collison. Reports say her husband has been arrested and it appears it could also involve Sanders.
There is definitely major problems going on between the 5-year-marriage. Recent updates say, the Sacramento Kings player was booked on Monday and charged with felony domestic violence after deputies found a woman visibly injured at the house.
Her husband was born August 23, 1987 in Rancho Cucamonga, CA. He is the son of top-ranked international sprinters June Griffith and Dennis Collison.
He is a Etiwanda High School graduate where he was McDonald's All-American Top 40 candidate and the No. 2 point guard in the West. He was also an All-CIF Southern Section I-AA Player of the Year and a Los Angeles Times All-Star. Collison led Etiwanda (31-2) in points (20.7), three-pointers, steals (2.1), assists (4.0) and added 4.0 rebounds per game.
Collison attended UCLA, where he was considered one of the top point guards in the nation and led them to three consecutive NCAA Final Four appearances and became the UCLA record holder for games played during his career as a Bruin.
Darren was drafted by the New Orleans Hornets as the 21st overall pick in the 2009 NBA draft. Collison handed out a rookie-record 18 assists for the Hornets in January 2010 and averaged 12.4 points and 5.7 assists per game on his way to NBA All-Rookie First Team honors.
In August 2010, Darren was traded to the Indiana Pacers. Collison had one of his best statistical seasons in 2011, when he averaged 13 points and 5 assists a game with the Indiana Pacers. He was traded to the Dallas Mavericks from Indiana during the 2012 off-season.
He then moved on to the Los Angeles Clippers for one season and signed  a three-year, $16 million deal with current team, Sacramento Kings in 2014.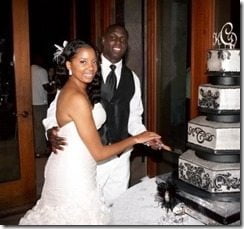 The couple tied the knot on August 20th 2011 and held the party at the Monaco Mansion. Not much is known about Keyosha Sanders. According to a link Collison shared on Twitter, just a day before he was arrested, Keyosha is a chef.
The pretty chef describes herself as "A young, pretty, talented, hard working girl, hidden in cow town (Sacramento, CA)."
The couple did an adorable maternity photo shoot back in 2013, which was organized by her mother, Tracy Sanders. Keyosha Sanders gave birth to the couple's first child, son Kinston on October 2013.
Want to know more about Keyosha Sanders, hear it from herself:
My name is Keyosha, pronounced Key-OH-sha or Key-AW-sha, everyone calls me Key-Oh for short. I chose to start a blog because this is something that will be solely about me, my great personality, and my talent which is cooking. I am a certified chef, but no one knows because I devote my whole being to my husband who in which is a NBA player and my 2 yr old son. Im 29, laid back, and interesting. You'll never know what will come out of my mouth. In regards to cooking, I do have a more plant-based diet (except when I see my family, I get excited and will TEAR through a pork shoulder) so a lot of things will be meatless. Or unless Im cooking for my husband, he's a carnivore. Other then that uummmmmm……..Im really into make-up, I experience weird situations, and Im random. For instance, do vegans eat animal crackers? Anyways, Im Keyo, pleasure to meet you.
According to the Placer County Sheriff's Office, Collison was charged with one count of corporal injury on a spouse as well as two misdemeanor bench warrants for driving a suspended license. The Kings guard was only in jail for a few hours before being released on $55,000 bail.