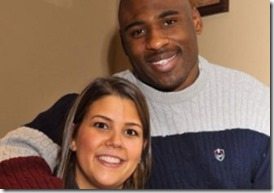 The woman in the picture is Kim Jacobs, she is the lovely wife of NFL star Brandon Jacobs. Their story goes back to their college year at Auburn University where they first laid eyes on each other. Their relationship started over the phone when one would call for the other's roommate. The couple to be actually met in a computer lab when Brandon, sitting next to her, and most likely trying to impress her with her "perfect gentleman skills" asked if the music from his headphones was disturbing her.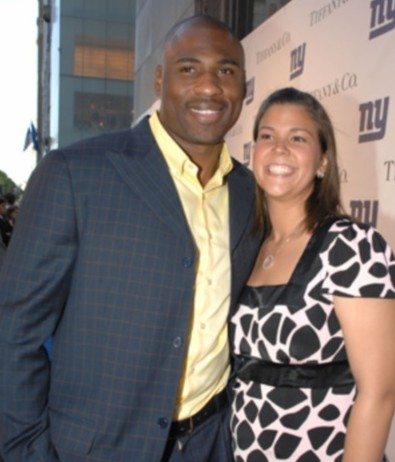 The guy who's salary goes up to $4 million might look like a scary beast on the field or even like a rapper but next to Kim he is all smiles.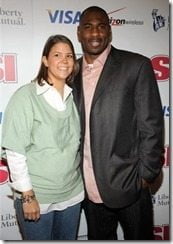 At that time, Kim was finishing her undergraduate degree and working toward a master's degree in early childhood development. But being the smart woman she is when her man was transferred to Southern Illinois University for one year, from which he was ultimately drafted by the Giants in April 2005, Kim made the serious choice of following him to see how their relationship would work.
And it turned out perfect when they tied the knot shortly after, in July of 2005.
The couple had their first child, Brayden, when Kim gave birth on February 27, 2007. As a funny fact, since Jacobs' jersey is #27. While trying to do a nice thing for his preggy lady, Brandon placed the ball under his jersey after scoring a touchdown to show they were expecting. However he was flagged for a 15 yard unsportsmanlike penalty and the NFL fined him $5,000.
"It was worth every yard and every penny"
said Brandon afterwards.
The wife and mother has big plans for her hubby's retirement; she has expressed openly she would like to open a day care at some point in the future and has said her husband will be
the activities coordinator at the daycare
The wife of eight years and young mother if often seen at games wearing number 27 jerseys.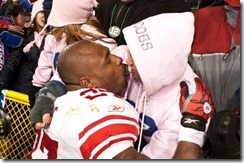 In obvious support to her man. Kim's husband missed Monday night's victory after rushing for 106 yards on 22 carries in the Giants' Week 6 loss in Chicago, Jacobs injured his hamstring and had to be inactive but we know he is being cared for his gracious  wife.
Follow Kim's and NY Giants running back on twitter here.