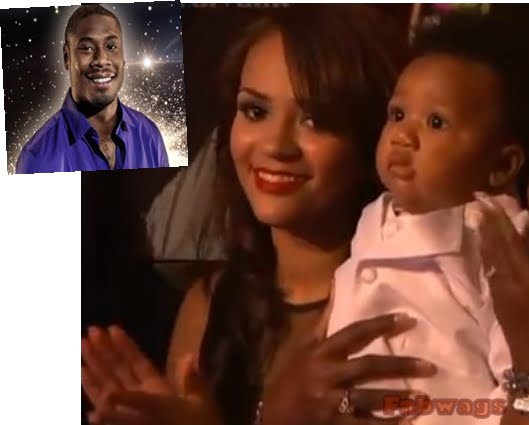 The Baltimore Ravens and Jacoby Jones gave their fans one of a show at the SuperBowl XLVII, we heard his mother, son and longtime girlfriend were watching the game from the stands, we wonder if Jacoby's girlfriend is some girl called Alexis?? someone said that is her name, or isn't? and the answer to that is no, Jacoby's longtime girlfriend, the same girl with Mrs.  London Jones, the proud momma of Jones' adorable son Jacobi Jr, is not some girl named Alexis but Kimberly, she was cheering for him on Dancing with the Stars with her son and mom- in-law and it was Kimberly herself who told us,  her name and we are so thakful for that, how can't anyone not be glad t finally put a name to this  gorgeous face, I'm telling you she is a stunner!! Jacobi you are way too lucky!!!
Let's check some of this amazing athlete and funny guy's info..
28-year-old Jacoby Jones from New Orleans was the 73rd pick by the Houston Texans during the third round at the 2007 NFL Draft, he was released  by the Texans last May 1st and 7 days later he was signing a a two-year, $7 million deal  with Baltimore.
Jacoby's personal life has been surrounded with challenges, since his father walked out of his life at the age of 18-months, his mother Emily  has been his pillar of strength, it was because of his father's absence that Jacoby committed to be the best father he could be when he found his longtime girlfriend, our girl Kimberly Harris was pregnant.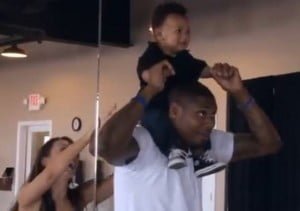 Kim Harris gave birth to her son Jacoby Jr. last year, they communicate via Facetime and Skype all the time, but they were at the Superbowl, little Jacoby wore a little pair of headphones very similar to the ones Drew Brees' son Baylen wore when the Saints won the SuperBowl; and the proud mommas Mrs. Emily and Ms. Harris wore their Raves' jerseys and they looked Phenomenal!!! (check them out, from left to right Jacoby's GF Kimberly with her son in her arms, Jacoby's momma and sister).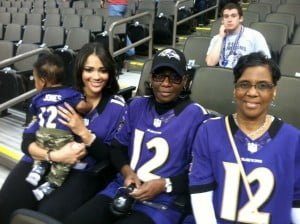 Jacobi Jones' beautiful lady, and our very spacial NFL WAG Kimberly Harris was born in Houston, Texas. She studied at Northshore High School in Houston and  then attended at Prairie View A&M University.  We are definitely looking forward to hear more from hear and to see her more often!! Would you like to share something about Jacoby and/ or his GF Kim Harris? You can do that in the comments box below!!