Sally Kingsbury was the loving and beautiful mother of NFL coach Kliff Kingsbury, the head coach of the Arizona Cardinals, who previously coached at Texas Tech, Texas A&M, and the University of Houston.
Kliff Kingsbury Education
Kliff Kingsbury attended  New Braunfels High School before he headed to Texas Tech, where not only did he play football but he also graduated with a Bachelor of Business Administration degree in Management in 2001.
Kliff Kingsbury Playing Career
Coach Kingsbury played football, baseball, basketball and ran track at New Braunfels. Later at Texas Tech, Kingsbury recorded  479 of 712 passes for 5,017 yards, 13 interceptions, and 45 touchdowns.
He was awarded with the 2002 Sammy Baugh Trophy and named the Associated Press Offensive Player of the Year.
The New England Patriots selected Kingsbury,  in the 6th round (201st overall) during the 2003 NFL draft. An injury sent him in the inured reserved his rookie season, and even though he didn't play with the Patriots he received a Super Borel Ring when New England defeated the Carolina Panthers 32-29.
After the 2004 season, Kingsbury signed with the New Orleans Saints. He joined the Denver Broncos' practice squad on September 6, 2005; he was released on September 21.
On September 28, 2005, he joined the New York Jets practice squad. he made his NFL debut against the Denver Broncos on November 20, 2005. He joined the Buffalo Bills in 2006 but didn't see any action.
After the NFL, Kliff signed a deal with the Montreal Alouettes of the CFL; he subsequently played for the Winnipeg Blue Bombers.
Kliff Kingsbury Coaching Career
He started his coaching career in August 2008, with the University of Houston as the Cougars' Offensive quality control coach.
He was promoted to Co-Offensive coordinator & quarterbacks coach in 2010.
He was named Texas A&M's offensive coordinator and QB's coach in 2012.
Kliff Kingsbury landed his first head coaching job at Texas Tech in 2013.
In December 2018, Kingsbury was introduced as the new offensive coordinator for the USC Trojans.
On January 8, 2019, the Arizona Cardinals announced they hired Kliff Kingsbury as their new head coach.
Kliff Kingsbury Family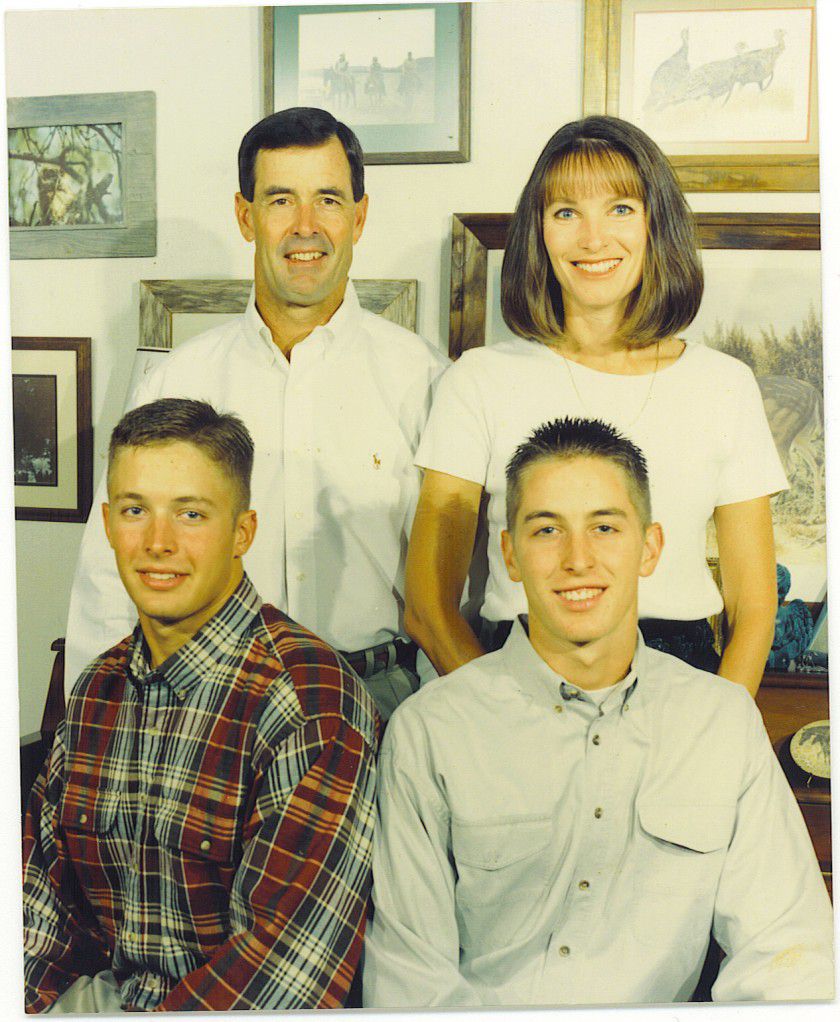 6'3 Kliff Kingsbury was born in San Antonio, Texas on August 9, 1979; he is one of two children born to Tim and Sally Kingsbury.
Tim Kingsbury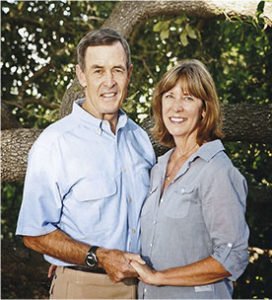 Kliff Kingsbury's father Tim Kingsbury was born Timothy McClean Kingsbury on July 25, 1950. Tim Kingsbury a veteran US Marine who served in the Vietnam War is a purple heart recipient (after a bullet shattered his jaw). He later was an educator and football coach at New Braunfels High School. Tim Kingsbury is now married to Janice Karen Thomen, now Janice Kingsbury (b. June 11, 1952).
Like Tim, Janice was an educator, they now ran Spass Walking Tours of New Braunfels, a walking tour business in New Braunfels.
Klint Kingsbury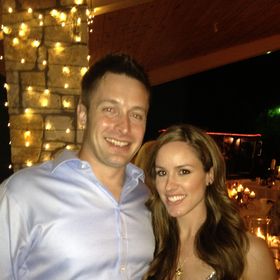 44-year-old Klint Kingsbury was born on July 20, 1977. He lives in Austin with his wife Rachel. Kling and Rachel Kingsbuyry (nee. Bell), tied the knot on March 11, 2006. Rachel who graduated from the University of Texas at San Antonio is a pilates instructor; before that, she was a personal stylist at J. Hilburn in Austin, Texas.
Kliff Kingsbury Mother
Sally Kingsbury
Kingsbury's mother Sally Kingsbury was Sally Moeller on  July 22, 1952, in Travis County, she grew up on a farm. She was the daughter of Leonard O. Moeller and Corina Moeller (nee. Crews). Sally Kingsbury attended San Marcos High School and Southwest Texas State University, where not only did she meet Tim Kingsbury, but where she also was SWTSU Strutters Captain and was named the Lyndon B. Johnson Schola
Sally and Tim got married on July 20, 1973, and welcomed two sons Kling and Kliff Kingsbury. Sally was a sponsor of the Monocera dance Team and taught government at New Braunfels High School. She quit her job at New Braunfels when her children were born and returned to teaching when they got older. She also taught aerobics.
She was 51, when she was diagnosed with soft tissue sarcoma, which first appeared on her right thigh. Sally was certain she beat her cancer after undergoing a tumor removal, two rounds of chemo and radiation; sadly eight months later the rumor metastasized to her right lung. Once again she underwent surgery to remove her lung and had chemo.
Sally Kingsbury passed away on December 16, 2005, at the age of 53, of soft tissue sarcoma. In her honor her family and friends founded the Sally M. Kingsbury Sarcoma Research Foundation, its mission is to "help fund research facilities dedicated to finding a cure for sarcoma cancer."
Kliff Kingsbury Net Worth
According to sources, Kliff Kingsbury's net worth has been estimated at $14 million. Coach Kingsbury signed a four-year contract with the Arizona Cardinals in 2019, the contract is reportedly worth $5.5 million.
Kliff Kingsbury Salary
Kliff Kingsbury's current salary with the Cardinals is $5.5 million, according to USA Today. Kingsbury is currently on his third season with Arizona.
Back in 2012, Kliff Kingsbury agreed to a five-year, $10.5 million with Texas Tech. In 2014, received a $1 million raise to $3.5 million in his contract extension, he was earning $200,000 a year to a maximum of $5.5 million in 2020.
Kliff Kingsbury House
Kliff Kingsbury's house aka the K-Krib, which he bought for $4.45 million in 2019; the  7,200 square feet mansion is located at 6119 E Redwing Rd, Paradise Valley, AZ 85253, features 4 bedrooms, 5.5 baths. (Photos at Zillow).
Is Kliff Kingsbury getting Married?
Kliff Kingsbury is not dating anyone at this time, therefore getting married would have to wait. Kingsbury dated Holly Sonders and Rennee Estella, but it seems that he is now dating model Veronica Bielik.
Kliff Kingsbury Girlfriend
Holly Sonders
Holly Sonders is the stunning ex-girlfriend of newly named NFL head coach, Kliff Kingsbury.
Holly's coach boyfriend was named the new head coach of the NFL's Arizona Cardinals. Kliff, -a New Braunfels, TX native born August 9, 1979 –is in his first year as an NFL head coach. He comes to the Cardinals after a six-year stint with Texas Tech at just 35-40. The 39-year-old also went from a fired head coach to a hired USC offensive coordinator.
Kliff has remained a single man but that could change as it's been revealed he is currently dating, the gorgeous Holly Sonders. Following confirmation as the new head coach of the Cardinals, Sonders couldn't help to congratulate her man and shared the happy news on her Instagram with the caption
"Couldn't be any prouder of this one. ❤️❤️ Truly the best human being I know. Congratulations K. Let's. Go."
The lovely brunette and potential NFL wag, is also in the sports business which is a great thing to have in common with her new man.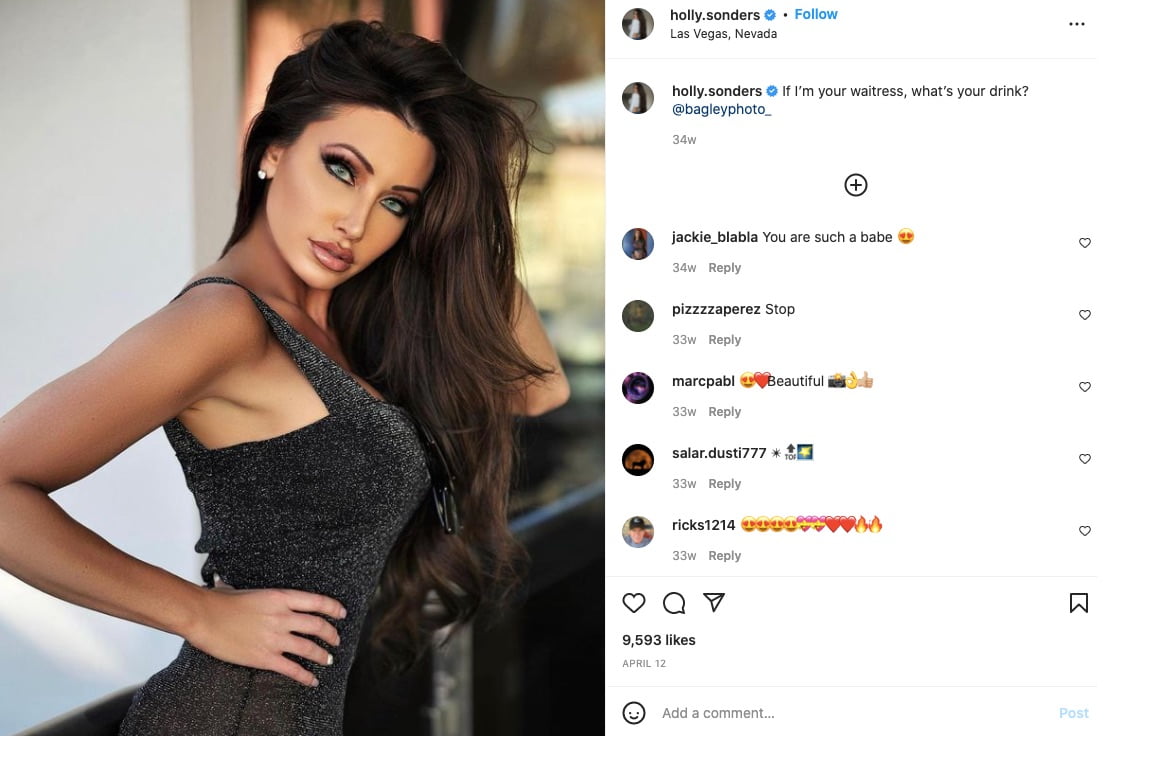 She is a FOX Sports host and reporter. Sonders is also a bit of a fashionista, with her looks and great shape, she often posts images of her styling –which is always on point.
Sonders was born March 3, 1987; in Marysville, Ohio. She earned her journalism degree from Michigan State University –where she was a member of the women's golf team, starting all four years for the Spartans.
She began her journalistic career t WBNS-10TV in Columbus. She then served as a sideline reporter to the Big Ten Network. Prior to Fox, she was also a field reporter at KATV in Little Rock, Ark. At Fox she can be seen broadcasting for FOX Sports' USGA championship coverage. She's also a reporter for FOX College Football.
The 34-year-old is also a divorcee, she tied the knot to Erik Kuselias –a sports television and radio host. The couple tied the knot sometime after he proposed in 2012. It is not clear exactly why and when they separated.
Holly and Kliff are no longer together, Kliff allegedly dated model Renee Estella, and Holly is currently dating former boxer, Oscar de la Hoya.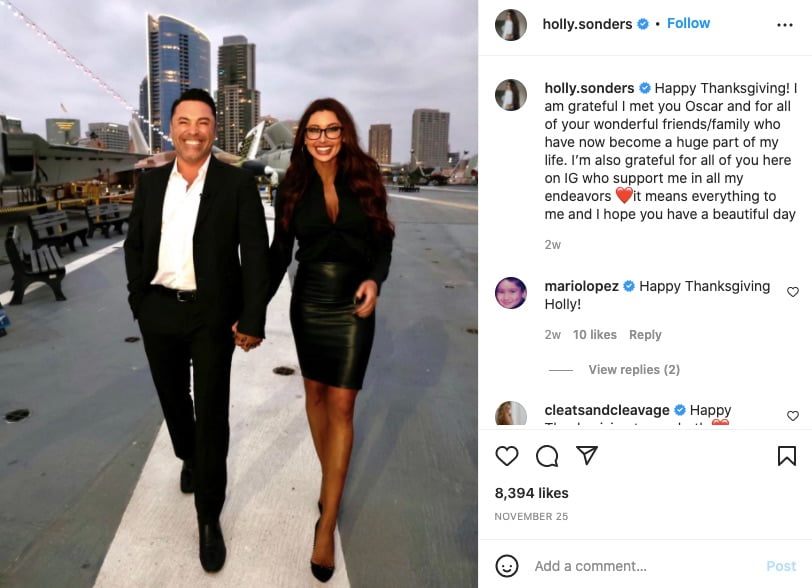 Veronica Bielik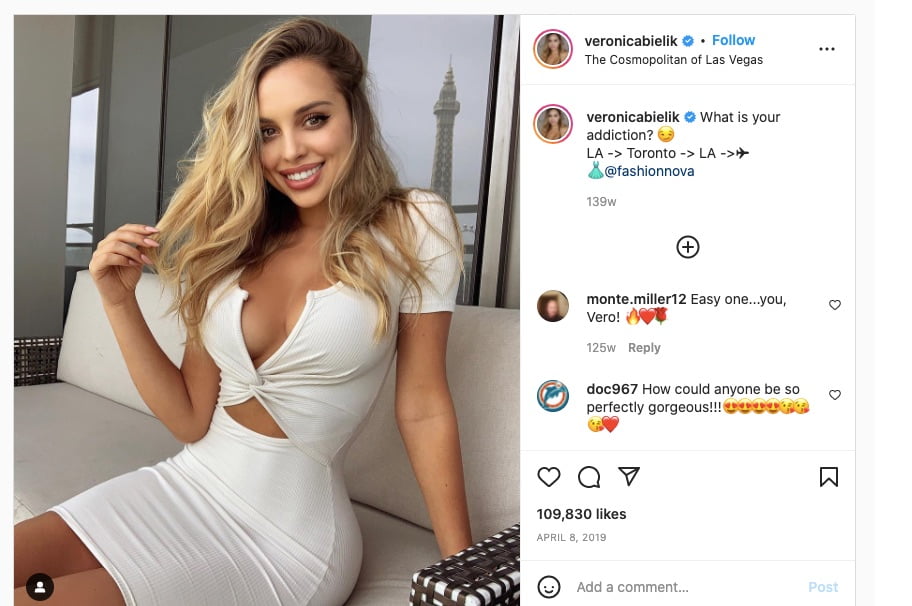 Veronica Bielik was born on September 18, 1993, in Lower Silesian Voivodeship, Poland. She has  four beautiful sisters, Olivia, Dominika, Zosia, and Antonina Bielik, and one brother Mikołaj Bielik.
Veronica Bielik is a model based in Colorado, where she also works as a law clerk at California Fire Lawsuits. Rumors about Veronica Bielik dating Kliff Kingsbury started in November 2021.