Holly Herbert
Meet Mrs. Holly Herbert! She is the beautiful and beloved mother of football quarterback Justin Herbert, the 6'6″ quarterback currently playing for the Los Angeles Chargers. He previously played for the Oregon Ducks at the University of Oregon, from where he studied general science.
Read: Brandon Staley Wife Amy Staley
Prior to committing to the University of Oregon on October 9, 2015, Justin attended Sheldon High School in Eugene, Oregon. In addition to the University of Oregon, Justin received scholarships offers from Northern Arizona, Nevada, Portland State, and Montana State.
Justin Herbert College Career
Justin became the Ducks' starting quarterback during game five of their 2016 season. he completed 162 of 255 passes for 1,9356 yards and 19 touchdowns in nine games his freshman year. He was named Pac-12 Offensive Player of the Week, Manning Award Quarterback of the Week, and awarded with the LenCasanova Award.
During his sophomore year, Herbert completed139 of 206 passes for 1,983 yards, 15 touchdowns in eight games; he was also named Pac-12 Academic All-Conference 1st Team, Academic All American 1st Team, and Offensive Team MVP.
In 13 games during his junior year, Justin completed 240 of 404 passes for 3,151 yards and 29 touchdowns.
Justin won The William V. Campbell Trophy and Offensive MVP Award his senior year, led his team to a 12-2 when they won the Rose Bowl. He also completed 286 of 428 passes for 3,471 yards and 32 touchdowns.
Justin Herbert NFL Career
Herbert was selected in the first round (6th overall0 in the 2020 NFL draft by the Los Angeles Chargers.
On July 25, 2020, Herbert signed his rookie contract with the Chargers.
He made his NFL debut against the Kansas City Chiefs on September 20, 2020.
On October 8, 2020, was named starting quarterback for the L.A. Chargers.
In January 2021, Herbert was named Rookie of the Year and Offensive Rookie of the Year by the Pro Football Writers of America.
On November 10, 2021, Justin was named  AFC Offensive Player of the Week.
Justin Herbert NFL Stats
2020 – Games 15 – 396 of 595 passes for 4,336 yards – 31 Touchdowns – 234 rushing yards –  5 Rushing Touchdowns.
2021 – Games 13 – 338 of 504 passes – 3,822 yards – 30 Touchdowns – 268 rushing yards – 2 Rushing Touchdowns.
Justin Herbert Jersey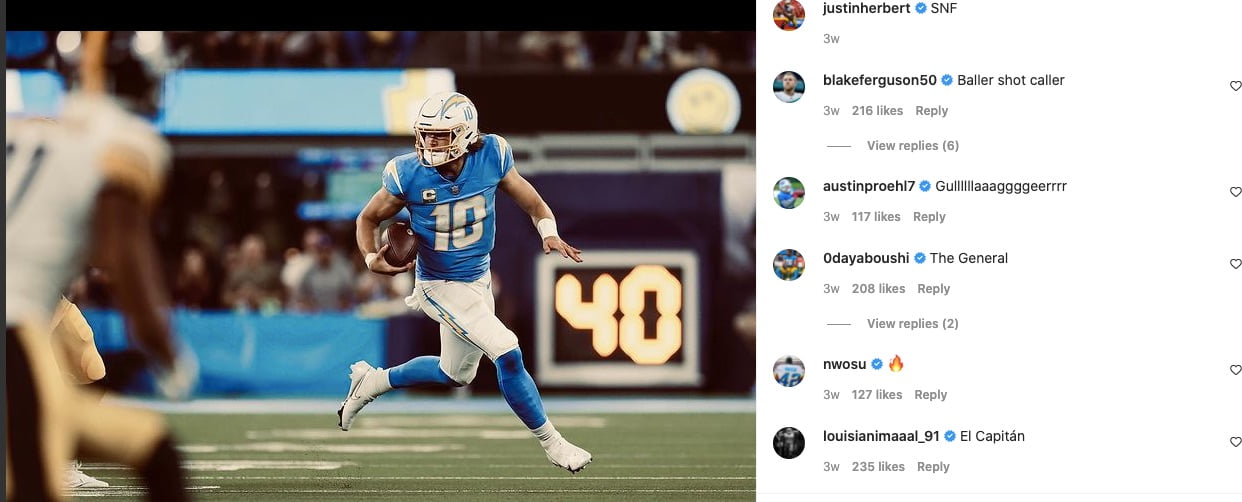 Justin Herbert's jersey became the 12th best-selling jersey during the 2020 NFL season. You can get their hands on Herbert's #10 jersey for $79.99 at the Chargers Shop. You can also head out to Fanatics, they have a sweet selection.
Justin Herbert Net Worth
As of December 2021, Justin Herbert's net worth has been estimated at $4 million.  In addition to his NFL salary with the Los Angeles Chargers, Justin Herbert has an endorsement deal with Nike.
Justin Herbert Contract & Salary
Justin Herbert's annual salary with the Chargers is$6,644,689. Herbert signed a four-year, $26.6 million contract with the Los Angeles Chargers on July 25, 2020. The contract included a $16,890,004 signing bonus, $26,578,755 guaranteed.
Justin Herbert Family
6'6 Justin Herbert was born on March 10, 1998, in Eugene, Oregon; he is one of three sons born to Holly and Mark Herbert. Justin's brothers are Mitchell and Patrick.
Justin Herbert Father
Mark Herbert born on May 9, 1965, is a former  Montana Grizzly who played football before spending three years running track, a hurdler mostly adding triple and long jumps. He left Montana in 1986.
"Being out of football, track was great, but I didn't have this burning desire to be a track guy, so really it was a whole series of events," Mark said of leaving. "It was the wrong decision, but it led me to where I'm at today and I wouldn't trade anything. Had I stayed, this whole chain of events wouldn't have happened.
"I'm in the greatest position. I'm the luckiest guy in the world. I believe that with all my heart. It was part of that growing-up experience that I spent in Montana that was huge for my development. So in a roundabout way, it's the greatest thing that ever happened to me."
Justin Herbert Mother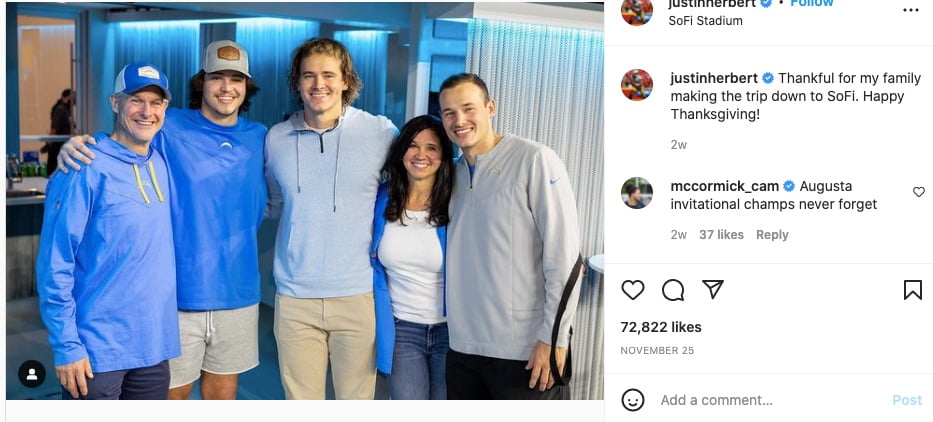 Holly Herbert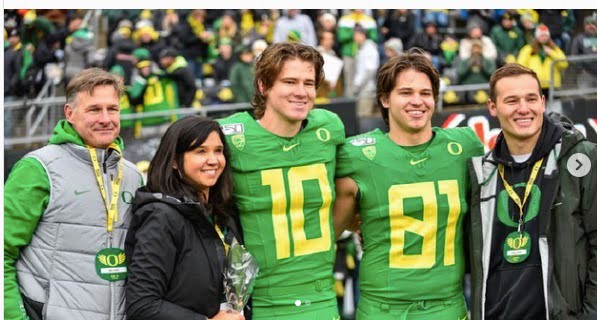 Justin's wonderful momma Holly Herbert was born Holly Lyn Schwab on October 8, 1970, to Rick and Kelli Schwab, also proud parents of Holly's sister Jamilyn Granston and brother Jason Tyler Schwab, who died of renal failure at the age of 38, on February 20, 2013.
Her father, Rick aka Schwabby played as a wide receiver at the University of Oregon, he later became the coach at Sheldon High and subsequently head football coach at Churchill High School and Marist High School after that.
After he retired from coaching he was Human Resource Director at Timber Products. Mr. Schwab died from complications from a stroke on January 22, 2018, he was 75.
Holly and Mark Herbert have three sons, Mitchell  (b. 1996)who played football at Montana State, Justin, and Patrick who is a tight end at the University of Oregon
Holly's father-in-law Roger Herbert ran track at Oregon State, before turning to a track coach at Sheldon High where he also taught biology.
Justin Herbert Brothers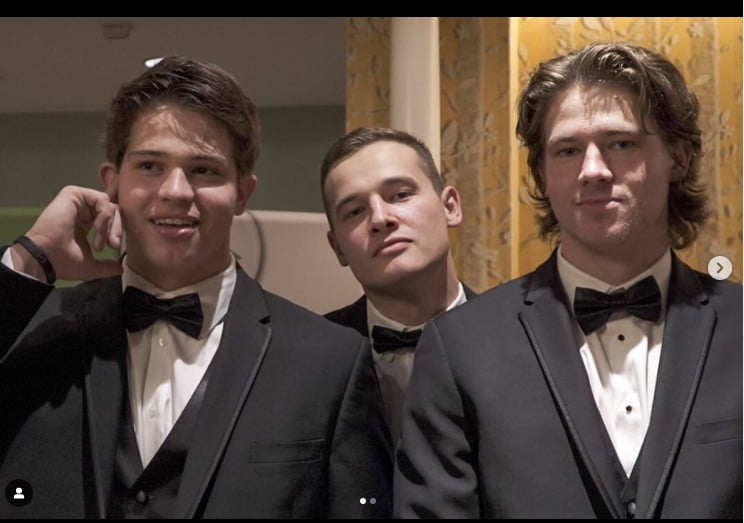 Justin is the middle child, between older brother Mitchell and younger brother Patrick, both play football in college.
Mitchell Herbert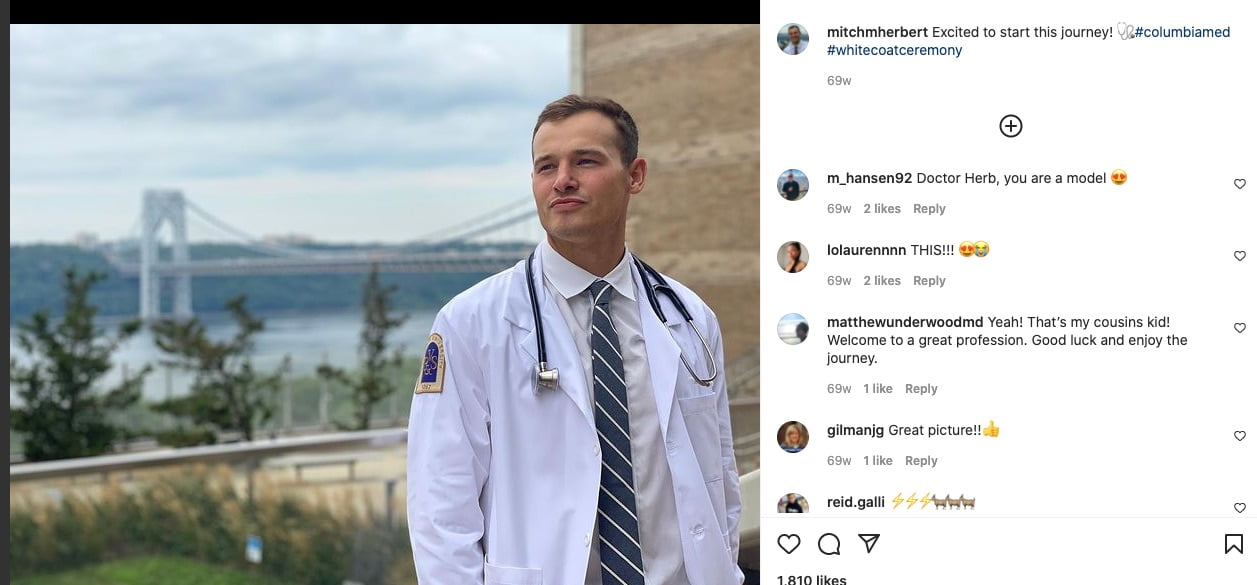 Justin Herbert's older brother Mitch was born Mark Mitchell Herbert on April 21, 1996, in Eugene, Oregon. Mitchell graduated from Montana State with a Major in Neuroscience and cell biology.
Mitchell played wide receiver at Montana and at Sheldon High before that. He recorded 26 catches, 476 receiving yards, and three touchdown catches in 2016, and 42 passes for 562 yards in 11 games in 2015.
Mitchell is currently attending Columbia. You might find this piece on Mitchell Herbert and his thoughts about CTE, quite interesting.
Patrick Herbert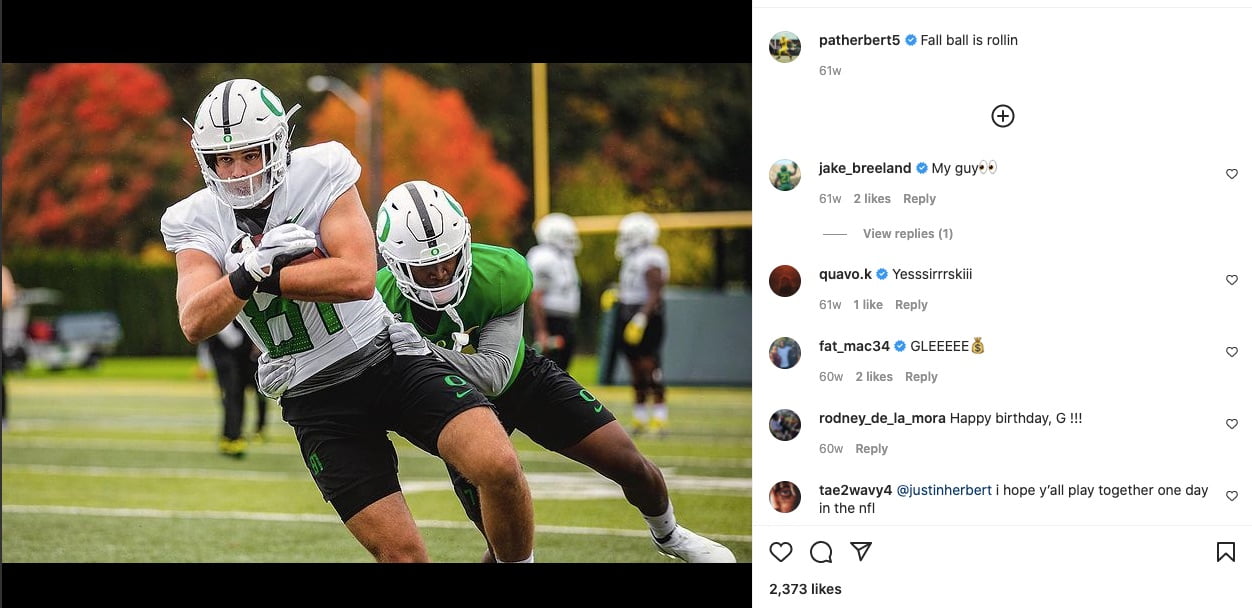 6'5 Patrick Herbert, Justin's younger brother Patrick, 20, is a tight end for the Oregon Ducks football team. He previously played at Sheldon High School where he recorded 22 catches for 300 yards and two TDs his sophomore year; 34 receptions for 462 yards and nine touchdowns, while finishing with 66 tackles, 13 TFLs his junior year, and 43 receptions for 797 yards and 11 touchdowns on offense, while finishing with 69 tackles, 10 tackles for loss and seven sacks his senior year.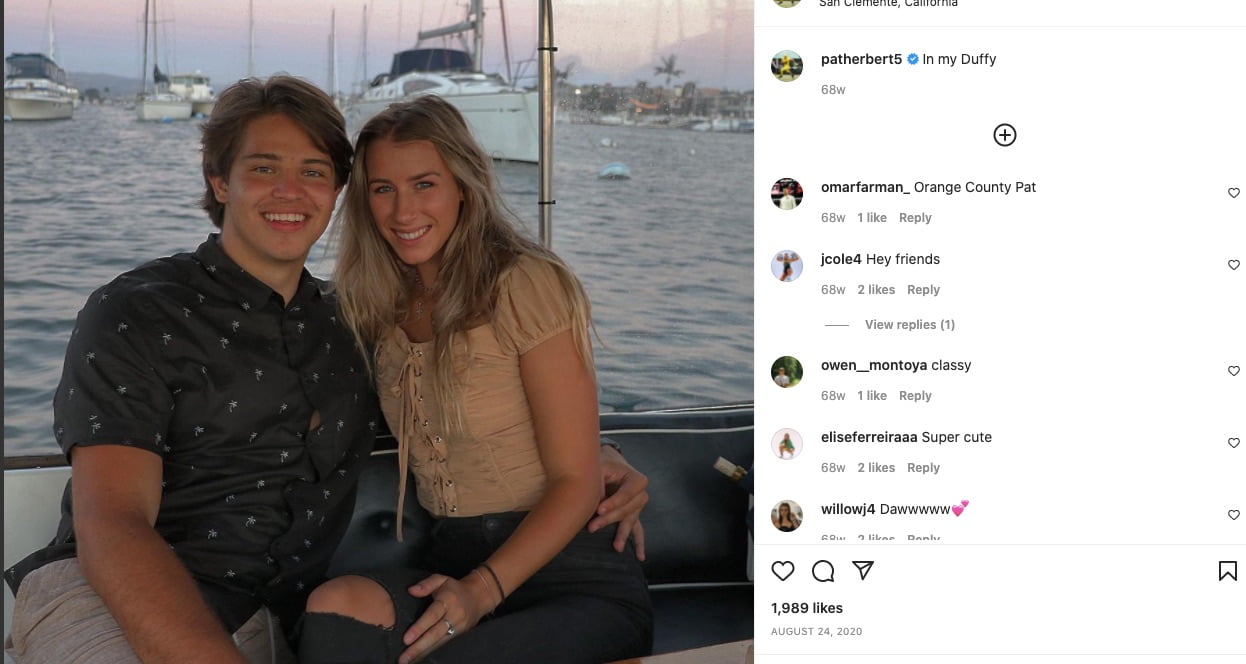 Patrick Herbert is dating Oregon Ducks volleyball player Carly Wallace.
Justin Herbert Girlfriend
Rumors about the identity of Justin Herbert are all around, for example, last year it was reported he was dating Monster Energy drink gal Rylee Jean Kirk.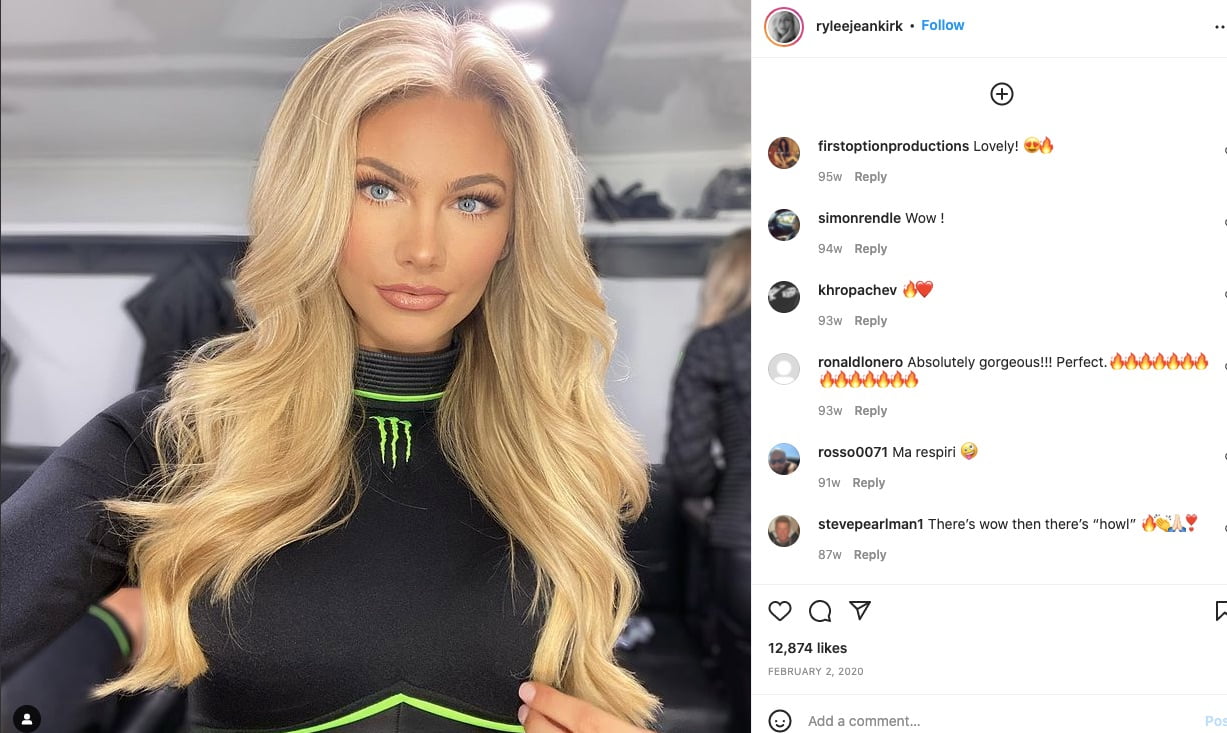 In May 2021, we heard Justin Herbert was allegedly dating NFL Networth anchor Taylor Biscotti.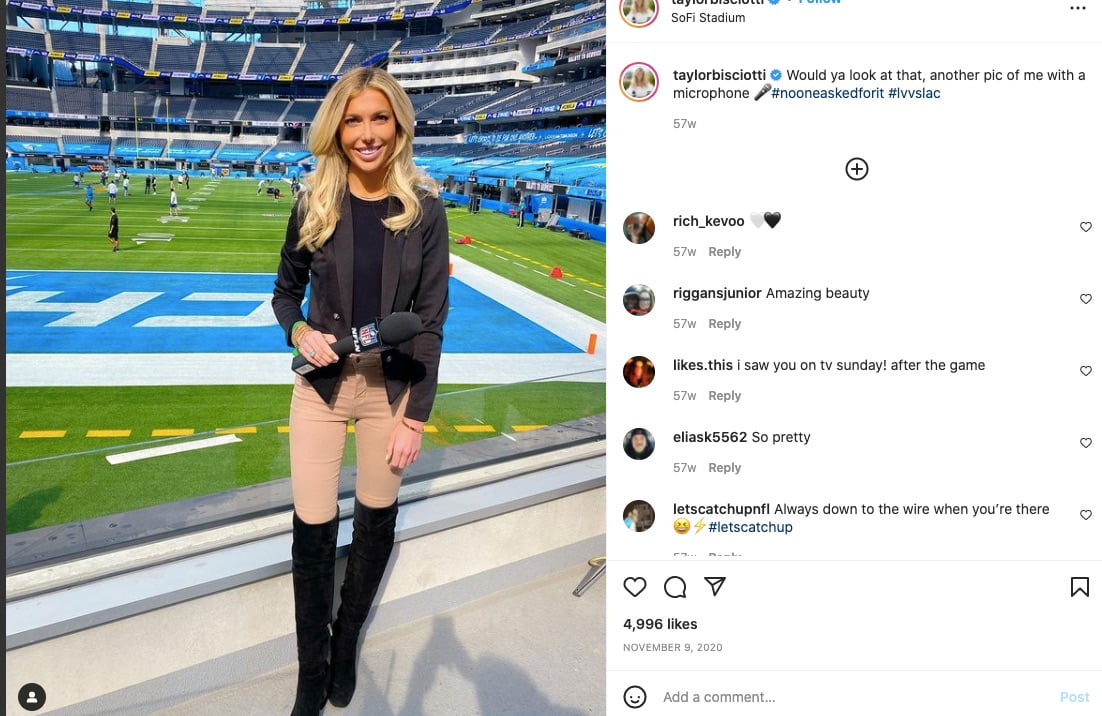 Other reports suggested he was dating his manager, but one thing is for certain he is dating a blonde with whom he was spotted at a golf tournament in July.