Meet Kristin Barnes
Kristin Barnes famous husband is former NFL player, Ricky Williams. Her hubby, who was born May 21, 1977 in San Diego, played 12 Seasons in the NFL.
Ricky attended the University of Texas where he played college football. While at Texas, he was a two-time All-American and won the Heisman Trophy. Williams was drafted by the New Orleans Saints fifth overall in the 1999 NFL Draft and spent three seasons with the team.
In 2002 he was traded to the Miami Dolphins, also playing three seasons with them. He briefly retired from the NFL in 2004. Two years later he was suspended from the NFL and went on to play for the Toronto Argonauts in 2006. Williams re-joined the Dolphins in 2007 and played with them until 2010.
He spent the following seasons with the Baltimore Ravens. He was formerly an assistant football coach at the University of the Incarnate Word and became a football analyst for ESPN's Longhorn Network. In 2015, Williams was inducted into the College Football Hall of Fame.
Kristin Barnes and Ricky tied the knot on September 4, 2009. The couple are the parents of three children. Though her husband is said to be the father of at least seven-children with three different women, one of them being Kristin Barnes. Barnes is described as his long time girlfriend.
The couple had met for eight-years before they got married. Kristin Barnes worked on the New Orleans Saints' team plane when they met. They married on Dania Beach, near Fort Lauderdale, Florida. Celebrity guests included former NBA star Dennis Rodman and NFL players Ronnie Brown and Chad Henne.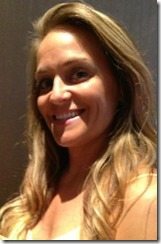 Kristin's hubby was selected as the fifth NFL draft pick out of college. The Heisman Trophy-winning running back, became an overnight celebrity. He was 23, a millionaire, had everything, yet he revealed he was the the most unhappy he had ever been.
Many did not know that the two-time All-American, dreaded the thought of going to the grocery store or meeting a fan on the street.
Williams was later diagnosed with social anxiety disorder, also called social phobia. A friend suggested he seek a therapist, Williams received treatment and recovered. He told about his diagnose
After I was diagnosed with social anxiety disorder, I felt immense relief because it meant that there was a name for my suffering. I wasn't crazy or weird, like I thought for so many years,"
Kristen's hubby is a qualified yoga instructor and is also has a massage therapy certification.
According to her Facebook profile, Kristin Barnes Williams attended Crossett High School, Winnfield Senior High and also went to LSU. She worked at Delta Airlines.
You can find Kristin Barnes on Facebook here.