Paige Hartman
Paige Hartman is the stunning wife of MLB player Kyle Schwarber, the outfielder for the Philadelphia Phillies; he also played for the Chicago Cubs, Washington Nationals, and the Boston Red Sox. Before his MLB Draft selection in 2014, Kyle played college baseball with the Indiana Hoosiers at Indiana University. Kyle and the Cubs won the NLCS & advanced to the World Series in 2016 after 71 years.
Kyle Schwarber Family
Paige's stud was born Kyle Joseph Schwarber on March 5, 1993, in Middletown, Ohio to Donna Schwarber and Greg, a retired police chief. Schwarber has one brother, Jamin, and three sisters, Alicia, Kelly, and Lindsey.
Kyle graduated in 2012 from Middletown High School and Indiana University in 2015 with a major in Recreational Sports Management.
Kyle Schwarber MLB Career
The Chicago Cubs drafted him in the first round, fourth overall, in the 2014 Major League Baseball draft.
He did not make an MLB debut; instead, he was assigned to play with the minor league team, the Boise Hawks, on June 11, 2014.
Schwarber was later promoted to the Kane County Cougars of the Class A Midwest League and the Daytona Cubs of the Class A-Advanced Florida State League.
In 2015, he was promoted to the Tennessee Smokies.
The Cubs promoted Kyle in June 2016.
He made his MLB debut on June 16 against the Cleveland Indians.
He participated in the 2018 Major League Baseball Home Run Derby, hitting 55 home runs.
Kyle was traded to the Washington Nationals on January 9, 2021.
In June 2021, he was named NL Player of the Month.
He sustained a right hamstring strain and was placed on the 10-day injured list on July 3, 2021.
The Nationals traded Kyle to the Boston Red Sox on July 29, 2021.
He made his debut with the Red Sox on August 13 against the Baltimore Orioles.
Kyle became a free agent on November 5, 2021.
He signed with the Philadelphia Phillies on March 20, 2022.
He was awarded Player of the Month in June 2022.
Kyle Schwarber MLB Stats
Kyle Schwarber Contract and Salary
On March 20, 2022, Kyle Schwarber agreed to a four-year, $79 million contract with the Philadelphia Phillies. He earns an annual salary of $19,750,000.
Kyle Schwarber Net Worth
As of 2022, Kyle Schwarber's net worth has been estimated at $3 million. In addition to his salary, Kyke Schwarbers earns from his endorsements with Ship Your Car Now, Hulu, Uno Hous, Mr. Peanut, Bani Bands, Wilson, Mizzen and Main, Factor Meals and Louisville Slugger.
Kyle Schwarber wife
Mrs. Schwarber has known her famous MLB hubby since they were teenagers. Kyle asked Paige to marry him on December 24, 2018.
Christmas came early last night! Such a perfect night! I can't wait to spend the rest of my life with my best friend!!" Paige's caption on Instagram said.
They tied the knot on December 8, 2019.
Paige Hartman
Sure young Kyle has a great future ahead of him, but what about his pretty wife?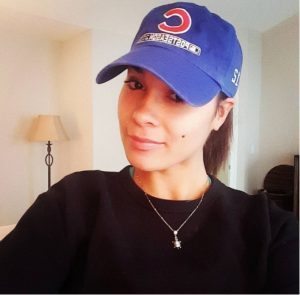 Paige Hartman born Paige Alexandra Hartman on March 25, 1993, in Middletown, Ohio. Paige is the daughter of Teresa and Brian Scott Hartman, of Middleton, Ohio. We are not a 100% certain, but it looks like. Paige has two pretty sisters, Blaine and Brooke Hartman, born in 1991 and 1996, respectively.
She met Kyle Schwarber while they both attended Middletown High School and started dating on November 5, 2010. After high school, she attended the University of Cincinnati and then took some classes at Paul Mitchell The School- Cincinnati.
Paige is highly involved in Kyle's foundation Schwarber's Neighborhood Heroes, created to give back to first responders. Kyle and Paige hosted the Schwarber's Block Party, an inaugural fundraiser in August 2017; their third and last Block Party came on August 23rd, 2019.
Paige went into labor on the same day Kyle signed his contract with the Philadelphia Phillies; baby Kade Schwarber was born on Wednesday, March 23, 2022.
"Luckily I didn't take a sip of anything," he said with a smile in a press conference on Monday, "so I could drive her to the (hospital)."
Find Paige Hartman on Twitter here
Related Story: Bryce Harper Wife Kayla Verner Harper