Shauntay Skanes
Shauntay Skanes is the lovely wife of NFL player, Latavius Murray -the running back who currently plays with the New Orleans Saints.
Shauntay's NFL hubby was born January 18, 1990; the New York native was the state of New York's 2007 Gatorade Football Player of the Year at Onondaga Central High School.
He went onto play college football at the University of Central Florida -where he was the MVP of the 2010 Liberty Bowl, the team's MVP in 2011 and a First-Team All-Conference USA selection in 2012.
He was then drafted by the Oakland Raiders out of the University of Central Florida in 2013. After four years in Oakland, he signed with the Minnesota Vikings in 2017. In 2019 he moved on to the New Orleans Saints and signed a a four-year, $14.4 million contract with the team.
In addition, the NFL player who holds a master's degree in business administration, is also a T-shirt entrepreneur.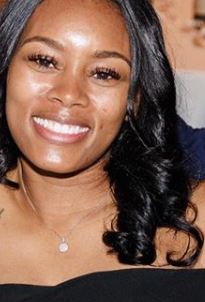 Murray has had the support of his beautiful lady all along, he and Shauntay Skanes have been together for a while, in fact, they have known each other since he was a preteen. They stayed connected after he moved with family from Florida to New York. Shauntey Skanes is originally from Florida.
They are the proud parents of three young children, a girl and two boys. Shauntay gave birth to a boy whom the couple named Major in September 2018. She gave birth to their youngest, son Marley in October 2019.
The longtime couple were planning for a 2019 wedding, but it's not clear if they did.
Shauntay Skanes isn't only an NFL wag and mother of three, she may be even more of a badass that Murray. She has spent over a decade in the US Navy and according to her LinkedIn, she is a Personnel Specialist 2nd class in Melbourne, Florida Area.
Skanes joined the Navy out of high school 13 years ago. She has served in the United States Navy since 2007.
Of her service, Murray said in an interview
"She decided to stay active, and I fully support her" "When you have those desires before the relationship, you have to do everything you can to make sure that person is still being the person that she wants to be and you make sure you support her. It's the same with my career, so it's only right that I do the same for her."
Shauntay Skanes seems to be a lot more private, she keeps a low profile and isn't a big fan of social media. We can still have a glance of the couple's family life through Murray's IG. Check out their photos below.