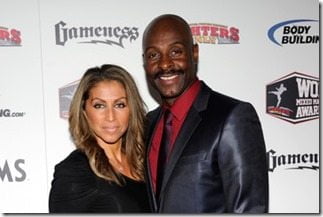 Latisha Pelayo is the lady of interest of Hall of Fame wide receiver Jerry Rice. Her notorious NFL boyfriend who won the Super Bowl three times with the San Francisco 49ers, grew up a bricklayer's son in Crawford, Miss.
Her man was who, has owned just about every meaningful record for wide receivers says he was first introduced to football by principal Ezell Wicks.
Now at the age of 51, Latisha's boyfriend recently returned to the town where he grew up — and inadvertently found his calling — to be honored as part of a program called "Hometown Hall of Famers" presented by the Pro Football Hall of Fame and Allstate. The HuffPost reported.
Rice took time to speak with HuffPost Sports about his start in football, the secret to honing his Hall of Fame hands and the message he hoped to deliver. You can read the rest here.
Latisha and Jerry have been dating for a few years after first meeting at their local gym in 2008. She is a licensed Esthetician and is the owner of a San Carlos skin-care salon. Latisha has a comprehensive background in skin care, makeup and overall skin health. As a trained CryoStem™ Skin Therapy professional and Decléor specialist, she creates skin care routines for clients that sustain her salon treatments and provide long-term maintenance solutions.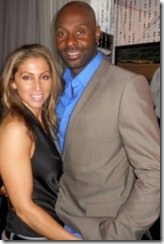 Latisha Justine Pelayo who is in her 40's has lived in San Carlos, CA; San Jose, CA; San Carlos, CA and San Mateo, CA.
Prior to dating Latisha, Rice was married to his wife of 20+ years Jacqueline Rice. In June 2007, Rice's ex-wife Jacqueline filed for divorce from the NFL superstar. Rice and his ex-wife Jackie have three children together. Jacqui, Jerry Jr. and Jada. Jerry Jr. has followed in his father's path, currently playing as a wide receiver at UCLA.
Pelayo's retired NFL wide receiver boyfriend, is generally regarded as the greatest wide receiver of all time. Rice was selected to the Pro Bowl 13 times (1986–1996, 1998, 2002) and named All-Pro 11 times in his 20 NFL seasons. He won three Super Bowl rings playing for the San Francisco 49ers and an AFC Championship with the Oakland Raiders.
Rice's talent also preceeds him in his taste in women, did you notice Latisha is gorgeous! Think they will make it all the way to the altar any time soon??