Latoria Millsap
Meet Latoria Millsap, the wife of NBA player Paul Millsap. Her 30-year-old hubby is currently a power forward for the Atlanta Hawks and will face today the Washington Wizards in game 2 of the NBA playoffs!
Latoria was born Latoria Scott, and she has known Paul since high school, you get the idea, they are the typical story of high school sweethearts; they met, plot against their teachers, went to class together, went to prom together, fell in love and the rest is history.
The thing with meeting so young is that by the time you hit 30, you already are a parent of three!
Latoria herself has a bit of strange name, but she went the extra mile when it came to picking a name for her three daughters; Xylah, Pnauyona, and Paula.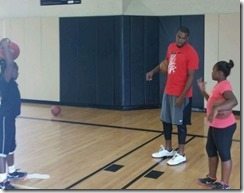 Paul might be the NBA star, but at home, the kids listen to Latoria who is a full-time mommy and his in charge of taking the shots when it comes to them.
Find her hubby on Twitter here.