Lauren Schwab
Meet Lauren Schwab, the gorgeous blonde is one of the last six remaining contestants on TV reality "Catching Kelce" –a dating show on E! in which women attempt to catch Chiefs tight end, Travis Kelce.
It sounds like gorgeous Lauren Schwab has a big shot at becoming the last woman standing. In yesterday's episode, 27-year-old Travis, told good friends Jessie James Decker and Eric Decker –that Lauren "is the kind of girl that I see myself settling down with."
Keep Reading to know Lauren Schwab's biography.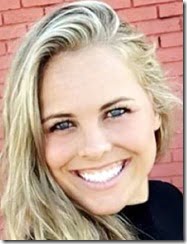 Lauren Schwab hails originally from Missouri. She is currently based in Los Angeles and is a fitness instructor, gym owner and personal trainer. Meaning she keeps in great shape, which makes her look like an easy pick for a famous athlete.
Lauren attended Valley Center High School and then Friends University in Wichita, KS, where she played basketball. Following her graduation she made the decision to move to California.
Lauren owns two gym franchises, one in Pacific Palisades an another in Venice Beach.
She ended up on reality TV after she was contacted by the show's producer. Catching Kelce isn't her first rodeo though, she also appeared on Syfy's Opposite Worlds in 2014.
Lauren's TV exposure has gained her a growing following on her social platforms. She has over 3,000 fans on Instagram and 500 on Twitter.
Her Instagram is filled with images of her, working out and spending time with her friends, the usual.
She also has her own website, where she advertises her training services and describes herself as a fitness model.
You can check out Lauren Schwab on Twitter here.