Meet Layla Kiffin
Layla Kiffin is the lovely wife of Alabama's offensive coordinator Lane Monte Kiffin, better known as Lane Kiffin. Her 40-year-old husband was apparently left behind after Alabama's win over Clemson.
Reports say, shortly after the buses left, Lane Kiffin was able to get in the back of an SUV. It happened to be the ride for Alabama coach Nick Saban –who also missed the bus while doing interviews and didn't mind the company of his offensive coordinator.
After all, they were celebrating the team's win. Alabama beat 45-40 in the College Football Playoff National Championship Game.
Reports say Kiffin was integral in Alabama's come-from-behind win. The Tide had three offensive touchdowns of over 50 yards. Two of those went to tight end O.J. Howard, who had five catches for 208 yards.
After he quit playing in 1996, Layla's husband immediately started coaching. He joined alma mater Fresno State as an assistant in 1997. He landed his first head coaching job a decade later with the Oakland Raiders, but after a record of 5-15, he made his way back to college to coach Tennessee.
His results as a head coach were mostly disappointing, going 7-6 with the Volunteeers and 28-15 with USC before being fired in 2013. In January of 2014, he took over for Doug Nussmeier as offensive coordinator on Saban's staff.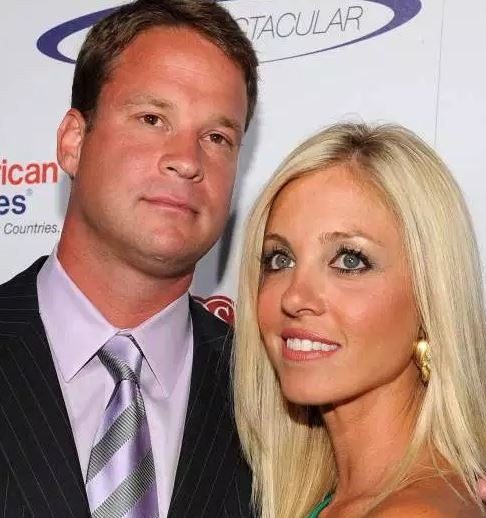 Kiffin had to ride with coach Saban and it might have been a little awkward after September 2015, he was accused of sleeping with Saban's daughter!
You might remember a similar situation where Kiffin was fired from his job as USC's head coach in 2013, it was done so at the airport after the team had gotten back from a loss at Arizona State. This time, he didn't lose his job.
Wife Layla Kiffin must be relieved! Kayla Kiffin is the former Kayla Reaves and she's no stranger to the life of a football coach. The blonde happens to be the daughter of former NFL quarterback John Reaves, she began working for the Tampa Bay Buccaneers special events department after graduating from the University of Florida in 1997. That's where she met Lane's father, Monte, who was the defense coordinator of the Bucs at the time.That's right, the couple met through Lane's father.
Layla Kiffin first met her future father in law and in 1999 she met Lane. Only three months after they began dating he popped the question. Like a true gentleman, Lane asked her father for her hand in marriage.
Layla Kiffin has two brothers, David and Stephen Reaves. Layla is the mother of the couple's three children, two girls and one boy. She gave birth to first daughter Landry in 2005. Second daughter is Presley, born in 2007 and son, Knox was born in 2009.