Meet Leslie Davenport Brett, she is the wife of Kansas City's Hall of Fame third baseman, George Brett.
Lady Brett's hubby was a prolific Hall of Fame Kansas City Royals third baseman for twenty-one seasons; 13-time All-Star, 3-time American League batting champion and the 1980 American League MVP.
Leslie and Brett got married in 1992 in Manhattan Beach, Calif.; and she is the mother of the couple's three children, sons; Jackson who was named after his father; Dylan, named after Bob Dylan and Robin, named after fellow Hall of Famer Robin Yount of the Milwaukee Brewers.
The Kansas graduate from Wichita was 27-years-old when she tied the knot to her then boyfriend 39-year-old George Brett. At the time she said
"I had my own life before him, and I'm going to keep having my own life"
The couple met two years before heading to the isle. They met JJ's on the Plaza shopping area while Leslie worked at a clothing shop, the next morning Brett came back to the shop with bagels and cream cheese. George said she liked her because
"She wasn't a baseball fan or a groupie and second she played a little hard to get"
Taking notes ladies??
She is the daughter of Richard (Herky) Davenport, a Wichita designer who helped restructured the interior of the home owned by his daughter and George Brett.
Leslie being the only woman in her family has been very supportive of her children, in whatever endeavors they have pursued athletically. Her son Dylan plays baseball at KU where Leslie also graduated. She and George serve as honorary chairs for the Kauffman Center for Performing Arts.
George has always been active in Dylan's athletic career, coaching all three of his sons' baseball teams up until the beginning of their high school careers.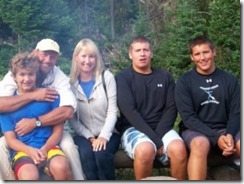 Her husband led the Royals to a World Series Championship in 1985 and was named ALCS MVP during the team's playoff run. He saiys about his kids
"They used to fight a lot," "Once they started playing on the same team, together, it was amazing how close they had become. Now they're as close as any two brothers I know. Robin too. They're all athletic, all pretty good kids and they get along."
We can see Dylan and Robyn below.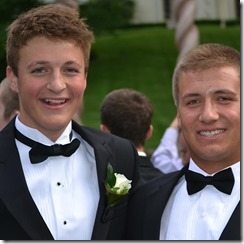 After his baseball career, Leslie's husband worked as a Vice President, part-time coach and special instructor of the Royals. Currently, together with his brothers Bobby, and Ken Brett (until his death), they  manage the Brett Bros., a baseball equipment and foam-hand company.He has an estimated net worth raising at $15 million.
Her husband is well known in the baseball world but he also served as inspiration of the monster hit song "Royals"
Ever since it was revealed Lorde was inspired by a 1976 photo of the MLB star in National Geographic we've been waiting fro them to meet and last night, it finally happened. TMZ reports that Lorde's people contacted Brett and asked if he would like to hang out with her in Las Vegas before her concert.