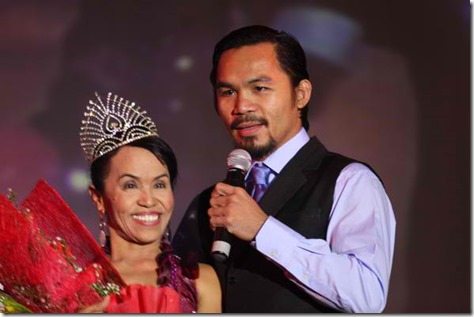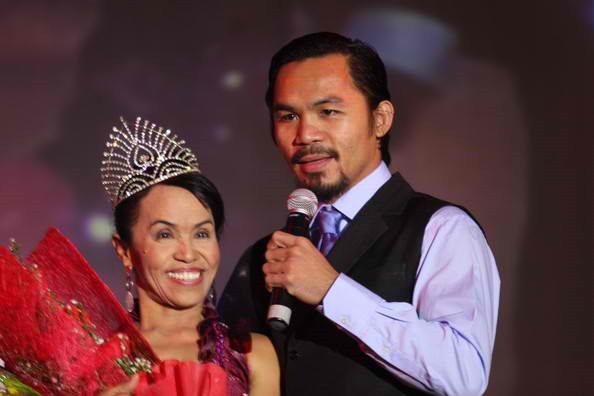 Dionisia Pacquiao has become social media sensation being described almost as entertaining as her son's latest ring encounter! She was a hot topic Sunday afternoon, as photos and videos of her appearing to hex Timothy Bradley made its way around the web. After the fight, the Pacquiao matriarch also had a touching moment with the American, as they shared a hug inside the ring. Why don't we get to know her better!
Dionisia is the mother of six-children, from her first husband –Alfonso Silvestre she became a mother to Liza Silvestre-Onding now 46 and Domingo Silvestre 44. She was later married a laborer at the city public market, Rosalio Pacquiao whom he met in 1975 and the marriage produced 4 children. She gave birth to Isidra Pacquiao-Paglinawan, Alberto "Bobby" Pacquiao who is also a boxer, Rogelio Pacquiao and she gave birth to Manny on December 17, 1978; in Kibawe, Bukidnon, Philippines, the second child from her second marriage.
Mommy D (dearest) as she is fondly called or Mommy Diony, separated from Manny's father when he was 12-years-old after she discovered her husband was living with another woman.
Manny ha stated many times he has followed the remarkable example of his mother, described as a relentless woman, she will not give up before anything and has overcome many setbacks in life.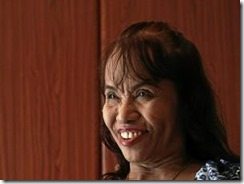 The now 64-year old was abandoned as a child by her father and then her luck with men had the same fait. Her life as daughter, wife and mother was replete with struggles and sacrifices. She is the daughter of Cristina Mejia Dapidran and Florencio Declaro Dapidran; born on May 15,1949 in Sarangani other sources say she is from Inopacan; the third in a brood of nine, Dionesia admitted, it was her mother who instilled in her the value of hard work, fortitude, patience and strong faith in God.
After her second husband left her for another woman, she worked as a cleaning lady and also in a factory and returned to baking native delicacies to support her children.
Her life gave a 360 degree turn after her son became a world boxing champion, she now is a Filipino personality, actress and darling of the press. She has a two-bedroom house, a Toyota car, personal driver bodyguard, all courtesy of the Pacman.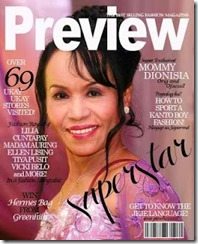 For her 60th birthday she dressed like a debutant and threw a big party.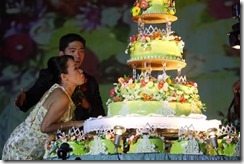 She is very close to her son, in 2007 she appeared along Manny in a project with infotainment networks, it was a sitcom called "Show Me Da Manny." She claimed dancing is her favorite past time.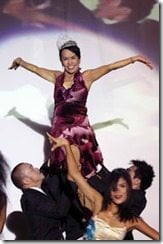 Although her dream was to see Manny becoming a priest and has stated no parent wants to see their child engaging in a brutal fight inside the ring, we don't think she complaining.
Despite all these, she has no regret in life. Her patience, tenacity and faith were rewarded in the end.