Meet Leury Michaelle Moreno, the former wife of current Kansas City Royals shortstop, Alcides Escobar.
The couple was briefly married and we cant assure they have remained friends!
Leury is the daughter of Omar and Sandra Moreno, her father is a native of Panama and used to play for Aguilas, no wonder he took notice of an athlete.
During happier times, the couple tied the knot in 2008 while he was a Brewers minor leaguer, badabing badaboom she became pregnant and apparently everything went sour. While she stayed in Panama pregnant, Alcides went back to play baseball and never looked back!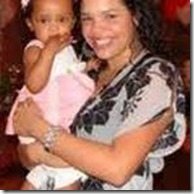 Back in 2009 an outraged she caught media attention when she contacted digital newspaper "Fanáticos.com" and revealed the mistreatment she had received by Escobar. Leury completely slammed her then estranged husband saying what a terrible dad the player had been. She was so determined to let the world know about her situation, and desperate if you will, that she told the newspaper she had made a petition in her attempt to reach other wives in the same position
So now Im starting this petition, I figured that there are many more current or ex baseball wives in my position and I cam across Melissa Lima and Marina Valdez and I would love to get in contact with them to see if we can team up and STOP MLB DEAD BEAT DADS through Major League Baseball itself like you see in my petition which I started a day ago.
Her campaign against Escobar was fierce, we have to give to her, she also started a blog and he only information on it was "The Truth" about what Alcides Escobar did to her.
"He abandonded me since october 7th. He was suppose to come and spend Christmas with me and never did, he was suppose to spend New Years with me and never did either. He only called to emotionally insult me and tell me that I was fat and ugly and that he had found someone better, all this while I was pregnat with our daughter. He later told me that the only reason why he married me was to get his green card.
The page can no longer be found.
It was clear an infuriated Leary was set on making Escobar more famous as a deadbeat dad than a baseball player with her petition but could you blame her? She also revealed details about Escobar's life and said he had walked down on her and their daughter.
Miss Moreno and Alcides produced one child, Gabriela who was born on Dec 11, 2008. Shortly after she claimed Escobar tricked her into going to TN with their daughter supposedly to work things out, surprise-surprise! Alcides served her with divorce papers.
We are not sure if the player, who now makes a salary of over six figures has worked on his parenting skills. We hope for his sake he has, if not, we'll hear from Leurry soon!
You can find Leury Moreno on Facebook here.