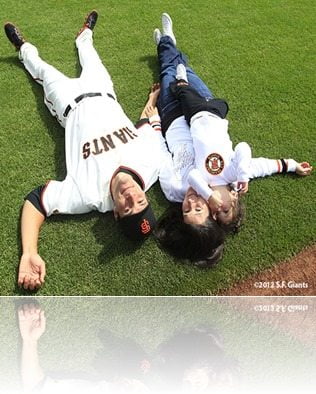 Javier Lopez the  Puerto Rican MLB player with the San Francisco Giants is happily married to his lovely and caring wife Renee Richards.
Javier Lopez was born in Puerto Rico but he grew up in Fairfax, Virginia, he lived there all the way to high school and College, although playing baseball was not his first choice for his future, but rather be a FBI agent just like his old man.
Lopez attended at the University of Virginia and was drafted by the Arizona Diamondbacks in the fourth round of the 1998 MLB Draft. The Boston Red Sox selected him in December 2002,  in the Rule 5 Draft, but on April 14, 2005 he was claimed off waivers by the Arizona Diamondbacks.
In 2006 he moved with the Chicago White Sox who traded him to the Boston Red Sox that June. He signed a one-year contract with the Pittsburgh Pirates on December 18, 2009. The Pirated traded him for John Bowker and Joe Martinez on July 31, 2010.
Javier Lopez met his pretty wife Renee Richards aka Renee Lopez while they both attended at Robinson Secondary School in Fairfax, Virginia but it was until they  were studying at the University of Virginia that they started dating.
Javier and Renee got engaged while they were in college, but it was until he earned his degree that they eventually got married, because he made a promise to Renee's dad, that they wait until then.
Javier and Renee Lopez are the proud parents of their beautiful children Kylan, born on March 19, 2010 and Christian born on October 26, 2012.
Photo Credit: Wendy Wood