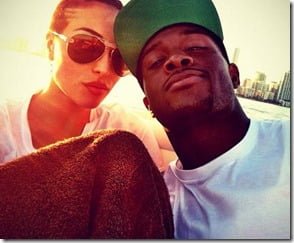 After a year and half of dating 24-year-old Lilit Avagyan and NFL boyfriend Reggie Bush welcomed their first born on May 6. Lilit gave birth to a beautiful 8 pounds, 9 ounces baby girl.
Avagyan's fiancée confirmed the news of Lilit being preggy back in October 2012 saying the couple was "pretty excited"
The 5′ 6″ knock out speaks English, Russian and Armenian. Lilit was born on November 30, 1987 to 59-year-old  Avag Avagyan and 52-year-old Juleta  from Chatsworth, CA. The young and most recently new mom has been a busy girl, ever since she was a little girl she showed an interest for dancing.
Lilit Avagyan went to Europe and studied just that for 12 years! She started in a ballet academy from which launched her ballroom career.  Since this form of dance is the closest to her heart  and character, she chose to make it her passion in life.  For the last thirteen years she has achieved many highs in her career. By 2011 she moved back to the U.S and became also a dancing teacher!  No wonder she has that rocking body!
Ever since the couple got together her resemblance to Kim-K has been told too many times, I mean they do look alike so what the girl has Armenian blood as well that has to count for something right! The couple seems to be getting along just fine and even more with them becoming parents for the first time. She even beat Kim on getting pregnant!
Just like her man she has had her own success:
She was part of the guest performers at Dancing With The Stars.
Lilit won the 2010 Rising Star Open- To The World in Florida
She has represented the US in several dancing championships all over the globe, winning the title in 2008.
Participated at the Latin American World Championships  in Australia and was among the great ballroom dancers at Louis Van Amstel's Ballroom with a Twist.
When at home in Los Angeles she choreographs and teaches and continues to study various forms of dance.
"It is my passion to see life through such an amazing and  beautiful art form."
We wish the best to the happy couple and their new addition t the family.