Linda Holliday
Meet Linda Holliday, she is the NFL WAG currently dating the New England Patriots longtime head coach Bill Belichick, who divorce Debby Clark Belichick his wife of 28 years in 2006.
Bill Belichick has been an NFL coach for almost three decades. The first team he worked for was the Colts, he served as a special assistant in 1975; then joined the Lions in 1976 as their Assistant special teams' coach; with the Broncos in 1978, as a defensive assistant, and finally the team title in 1980 with the Giants, who in 1985 named him their defensive coordinator.
In 1991 Belichick became head coach of the Cleveland Browns; New England in 1996. He left the Patriots in 1997 and joined the New York Jets, before coming back to New England in 2000, where he has remained until this day.
Bill Belichick Net Worth
Bill Belichick is the NFL's highest-paid coach, he has a net worth estimated at $60 million. He earned $25 a week when he first started his coaching career with the Baltimore Colts as a special assistant in 1975.
He paid $70,000 for two lots in Sconset, Massachusetts where he built three houses, one for him and his wife Debby and the other two for his in-laws and his parents.
Around 2014, he bought a stunning five-bedroom home in Nantucket for $4,5 million, which Debby received after her divorced from the Patriots coach. He owns a six-home compound in Nantucket valued at $10 million and a house in Hingham, Massachusetts.
Bill Belichick Contract & Salary
According to Spotrac, NFL's best-paid coach Bill Belichick has an annual salary of $12.5 million. Mike Florio from Pro Football Belichick walks away with $20 million per season, his salary pus incentives.
In June 2021, it was reported the Patriots keep Bill Belichick in New England for at least three more years unfortunately details about his contract remain a mystery, Belichick once said he doesn't talk about his contract.
"I don't talk about contracts, but I would say I like working here, I like the organization — ownership, coaches, scouts, players, and the guys I work with. I appreciate the opportunity to work here and it's a good situation. I don't see that changing anytime soon."
His last contract extension was signed in 2017, and details about how much his contract was worth came in 2013, at the time Bill Belichick signed a seven-year, $45 million contract extension with the New England Patriots.
Bill Belichick Rings
Bill Belichick has six Super Bowl rings, the first came in 2002 when the Patriots defeated the St Louis Rams 20-17. The second ring was in 2004, against the Carolina Panthers, 32-29, Belichick and the Patriots won their third ring in 2005, a 24-21 win against the Philadelphia Eagles.
He won his fourth ring, in 2015, against the Seattle Seahawks, 28-24. The fifth ring was at Super BowlLI in 2017, against the Atlanta Falcons, 34-28; Coach Belichick won his sixth ring against the Los Angeles Rams 13-3 on February 3, 2019.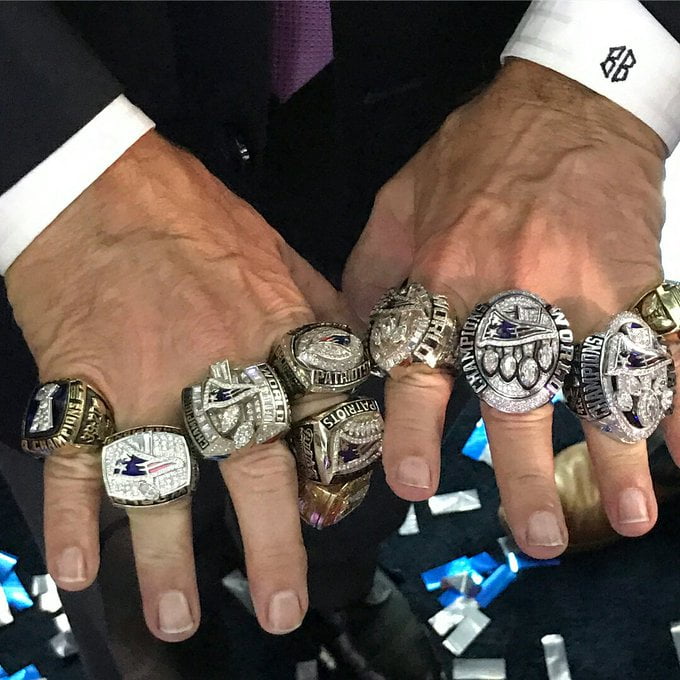 Bill Belichick was wearing 10 huge rings at the Patriots ring part in June 2017, two extra rings were  AFC title rings and the other three rings was from his years as an assistant coach.
Bill Belichick Dog
The world got the opportunity to meet Bill Belichick's beautiful dog Nike his Alaskan Klee Kai, who stole the coaches' spotlight during the 2020 NFL draft. Belichick's GF Linda Holliday explained the reason Nike was sitting in a chair behind a laptop was that he spotted leftover treats on the table and hopped up on the chair to wait patiently for a reward.
Bill Belichick Record Without Tom Brady
It has been reported that according to LeSean Mccoy Patriots owner Robert Kraft, challenged Belichick after Tom Brady won his seventh Super Bowl with the Tampa Bay Buccaneers.
"I said, 'Hey, Mr. Kraft, how you doing,' a little small talk — let's get to the serious thing, cut to the small talk, 'What happened with the Brady thing, how do you let Tommy leave?' " McCoy said. "He's like this, 'Oh, I love Tommy, this and that, I'm mad he left. I told Bill … you let Tom win a championship, it's time for you to win one.' "
Bill Belichick's record without Tom Brady on his team is 62-74 during the regular season,  1-1 in playoffs with a total of 63-75.
Bill Belichick Parents

Bill Belichick born William Stephen Belichick on April 16, 1952, in Nashville, Tennessee is the son of Jeannette Munn Belichick and Steve Belichick.  His father served in World War II before starting a coaching career first in basketball at Hiram in 1946, later football at Vanderbilt, North Carolina, and Navy from 1956 to 1989.
He passed away at the age of 86, of heart failure at his house in Annapolis.
Steve met his wife Jeannette while they both work at Hiram College from where she graduated in 1942,  with a major in Language and later taught French and Spanish. Mrs. Belichick was 98 when she passed away on September 15, 2020.
Bill Belichick Ex Wife
Debbie Clarke Belichick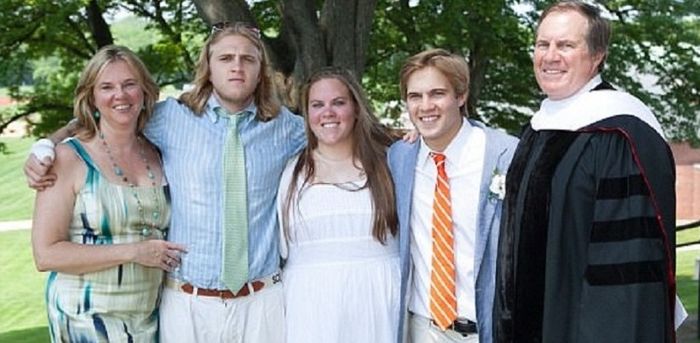 Debby was born Deborah Clarke on June 10, 1951, in Nashville, Tennessee. She attended Annapolis High School and Wesleyan University. Coach Belichick and Debbie Clark got married in 1975; from their marriage, three children were born; Brian, Steve, and daughter Amanda.
Bill Belichick Children
Amanda Belichick
Amanda Belichick was born Amanda Clarke Belichick on October 9, 1984; Amanda graduated from Wesleyan University with a degree in history in 2007. After she graduated Amanda served as head varsity girls' lacrosse coach at Choate Rosemary Hall, subsequently in 2010, served as an assistant coach at UMass.
She joined Ohio State as an assistant coach before joining her alma mater Wesleyan University as their head coach in 2014. Amanda Belichick is currently in her eighth year as the head coach of the women's lacrosse program at Holy Cross.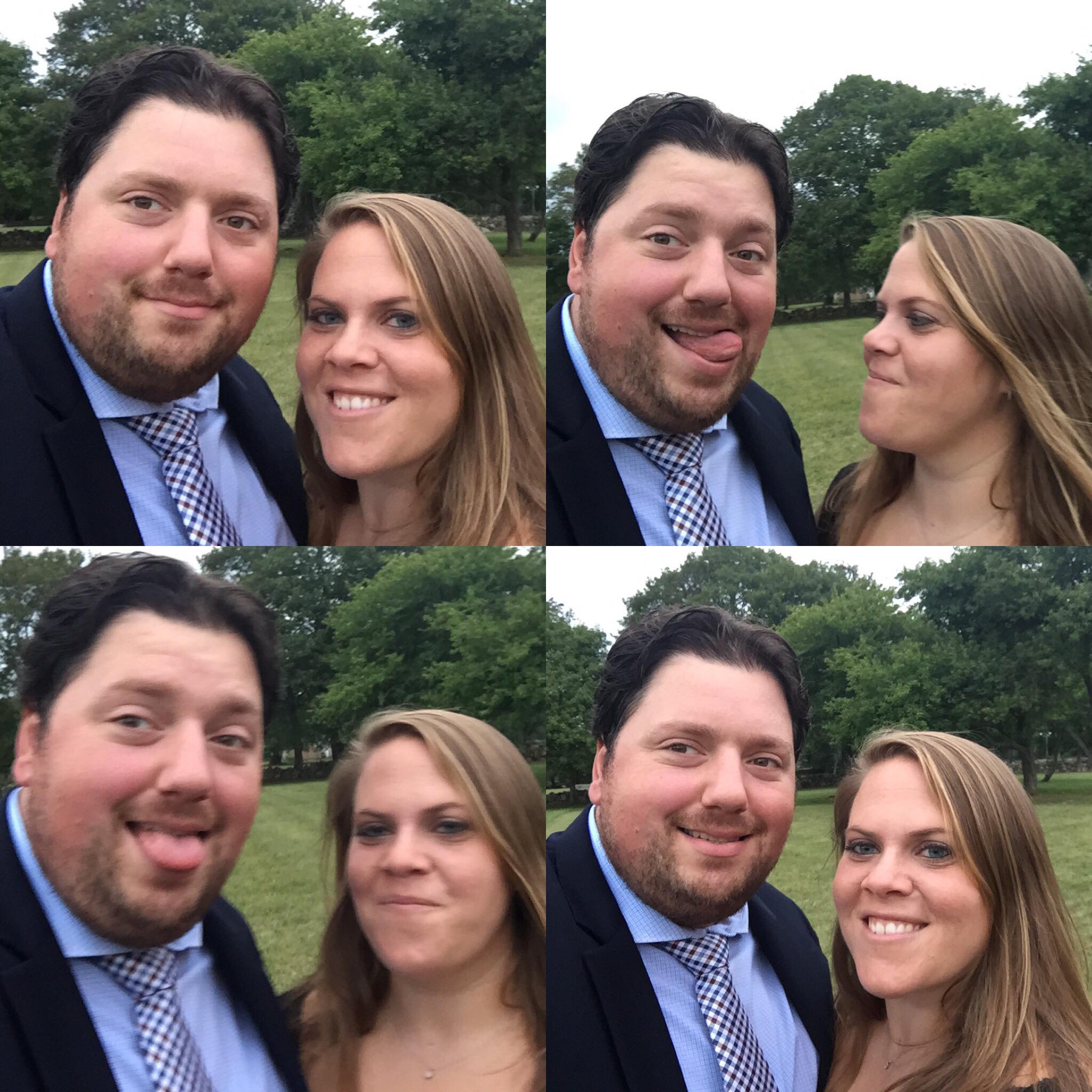 Amanda married Anthony AJ DeSantis in Westerly, Rhode Island on July 8, 2017. (wedding pics are amazing!!!)
Steve Belichick
Steve Belichick was born on March 25, 1987, in Ridgewood, New Jersey. He played lacrosse at The Rivers School in Weston, Massachusetts, and later at Rutgers University where he was also a member of the football team.
Steve Belichick joined his famous father and the Patriots coaching staff on May 10, 2012, as a coaching assistant, four years later he was promoted to safeties coach; Steve Belichick replaced Brian Flores as a defensive coach as well as secondary safeties coach. On July 28, 2020, Stephen was named outside linebacker coach.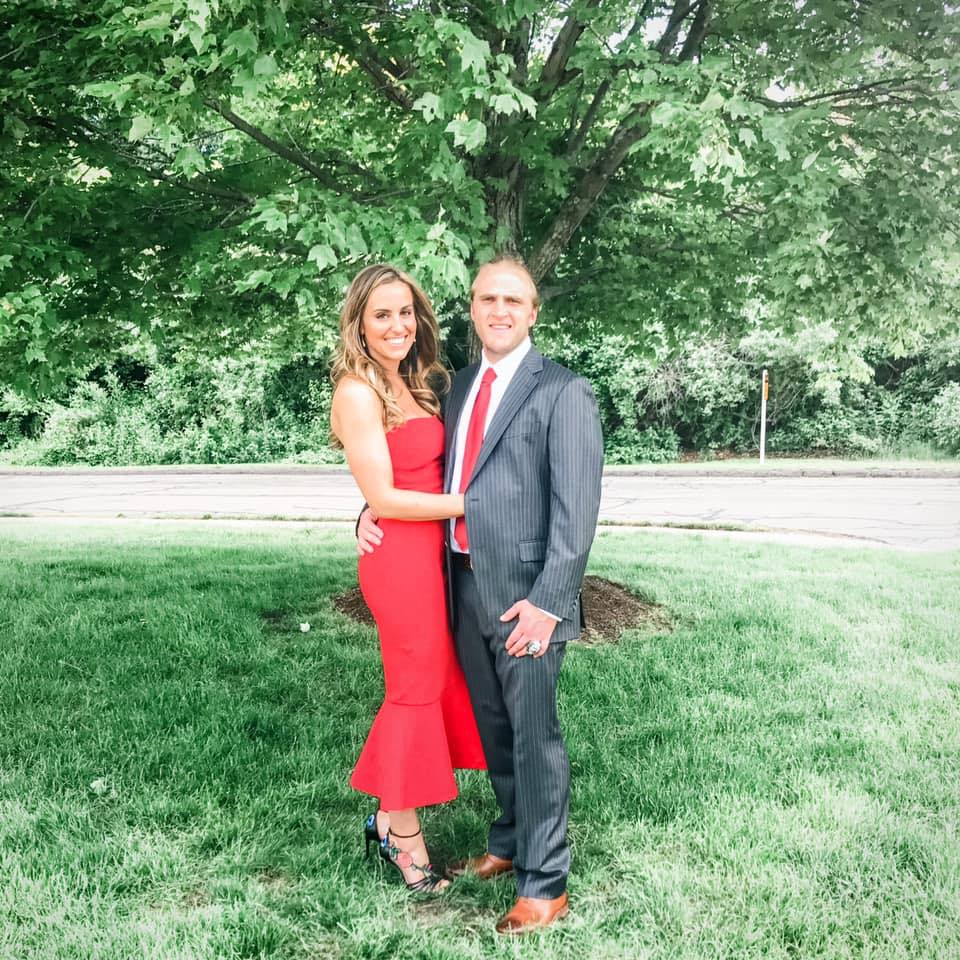 Steve Belichick is married to Jennifer Schmitt Belichick, who he met while they both attended Rutgers; Jennifer Belichick was an occupational therapist at Tufts University. She and Steve reside in Boston with their three beautiful children.
Steve Belichick Faces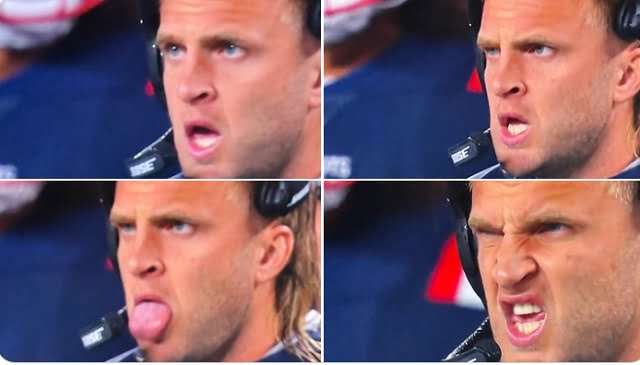 Steve Belichick is on the road to success that is for sure, another thing that became a success on the internet is Stephen's mullet and his faces during the Patriots game against the Buccaneers on October 4, 2021, he quickly became a meme!!!
Brian Belichick
29-year-old Brian Belichick the youngest son of Bill Belichick played lacrosse at Rivers School and Suffield Academy in Connecticut, before joining Trinity College's lacrosse team and graduating in 2016.
Brian Belichick joined the New England Patriots coaching staff in 2016 as a scouting assistant, in 2017 was promoted to coaching assistant and safeties coach in 2020. Brian Belichick and his longtime girlfriend Catherine "Callie" D. McLaughlin tied the knot on June 26, 2021.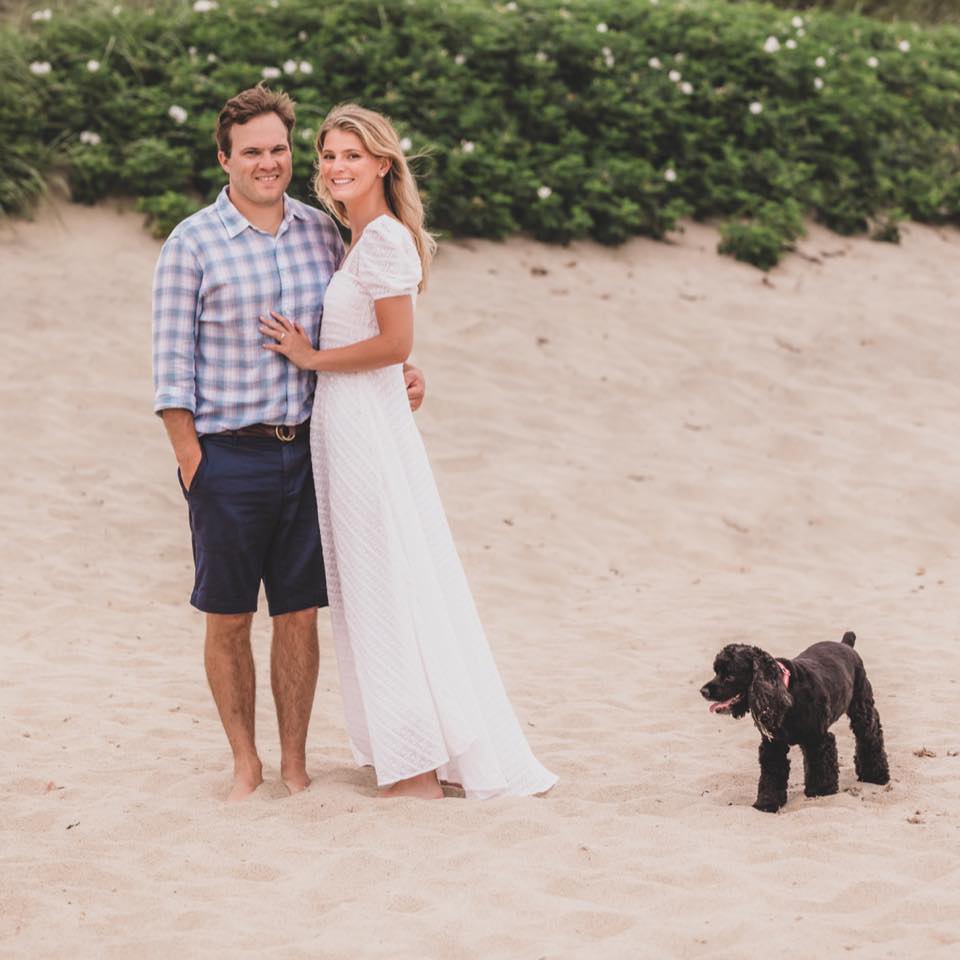 Sharon Shenocca
Debbie and Bill separated in 2004, eventually, they divorced in 2006. But, not before rumors about Belichick having an affair with Sharon Shenocca, the receptionist working with the Giants emerged.
48-year-old Sharon Shenocca aka Sharon Radigan met the famous coach in 1980; at that time she was married to Vincent Shenocca with whom she had children. Vincent said he intercepted envelopes containing $3,000 which Belichick send to his wife monthly starting in 2005; around the same time, Vincent took away Sharon's credit cards and added that Sharon has committed adultery with William Belichick at various times and places presently unknown.
Belichick allegedly bought a four-bedroom townhouse for $2,225,000 in June 2006. The NY Post also reported that he paid for her vacations.
We didn't see or hear more of Sharon Shenocca after that; however, there was another blonde stunner who was seen with the Patriots coach.
Bill Belichick Girlfriend
Linda Holliday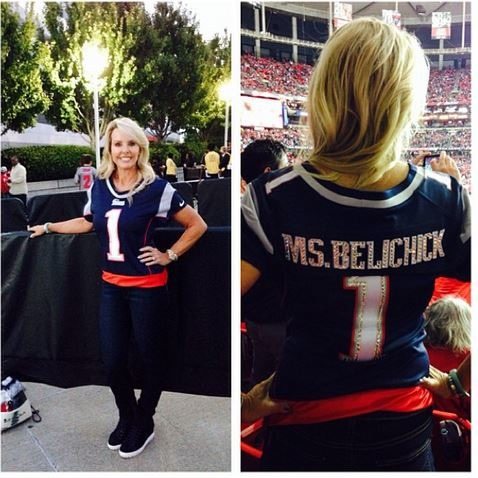 59-year-old Linda Kay Holliday was born on June 5, 1963, in Knoxville, Tennessee; was once known as Linda Hess, Linda Corder, and Linda Greene. We found that at some point in her life she was related to Dennis Hess, 58, from Georgia, Vaughn Corder, 55, from Georgia, and Eugene Holliday, 60, from Arkansas.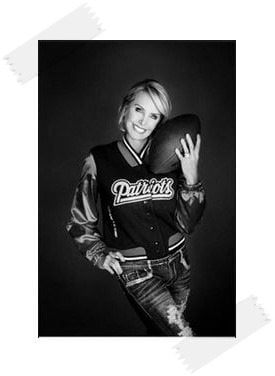 Someone told us that Linda Holiday's maiden name is Linda Greene; she was married to Mr. Hess with whom she had two beautiful daughters Ashley and Katrina "Kat" Hess, born on May 21, 1992.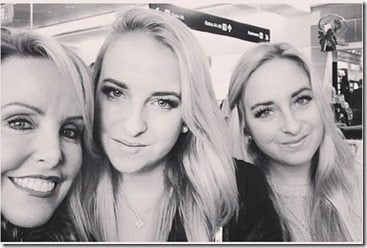 The Hess Twins models and DJs graduated in 2015, from Trinity College in Hartford, Connecticut with a Bachelor's Degree in American studies. They did a press internship with the U.S. Senate in 2012.
Ashley and her twin Kat  Hess did marketing internships at the Boston Magazine in 2010, an internship at Michael Kors in 2014, and was a social media and digital marketing manager at Quadio in 2020.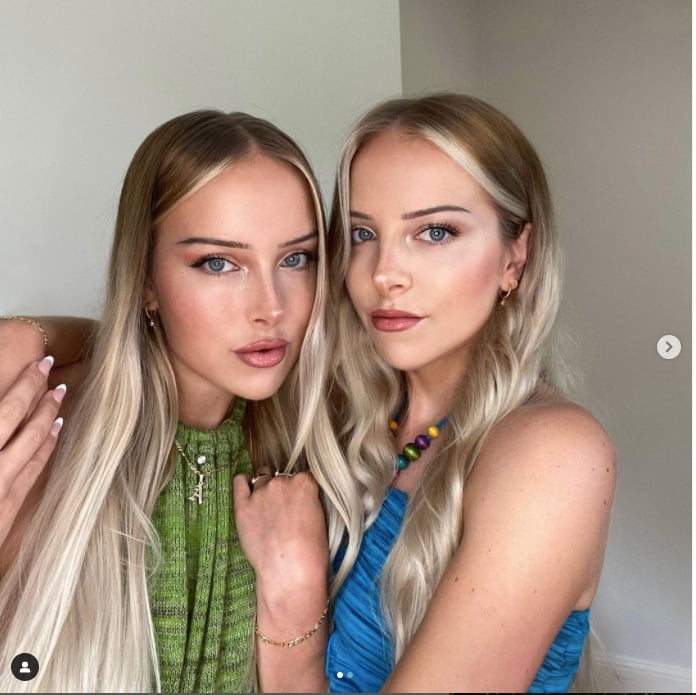 Ashley and Kat Hess are creative consultants and digital entrepreneurs at their own Hess Twins Business.
Linda Holliday two-time runner-up at the Mrs. Arkansas beauty pageant holds a B.S in radiography from Vanderbilt, where she graduated in 1996. Subsequently, ten years later, she created Blue Indigo Boutique;  her clothing store that went down for business three years later.
But 2009, was not entirely bad for Ms. Holliday because that same year she became a correspondent for WCVB-TV's Style Boston.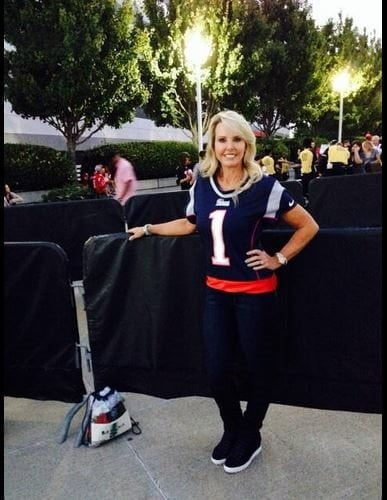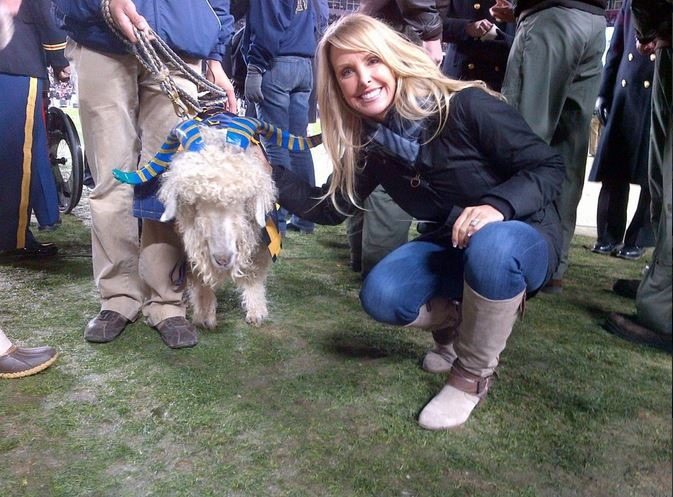 You can follow Bill Belichick's GF Linda Holliday on Twitter here, and find her on Instagram here.