Dani Rhodes 
Dani Rhodes; is the stunning girlfriend of NFL player TJ Watt. TJ is the new linebacker selected by the Pittsburgh Steelers and if the last name sounds familiar, that is because he is the younger brother of Houston Texans defensive end JJ Watt and Chargers' fullback player Derek Watt.
Dani's stud and the youngest son of Connie and John Watt was born on October 11, 1994, in Pewaukee, Wisconsin; where he attended Pewaukee High School, before committing to play for the Badgers at the University of Wisconsin, majoring in retailing and consumer behavior.
T.J. Watt Parents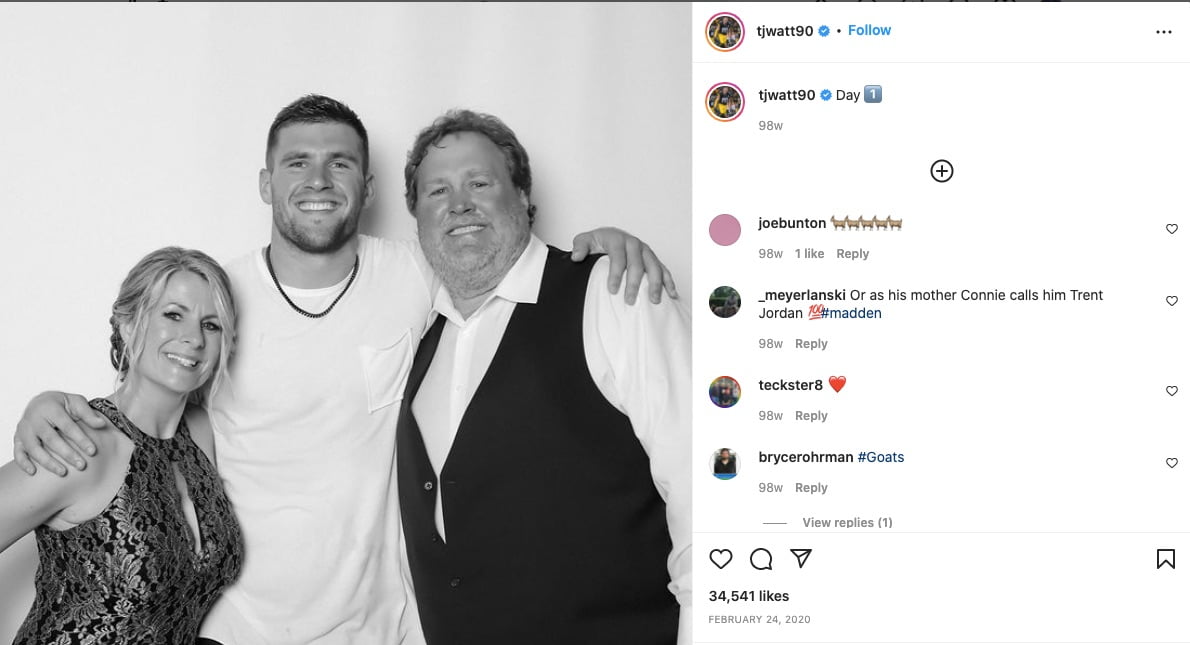 Connie Watt
T.J Watt is the youngest son of John and Connie Watt a firefighter and a Building Operations Vice President respectively. T.J has said his mom Connie is a superwoman.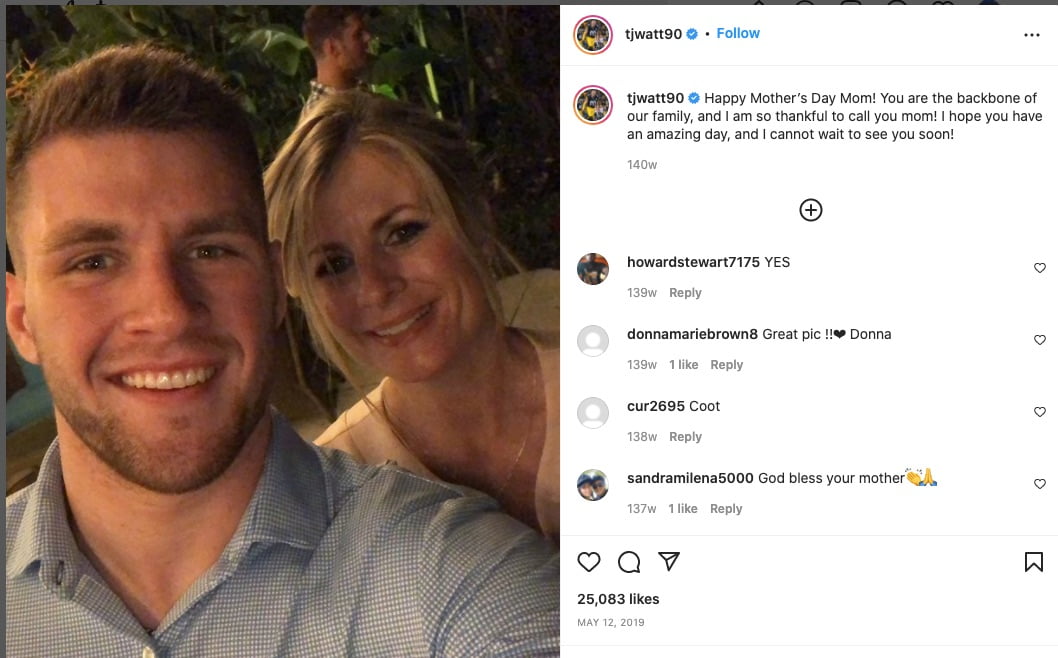 "My mom is literally superwoman," said T.J. "No one will ever truly understand what she has done for my two brothers and I. To raise three sons in itself is an accomplishment, but to have three NFL football players, is a whole new level. We would not be here without her love and support, and my dad too, always being there for us. We have been through our share of ups and downs, with injuries and all, they have always been there and been the backbone of this family."
John Watt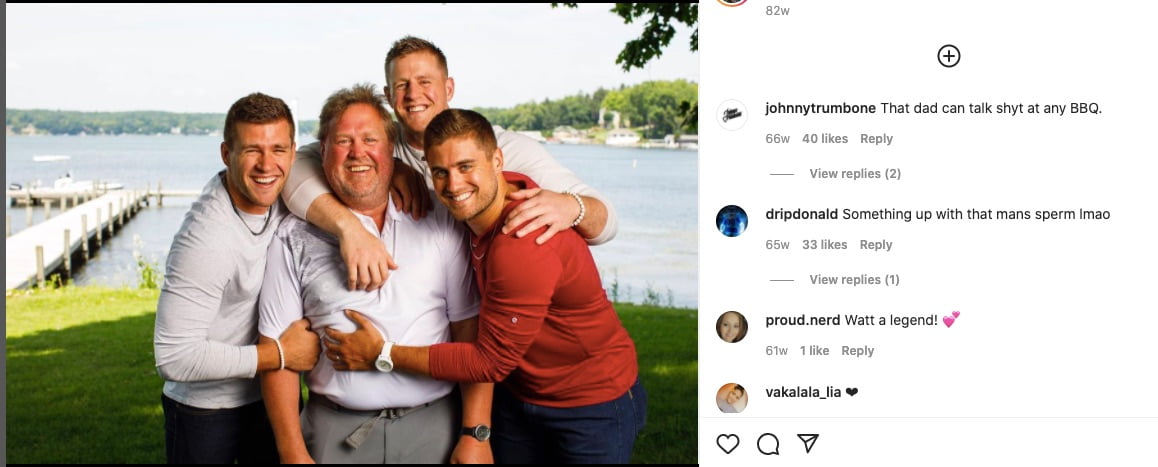 His dad John Watt was  Lieutnand with the Waukesha Fire Department for over 30 years; he first joined the fire department in Janesville, Waukesha came in February 1985, he retired in July 2013.
"The thing that I will take away from my work here is the guys that I've worked with," Watt said. "There is 100 percent no way that they wouldn't be tops on that list here. The guys and girls are fantastic and definitely the most memorable part of the job and working with them to help out the citizens in the community – that is why we all got into firefighting. It's been great."
T.J. Watt Brothers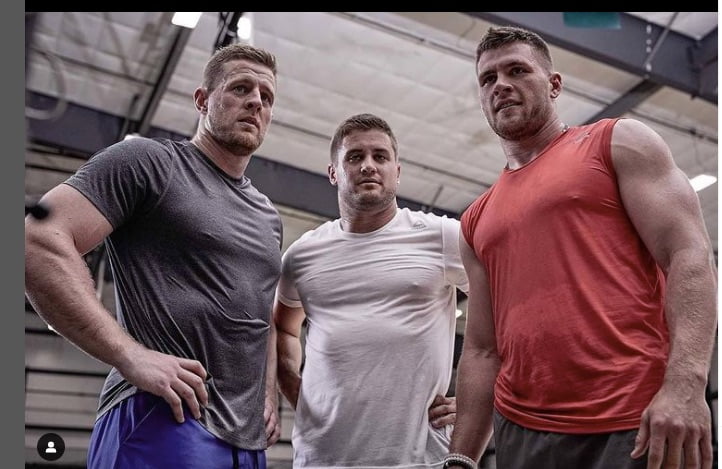 T.J. Watt's older brothers are J.J. and Derek Watt, J.J was born Justin James on March 22, 1989, as you all know played college football at Central Wisconsin before he was drafted in the first round (11th overall) in the 2011 draft by the Houston Texans.
J.J Watt played with the Texans until March 1, 2021, when he signed with the Arizona Cardinals.
Derek born on November 7, 1992, is a fullback with the Pittsburgh Steelers, before signing with the Steelers on March 20, 2020, he played with the Los Angeles Chargers, the team that drafted him in the sixth round (198th overall) during the 2016 NFL draft.
Derek watt played college football at the University of Wisconsin and Pewaukee High School before that.
T.J Watt and his brothers are the hosts of Ultimate Tag the game shows that air on Fox.
T.J. Watt College
6'5 T.J.Watt graduated from Pewaukee High School before attending the University of Wisconsin. He redshirted his freshman year and an injury kept him on the disabled list his sophomore year.
Watt totaled 63 tackles (25 solo), 11.5 sacks his junior year, where he was also named Walter Camp National Defensive Player of the Week, Lott IMPACT Trophy quarterfinalist, named into the  First-team All-America (ESPN.com, Sports Illustrated), second-team All-America (AP, CBS Sports, FOX Sports), first-team All-Big Ten.
T.J. Watt Career
He announced he would forgo his last year of college on January 3, 2017.
The Pittsburgh Steelers selected T.J. Watt in the first round (30th overall) during the 2017 NFL draft on April 28th.
On June 14, 2017, T.J. Watt signed his rookie contract with the Steelers.
On September 10, 2017, he made his NFL debut against the Cleveland Browns.
He suffered a groin injury in Week 2 against the Vikings.
On September 12, 2018, Watt was named AFC Defensive Player of the Week.
In September 2018, he was voted Team MVP by his teammates.
In November 2020, was named AFC Defensive Player of the Month.
 On December 31, 2020, his teammates voted him Team Most Valuable Player.
Watt won the Butkus Award in 2020
T.J. Watt signed a contract extension with the Steelers on September 9, 2021.
He was voted AFC Defensive Player of the Week in Week 17.
He tied Michael Strahan's 22.5 sack record in Week 18.
T.J. Watt NFL Stats

T.J. Watt Net Worth
As of January 2022, T.J. Watt's net worth has been estimated at $10 million. In addition to his NFL salary, he earns from his endorsement deals with Reebok, Six Star Nutrition.
T.J. Watt has been fined four times, his fines sum of $44,676. On October 12, 2018, was fined $20,054 for rough passing, later on, was fined $3,507 for entering the field for a fight against Cleveland on November 22, 2019. He received a $10, 815 fine for unsportsmanlike conduct against the Seahawks; on December 21, 2021, he was fined $10,300 for taunting.
T.J. Watt Contract & Salary
T.J Watt's current four-year contract with the Steelers is worth $112 million; the deal included $35,593,470 in signing bonus, $80 million guaranteed, and an annual salary of $28 million.
June 14, 2017 – four-year, $9.25 million contract with a signing bonus of $4.87 million.
April 28, 2020 – Steelers exercise his fifth-year option from his rookie contract.
T.J. Watt Wife
T.J. Watt doesn't have a wife just yet, but he got engaged to his beautiful girlfriend Dani Rhodes on July 8, 2021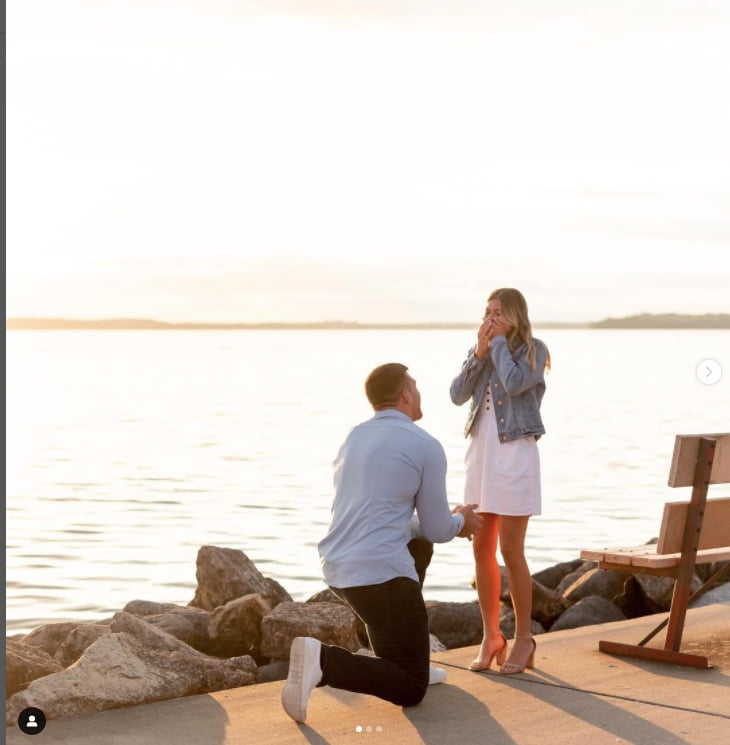 "I am the luckiest man in the world!!" Watt, 26, posted on his Instagram account with three photos of the proposal, including one image of him down on one knee.

"YES. YES. YES. 💍" posted Rhodes, who was overcome with emotion as Watt popped the question.
T.J. Watt Girlfriend
Dani Rhodes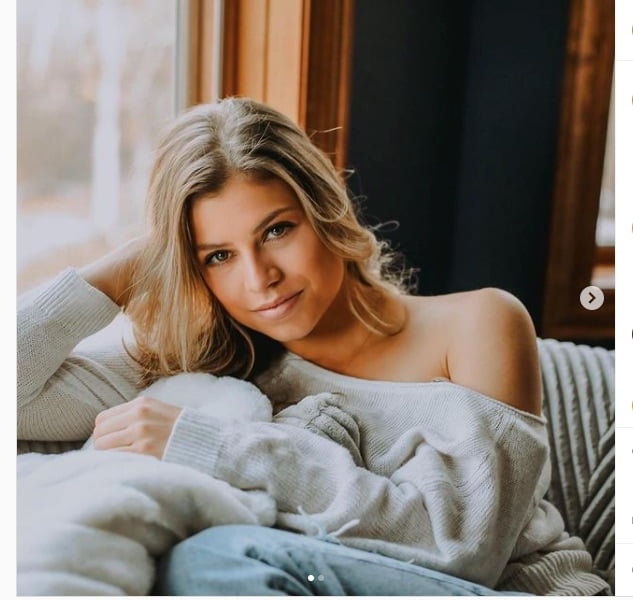 TJ's pretty lady Dani Rhodes was born Danie Marie Rhodes on April 8, 1998, in Waukesha, Wisconson; she is one of three children born to Dan and Deann Rhodes. Dani has two brothers;  Dylan and Drew.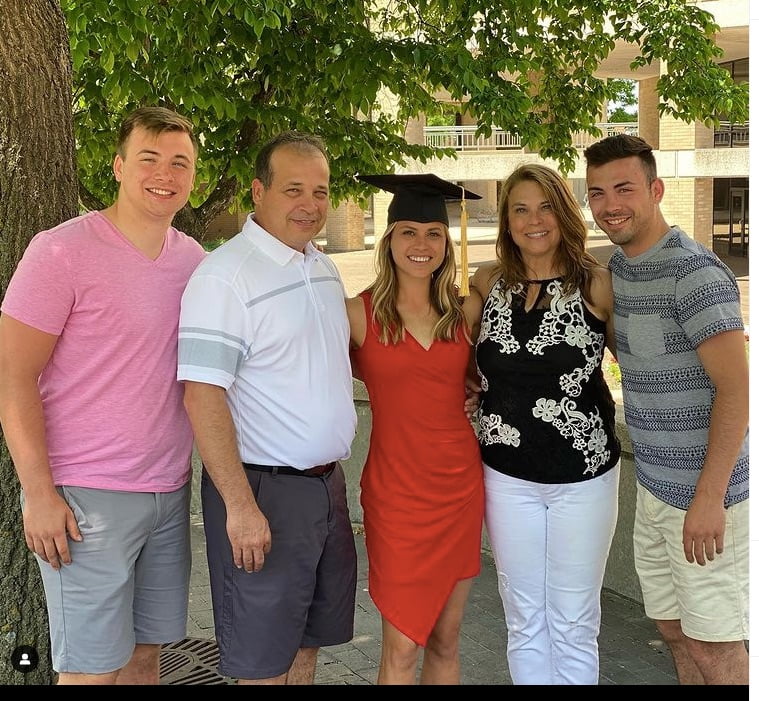 5'5 Ms. Rhodes a high honor roll student graduated from Waukesha West High School in her hometown of Waukesha, Wisconsin. Dani played forward soccer player for the Badgers at the University of Wisconsin from 2016 to 2019, recorded 38 goals in 85 games.
She signed with the NWSL team, the Chicago Red Stars in the summer of 2020, made her debut on September 12.  In July 2021, Rhodes signed with the Icelandic team, Þróttur Reykjavík.
Dani Rhodes and T.J. Watt started dating in September 2016. She has over 48.7 k followers on Instagram where she posts regularly.