Linda Rudolph
Linda Rudolph is the proud mother of FSU football player, Travis Rudolph. While athletes moms are usually proud of their children athletic achievements, this time Linda Rudolph should be proud after her son shared a meal with an autistic sixth grader.
The news of the interaction between her Florida State receiver son and a boy named Bo Paske, came to light after Bo's mother shared it on an emotional post to her Facebook page.
According to Bo's mom, Leah Paske, for one day she did not have to worry about her son eating lunch by himself. She ended her lengthy post by saying
Travis Rudolph thank you so much, you made this momma exceedingly happy, and have made us fans for life!
Linda's son is currently a junior who led the Seminoles in receiving last season, and who became a hero in the eyes of Bo Pake's mom.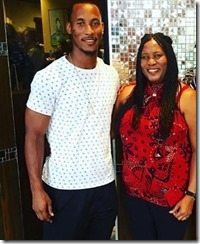 Travis's parents are Darryl and Linda Rudolph. Linda Rudolph gave birth to her son, Travis on September 15, 1995. The soon-to-be 21-year-old attended Cardinal Newman High School in West Palm Beach, Florida.
Rudolph was a standout for Newman throughout his career. The 6-foot-1, 185-pound receiver set school records with 1,237 receiving yards and 15 touchdowns as a senior, leading the Crusaders to their first district title since 2004.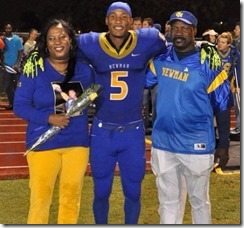 As a senior he had 63 receptions for school records 1,237 yards and 15 touchdowns. Rudolph was rated by Rivals.com as a five-star recruit and was ranked as the number one receiver in his class.
He also won the inaugural Anquan Boldin Player of the Year Award, was named the Lou Groza Awards High School Player of the Year and was selected to the AP Class 3A All-State first-team offense.
Rudolph, ranked as the nation's second-best receiver prospect by 247Sports, received more than a dozen scholarship offers and took official visits to FSU, Ohio State, Auburn, Tennessee and Alabama.
Accoridng to his Seminoles profile, Travis who chose FSU over Alabama, Auburn, Miami and Ohio State, is majoring in social science. Linda and her husband Darryl were there when their son announced his commitment to FSU. With them on that special day, was also Linda's mother and Travis's 87-year-old grandmother, Ethel Tillman.
Linda Rudolph is also the mother of Travis' siblings: brother, D.J. Rudolph and sister, Terrenie Gosier-Pannell. Linda's daughter is already a married woman and mother of two.
Linda is active on social media, you can check her Facebook here.