Rafaela Lardin
Rafaela Lardin is the lovely wife of Spanish professional tennis player, Nicolas "Nico" Almagro. The 31-year-old who trains at JC Ferrero Equelite Sport Academy in Alicante, is doing what he does best at the 2016 US Open. He is up against Frenchman, Gaël Monfils.
Nicolas Almagro Sanchez was born August 21, 1985 in Murcia, Spain. He is the son of Nicolas and Mercedes. He has two siblings, Juan and Balta. Nico started playing tennis at age 8, then turned professional in 2003 launching into the pro scene. He won a gold medal at the 2005 Mediterranean Games.
Almagro has defended Spain at the Davis Cup, where he was again selected in 2012. He participated in the 2012 Summer Olympics.
Aside of tennis, Almagro is also a big fan of soccer, in facts he said if he wasn't a tennis player, he would have loved to have been a football player. He is a huge fan of Real Murcia and Real Madrid.
Nicolas who speaks Spanish, English and Italian, was part of 18-page feature in Esquire Latinoamerica in 2013.
Almagro has won 12 singles titles and he achieved his career-high singles ranking of World No. 9 in May 2011. He is currently ranked number 48 in the singles ranking.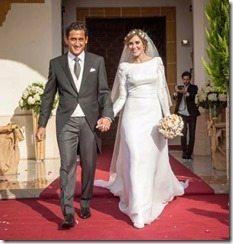 Rafaela Lardin is also known as Rafi and now as Mrs. Almagro.
Almagro married longtime girlfriend Rafi Lardin on Dec 5, 2015. The ceremony took place in the city of Murcia, his hometown, in Jeronimos Monastery. Later, the couple made a party to guests and opened the ballroom dancing salsa instead of the traditional waltz.
According to Spanish media, Rafaela Lardin and Nico lived just minutes away from each other in Murcia, Spain. They also practiced tennis at the same tennis club but they never crossed paths until the Barcelona 2013 ATP.
The blonde tells the story saying they were introduced by mutual friends on an afternoon after the tournament. Rafaela Lardin recalls the same day they met, Nico asked her to marry him. They both laughed at the time but two and a half years later it came true.
In 2014, after eight months of dating, the legitimate proposal came.
You can find the lovely ATP wife on Facebook here.