Lynette Taylor
Lynette Taylor is the wife of former NFL legend, Lawrence Taylor. The couple has been married since 2007 and reports say, there is major trouble in heaven.
It's usually NFL players who will be arrested for domestic battery committed against their ladies, respectively. It doesn't seem to be the case for Lawrence Taylor and wife, Lynette –whom reports say, she was booked for assaulting the 52-year-old former "Dancing with the Stars" contestant and football Hall of Famer.
According to TMZ, Lawrence told police she attacked him during an argument in Florida, as a result, Lynette Taylor was arrested on Thursday on one count of domestic violence and one count of resisting arrest.
Things are not looking good for 42-year-old Lynette Taylor –who has a history of violence having been arrested at least three times in the past –a judge ordered her to stay at least 500 feet away from the NFL star. Her bond was set at $2,500.
Lynette Taylor is accused of allegedly hitting the 300 pound linebacker in the back of his head causing a minor laceration.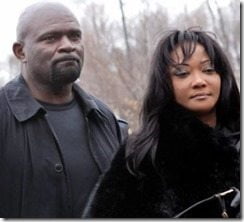 "LT" is considered by many to be the greatest linebacker ever, he was a 2-time Super Bowl Champion and 10-time Pro Bowl selection. He played his entire career with the Giants, winning two Super Bowls before retiring after the 1993 season.
The Virginia native was the second overall pick, selected by the New York Giants in 1981. During his 13-year career, he was named an All-Pro six times (1981–1987) and made 10 Pro Bowl appearances (1981–1990 seasons). He was inducted in the Pro Football Hall of Fame in 1999.
Lynette Taylor is Lawrence's third wife. He was previously married to first wife, Deborah Melinda Taylor from 1981 until 1996, with Linda he fathered three children, including son Brandon born in 1991.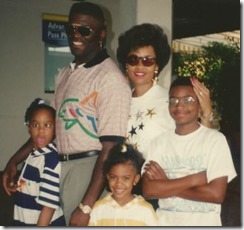 His second wife is Maritza Cruz, the couple was married from 2001 until 2005. Maritza is now a singer with a band called Cache based in Miami. She met Lawrence Taylor in 1999 when he was shooting Oliver Stone's movie Any Given Sunday. She was an extra. The couple did not have any children.
The Giants great has admitted in the past how bad he was to his previous spouses due to his troubled life with substance abuse and constant cheating.
Lynette Taylor has also put up with his many legal issues, in 2010, he pleaded guilty to patronizing a prostitute and having with a minor. He was placed on probation. Taylor has also been arrested a number of times for attempting to buy crack from undercover cops. He was also suspended during his great career for using drugs.
During an interview with Larry King, Lynette Taylor stood by her husband saying the story got a little mixed up.
Lynette Rose Taylor and her husband currently reside in Pembroke Pines, Florida.