Madison Cummings
Meet the lovely Madison Cummings; she is the beautiful girlfriend of Marko Pirovic. He is the Canadian college basketball player at the University of Maine, who had to have his jaw wired shut for six weeks following a fight in the campus' locker room with a teammate junior guard Wes Myers who punched him in the jaw.
According to DeadSpin, the whole thing started after Myers told Pirovic to turn off his music in the locker room. Pirovic refused, and Myers tried to forcibly turn it off. Myers broke Pirovic's jaw with a single punch.
He stopped when he realized how badly Pirovic was hurt; both students knew they would get in trouble, so they made up a story, their coach didn't buy it.
The University suspended Myers, Pirovic, Jaquan McKennon, Dusan Majstorovic, and Ilija Stojilkovic. Everyone but Pirovic and Myers had their suspensions end after a week.
Hopefully, Pirovic counts with the unconditional love and support of his gorgeous lady, Therefore is about her that we are going to tell you five interesting facts about her.
Madison.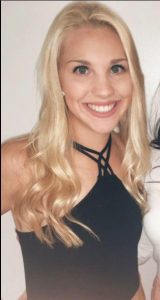 Madison Cummings was born on September 24, 1996, in Belfast, Maine.
She one of four daughters born to Michael and Roxanne Cummings.
Madison's three beautiful sisters are Brittney, Makayla, and Breann.
She graduated in 2014 from Belfast High School.
She is pursuing a nursing major at the University of Maine where she also is a field hockey player for the Black Bears.