Rachell de Margot
Have you met Rachell de Margot? She is the stunning wife of Dominican Republic baseball player Manuel Margot, the outstanding center fielder player for the Tampa Bay Rays.
RELATED STORY: MEET THE TAMPA BAY RAYS WAGS
Margot joined the Tampa Bay Rays on February 8, 2020, prior to that, he played for the San Diego Padres.
Initially, Manuel Margot,  signed with the Boston Red Sox as an international free agent in July 2011. However he didn't play with the big guys back then, instead, they assigned him to the Dominican Summer League Red Sox, later with the Lowell Spinners, Greenville Drive and several other minor league teams, before they traded him to the Padres on November 13, 2016.
Finally, on September 21, 2016, he got the chance to make his MLB debut. San Diego traded him to the Tampa Bay Rays on February 8, 2020, along with Logan Driscoll in exchange for Emilio Pagan.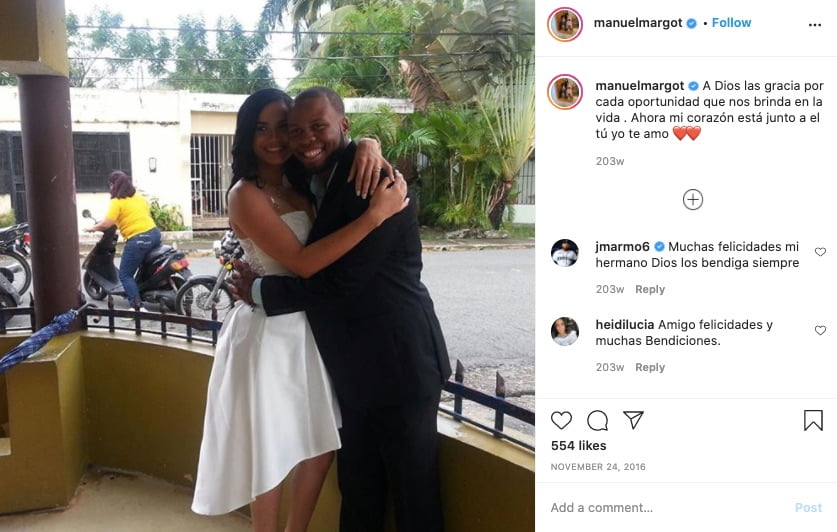 Manuel Margot and his beautiful wife Rachell formerly known as Rachell Perez tied the knot in November 2016; they have since welcomed three beautiful kiddos, Sharlotte Born in August 2012, Diamond Manuel born on June 20, 2017, and Matthew born in April 2019.